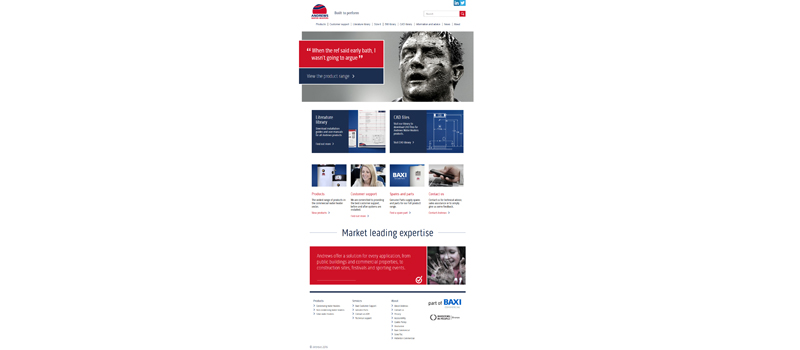 Andrews Water Heaters has launched a brand new website, designed to create a user-friendly experience and make it easy for customers to find exactly the information they need.
The website showcases the new Andrews Water Heaters branding and has undergone a complete transformation to create a powerful resource for customers to find detailed product information and guidance.
The website's new interface is fully mobile-enabled, meaning customers can benefit from quick and easy access on smartphones and tablets whilst on the go. It also incorporates product specifications, an extensive BIM library and detailed CAD drawings, in addition to up-to-date product information which includes case studies that provide examples of where Andrews products have been utilised, as well as the benefits and savings seen from installing them.
The new website also features a Size-It tool, helping customers to select the most appropriate solution for a particular project or application. The programme is available to download and can be installed on any PC, allowing easy access whenever required.
Chris Meir, Sales Director at Andrews Water Heaters, comments: "Our products are renowned for being built to perform, and this is reflected across the new website. The brief we gave ourselves was around providing users with the right information quickly and easily and an overall improved experience.
"We know that end-users are often time-stretched and need instant answers. This is why the website is mobile responsive, with pages fitting to any screen, making it easier than ever for customers to access the tool that they need, exactly when and where they need it."
View the new website now at www.andrewswaterheaters.co.uk.