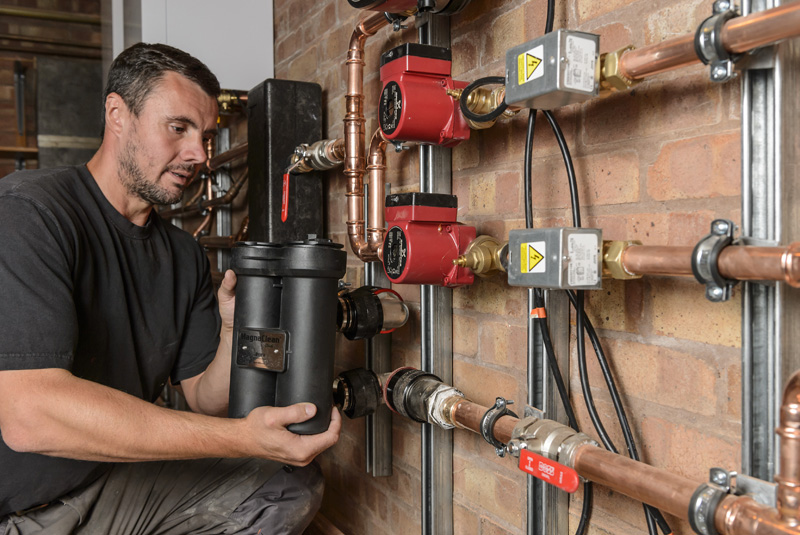 Securing funding for large-scale community projects can be a thankless task, so when the 30-year old heating and hot water system at Pheasey Community Hub in Walsall began to fail and needed replacing, Adey Professional Heating Solutions stepped in to help.
A busy centre for local classes and events including a special needs group, the debilitating build-up of black magnetite sludge in the heating system had been causing significant problems, particularly during the winter months. With the system nearing collapse and costing the centre an overwhelming amount each month to maintain, the self-funded, volunteer-led group was unable to fund the work. An appeal was made to local installers and manufacturers to help fit a new system and supply the products needed.
Understanding that maintaining an affordable, efficient and reliable source of heating and hot water for the long-term would be a priority for the centre, Adey donated a MagnaClean Dual XP magnetic filter and premium quality MC+ chemicals. Specifically designed to work together, the filter and chemicals will ensure that the three new Viessmann boilers and associated pipework are protected from the damaging effects of black iron oxide sludge and corrosion between services, safeguarding the system's efficiency and minimising maintenance costs.
Shaun Jarvis, Contract Supervisor at Dodd Group (Midlands) Ltd – the contractor responsible for carrying out the installation – says: "We were determined to prioritise proper protection for the new system. We felt strongly that the pipework was so old it would be detrimental to install new boilers onto an old system possibly filled with sludge, which could potentially put them at risk. Installing the filters would avoid the centre facing similar problems in the future."
"When we heard about the centre's appeal, we were keen to help," explains Mike Green, Adey's Area Sales Manager for Commercial North. "Supporting local communities is a huge priority for Adey, especially when vulnerable individuals may be at risk from cold conditions. We're sure that the community will see a marked improvement in the comfort of the building, and will see a big difference in their ongoing heating and maintenance costs."