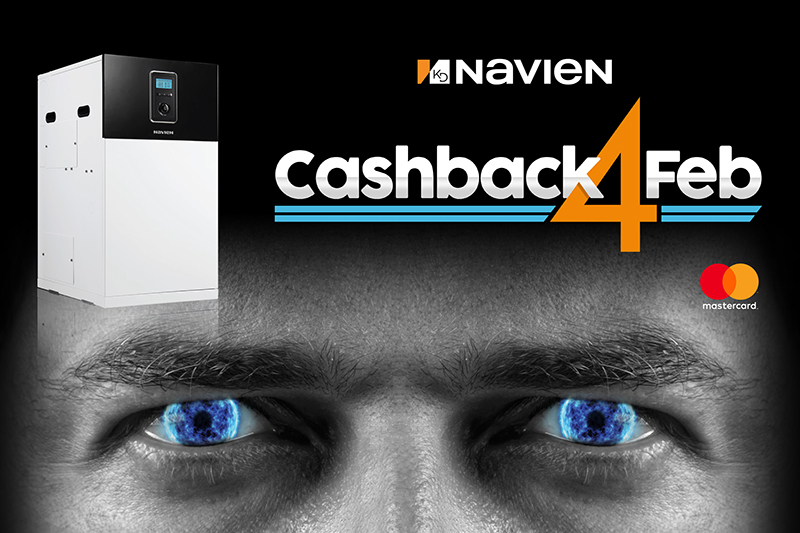 Navien is offering £100 cashback on every one of its LCB700 Blue Flame oil boilers installed throughout 'Cashback4Feb'.
To qualify for cashback, installers simply need to register every LCB700 Blue Flame oil boiler they fit via the Navien Installer App, which can be downloaded from either Google Play or the App Store. The offer is open to all installers across the UK during February 2021 and there is no limit to the number of boilers for which they can claim a £100 return.
Commenting on Cashback4Feb, Jason Davies, National Business Manager at Navien, said: "We're committed to helping our customers grow their businesses – and what better incentive could there be than offering £100 for every LCB700 they install? Not only will they be fitting the UK's leading oil boiler, they'll also be rewarded for embracing our revolutionary blue flame technology. Plus, there's no limit attached to the number of cashbacks, so for installers, the more boilers they register, the more money they'll get – it really is a win-win situation!"
Available as either a regular, system or combi boiler, in both internal and external models, the LCB700 oil boiler not only boasts Navien's blue flame technology, it is also lightweight (with lift weights from 58kg), easy to handle and optimised for simple, fast and cost-effective installation. The range offers efficiencies up to 104%, as well as ultra-low NOx emissions of only 57mg/kWh. When fitted in conjunction with Navien's Smart Plus controller, system efficiency is increased even further, to an ErP A+ rating.
Cashback4Feb and runs until 28 February 2021, with all boiler installations required to be completed within the month. Qualifying boilers must be registered on the Navien Installer App by 15 March 2021 in order to be eligible. The £100 cashback will be supplied in the form of pre-paid debit cards.
For more details about Cashback4Feb, visit navienuk.com/cashback4feb