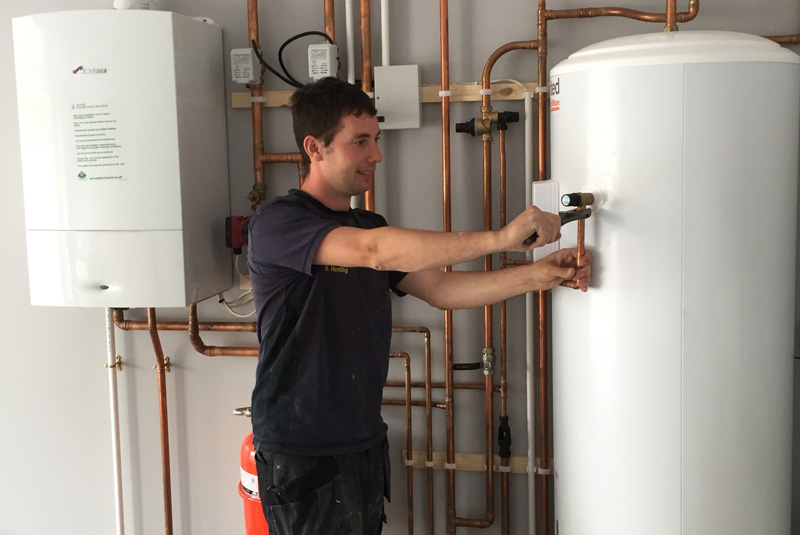 In this month's In Profile Stuart Duff puts the questions to the newly-crowned Heating Installer of the Year, Shaun Scott, to find out more about his industry journey. 
Tell us a bit about your background in the industry. What inspired you to work in heating and plumbing?
I have been a plumbing and heating engineer since leaving school 11 years ago, although I worked with my father during school holidays from the age of 12. I was born and brought up in a farming background, which taught me to work hard and never be scared of a challenge and how to think logically through problems. When I was younger I won multiple engineering days and class prizes at school, and I was awarded an Arkwright scholarship to study any form of engineering at university. It was in my 5th year at school I realised I wanted to have a hands-on job as well as one that could push me mentally. So after receiving a full set of 5 higher grades in one year, I decided to leave school and work with my father doing a job I had grown very fond of and which pushed me mentally and physically rather than go to university to study. The teachers at the school accused me of taking the easy way out, but I knew this was an incredible industry that I could travel far in. My father saw my potential and knew I had the personal drive and he encouraged me that no one should ever stop you from following your dreams. With his mentoring, I have been able to thoroughly learn my trade.
What makes up a typical day for you?
I work alongside my father running our rural plumbing and heating business. Running such a business is completely different to a normal plumbing and heating company. I have to be organised weeks in advance, my van has to be kitted out with all fittings, tools and materials that could be needed as I cannot just simply pop to the nearest merchant as that can often be a 40 mile round trip. We also have to be extremely competent in every single aspect of plumbing and heating, old or new. Our workload varies greatly every single day from new houses and extensions to repairing anything from tap washers to 250kW heating systems or maintaining and installing water filtering, storage and booster pumps and everything in between. We can quite often be in the middle of the countryside up to our neck in mud repairing burst private water supplies or in the centre of Aberdeen installing a bathroom.
Did winning the 2016 UK Plumber of the Year title have an impact on your business?
Yeah, definitely. It brought in more customers as well as a lot more opportunities to learn and progress – not only personally but also as a business.
Congratulations on winning the Heating Installer Awards. What prompted you to enter?
The reason I entered the awards is because I am always looking to improve and challenge myself – sometimes you just have to put your neck on the line. I always like to be working towards a goal and, with the quality of the previous winners, I saw the awards as my next challenge.
How important a role do you believe organisations such as SNIPEF and WaterSafe play for both installers and consumers?
I would say they are essential. For the customer, the organisations are a sign of trustworthy, qualified and insured tradespeople, and for the installer the organisations push good practice and training. A lot of people don't realise the service these organisations provide and what they can do for businesses. It's honestly worth taking five minutes to see what these organisations can do for you.
What do you do outside of work?
I am a member of my local Young Farmers' Club, which raises a lot of money for local charities and we are always helping in the community. I have previously had long spells of chairman, treasurer and secretary. I also play football and I am currently learning to play the banjo. Farming in general is a passion of mine. My grandfather owns a farm just along the road from me so I am always up there getting involved in agricultural work. I also have a passion for restoration. My favourite projects so far have been a Fordson Major and a Massey Ferguson 135, which are vintage tractors.