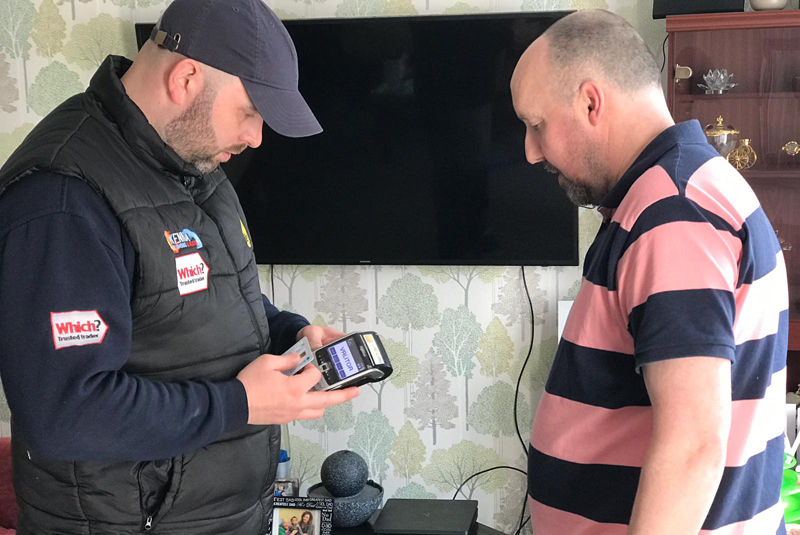 Fewer and fewer customers use cash these days, so offering a card payment option is becoming increasingly important to securing business. Steven Stewart, Director SMB Solutions, UK and Ireland, Valitor, details how Kenna Plumbing has been able to expand its operations since accepting card payments.
Taking payments whilst on the go is essential for independent traders, especially heating and plumbing contractors. Not only does accepting card payments make things easier, it reduces the time spent on administrative tasks such as chasing invoices, and improves the customer experience.
Despite this, 49% of small businesses (SMEs) in the UK prefer not to take card payments, according to data from the Market Inspector. Not only are these businesses missing out on the many benefits of accepting card payments, but they also risk losing business to their competitors. Adopting the latest payment technologies can help SMEs stay ahead of the competition and continue to meet the needs of their customers.
Kenna Plumbing
A small business that took the initiative and implemented a new method for taking payments is Kenna Plumbing. The South West London based plumbing business found itself running into frequent issues with customer payments. Employees spent a lot of time chasing customers for bank transfers, rather than sourcing further business opportunities and working to improve customer retention. This presented a huge challenge for founder, Jamie Kenna, who constantly worried about whether finances were taken care of.
Peace of mind
Jamie looked at what he could do differently and decided to introduce a new payments provider. Valitor, an international payment solutions company, streamlined Kenna Plumbing's payments process through offering immediate settlements and therefore reducing time spent on financial admin by 90 hours a month. This freed up a lot of time for Jamie and his staff, who no longer had to chase customers for post-service payments or invoices. Jamie was also offered the peace of mind that the finances of his business were in check.
The instant settlements help Kenna Plumbing comply with the Doorstep Trading regulation, through ensuring that payments are settled immediately after the job is complete and no complexities are added to the payment process.
Expanding business capabilities
Since using Valitor, customers of Kenna Plumbing have complimented the business on its professional, flexible service. Due to accepting both debit and credit cards for a range of fees, from £75 up to the cost of a full bathroom fitting, the company has been able to expand its business opportunities. In fact, it has worked with 360 new clients each year, gained 720 new clients over the past 24 months and secured an extra 30 jobs per month since accepting card payments.
Owner Jamie could not be more thrilled with the service Valitor has provided, stating: "Valitor has transformed how we do business. As we grow, they will become an even more integral part of our operations in order to offer a consistent, reliable and professional plumbing and heating service."
Valitor has also been integrated with Gas Engineer Software and accounting software, Zero, to create a seamless experience, from sending out an engineer, finishing the job and getting a receipt printed. Kenna Plumbing has saved time, stress and admin through streamlining its payments process with Valitor, enabling Jamie to focus more on building his business and spending time with his family.