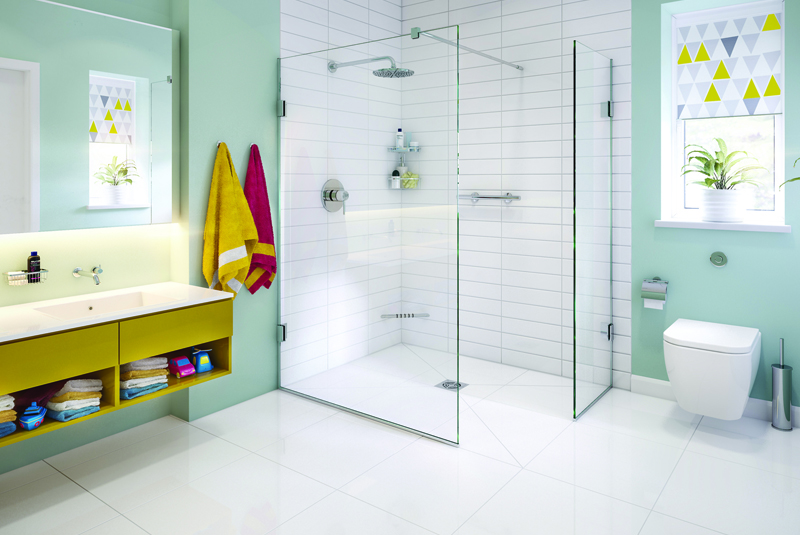 To celebrate the fifth anniversary of EasyFit's launch, Impey has released a new installation video which demonstrates why it believes EasyFit provides installers with a strong floor former, a consistent gradient for drainage, the ability to trim for bespoke situations and a lifetime guarantee.
The pivotal change in the design of the EasyFit floor former was the introduction of a rotating drainplate, the company says, which allows for quick and easy avoidance of underfloor obstructions. During the wetroom installation process, lifting the floor can reveal a multitude of complications: double joists, gas pipes, electrical cables and other unexpected obstacles which can hinder wetroom installations of floor formers with a fixed-position waste. The rotating funtion of the EasyFit's drainplate simply circumvents any unwanted underfloor obstructions and typically saves at least half a day of installation time.
The EasyFit floor former is manufactured with high glass content, using the SMC compression moulding process. At just 22mm thick (equivalent to a standard floor board), EasyFit is designed to be placed straight onto joists and can easily withstand weights of 300kg (47 stones), with no need for underboarding.
Installers from across the UK have flocked to Impey's We Are Wetrooms Training Tour, which continues throughout 2017. In addition, to celebrate five-years of EasyFit success, Impey has launched a new installation video, which offers an insightful demonstration of how to correctly install the EasyFit dec.
Impey's Managing Director John Blackburn comments: "Our EasyFit dec is an advanced and reengineered evolution of the original handmade Impey dec. As the product has evolved over the years, so has the manufacturing process. Today our SMC compression moulded EasyFit dec is not only renowned for its simple installation benefits but also for its structural integrity, strength and performance. The feedback from our customers confirms that EasyFit continues to be the favoured choice when it comes to wetroom solutions."
Joe Mühl, Sales and Technical director of Ocean Bathrooms says: "Feedback from installers is that EasyFit is their favourite. It is very easy to install, adapts to its surroundings and is a very strong product. Impey is a trusted brand and offers a great technical service."
Tiler and Installer Andy Carroll also adds: "Impey is a very progressive brand and the products are designed to make the installer's life easier. The rotating trap on the EasyFit floor former is a huge timer save and I wouldn't hesitate to recommend Impey products to other installers and tilers."
The new Impey EasyFit installation video can be viewed below:
Visit: www.impeyshowers.com for further information.