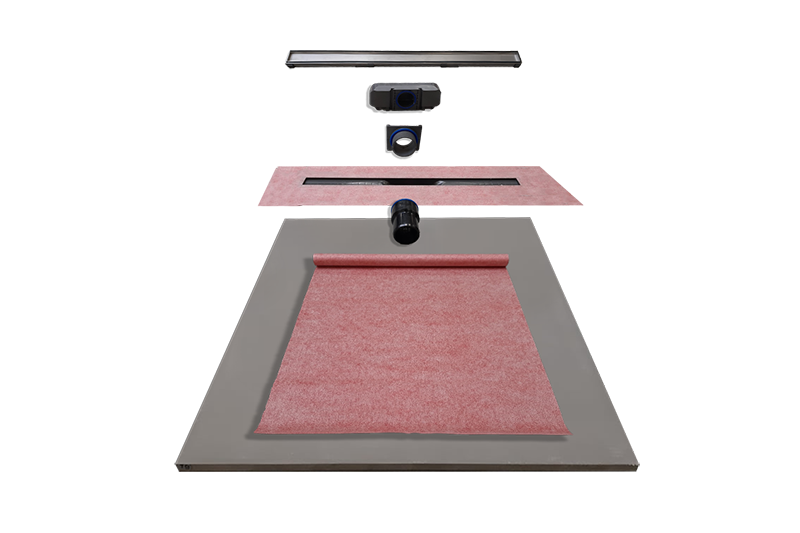 Mark Vitow Ltd has launched a new wetroom kit designed to provide everything needed to prepare and install a high-quality wetroom in a quick, easy and cost-effective way.
The MV AquaLinear wetroom kit is described as a smart design for wetroom floors, with the lowest installation height on the market. Suitable for renovations and new buildings, it is simple to install, easy to maintain, and comes with a 25-year waterproofing warranty.
It is suitable for both timber and screed floors to create the fall required to the built-in linear drain system. If there is a requirement for a vinyl floor, then the drain can be purchased on its own with a slim line drain cover. The drain is made with ABS and has a removable siphon to make it easy to clean, with minimal time and effort.
The kit includes a 20mm thick sloping board that tapers down to the linear drain. This slope is calculated to extract 26.4 l/min of water through the easy clean drain and trap, whilst having an overall installation height of only 54mm.
"Most traps sit beneath the underside of the trays and this give a much bigger zone height to incorporate the waste/trap – sometimes up to 150mm," explains James Cranham, Commercial Director at Mark Vitow. "The waste/trap is built into the drain gully on MV AquaLinear so we can achieve a 54mm installation height which is a big USP especially for screed floors as these build up zones from the concrete slab are quite shallow."
There is also a choice of grate covers – reversible tile/stainless steel, black, or the slimline vinyl cover to add an extra touch of design.