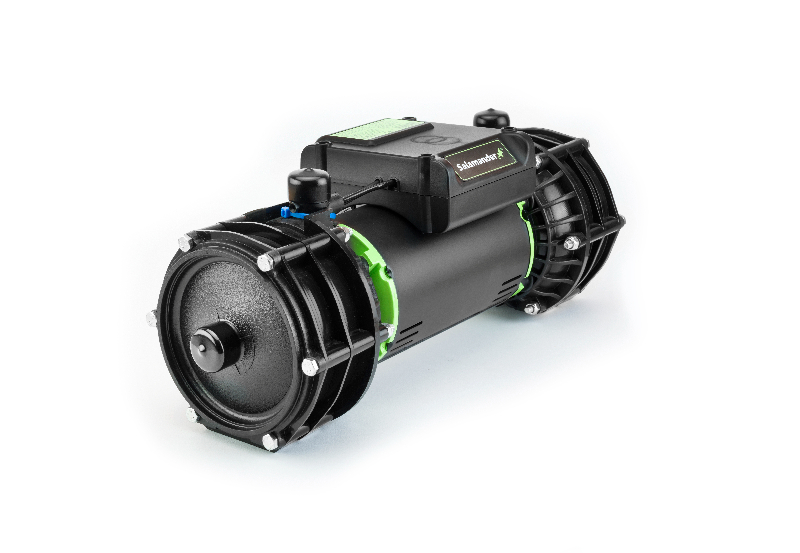 Gareth Richards, Operations and Technical Director at Salamander Pumps speaks to PHPI about the issue of low water pressure and outlines how plumbers can boost water pressure in a gravity fed system.
Q. With many homeowners seeking solutions to low water pressure, what are some of the main solutions that Salamander Pumps has to help resolve the problem?
Low water pressure can be caused by many things, for example in a direct mains-fed system, such as combination boilers, the incoming supply determines the pressure and flow in the system. So, if the supply is low, it is likely that the homeowner will suffer with trickling taps and poor performing showers.  
A vented (gravity-fed) system relies on gravity to move water around the installation, which rarely provides enough pressure to give a powerful shower or quick bath-fill. 
Salamander Pumps can offer a solution for both these scenarios, manufacturing a range of products for boosting water pressure and flow rates in the home, with shower and whole house pumps for a vented system (gravity-fed) and inline pumps, accumulator tanks and pumped tanks for a mains-fed system. 
Q. One solution for boosting water pressure in a gravity fed system is the company's Right Pump range. In which circumstances should installers consider this option?
Right Pumps are an ideal choice to boost water supplies in a gravity-fed system. They use centrifugal technology which allows higher pressure to be maintained at greater flow rates. Therefore, where a high water flow rate is required, such as whole house applications, supplying body jets or drench head showers, or boosting multiple outlets, Right Pumps are the best option given their greater flow efficiency.  
Right Pumps also incorporate Salamander Pumps' Cross Over Technology, a bypass facility which allows the pump to operate one-sided, such as when running only a hot or cold tap, without causing damage to the side of the pump not in use. 
Q. Are there options for both positive and negative head?
Salamander Pumps' Right Pumps range includes both positive head and universal (negative head) models. 
To determine what pump type is compatible with the system, installers need to measure the water flow rate. For instance, to activate a positive head pump, one litre per 30 seconds (or two litres per min) of water should flow through each side of the pump naturally and out of the tap or shower. 
Whereas, if the system is unable to achieve the minimum flow rate of two litres per minute from all hot or cold-water outlets that are to be pumped, a universal (negative head) pump needs to be installed.
Q. What level of performance can a Right Pump deliver?
Designed to provide high flow and to boost pressure to multiple outlets, the inclusion of a centrifugal impeller enables Right Pumps to deliver a powerful performance to the whole house. 
Centrifugal impellers within a Right Pump can be stacked to build higher pressure and flow, with a range of pressure ratings available between 1.5 bar and 3.6 bar. This also allows them to move more water at the same pressure compared to a regenerative pump, delivering a more powerful performance.  
The power of the pumps can also be enhanced with the newly launched SuperBooster packs. Developed as a powerful and versatile solution for helping Right Pumps provide stronger water pressure in gravity-fed systems, the packs include two single-ended, negative head pumps.  
One pump elevates cold water pressure, while the other boosts hot water pressure, effectively 'splitting' a pumped installation. Using centrifugal technology, SuperBooster packs are a great option for larger households with gravity-fed systems, as they deliver higher pressures for both hot and cold water when compared to one twin pump. 
SuperBooster packs are recommended for situations where hot or cold water is regularly used individually, such as supplying water to an electric shower, to prevent prolonged 'closed head running' when only one side of the pump is active. 
Q. What is the size of the unit and whereabouts can it be sited?
Developed for easy installations, universal Right Pumps utilise vacant space above the pump for the pressure vessel to limit the space used by the unit.   
The optimal placement for the pump is at the cylinder's base. The pump should also be positioned in a location that ensures sufficient airflow for motor cooling. It should also be isolated from any other appliances that emit heat. The installation should allow for a clear space of 100mm on each side, at both ends, and on top of the pump.
Q. What type of connections are needed?
The Right Pump range is supplied with ¾" BSP x 22mm push-fit anti-vibration couplers with built in isolating valves, except the RP50PT which comes with ¾" BSP x 15mm push-fit anti-vibration couplers with built in isolating valves. 
Q. The added noise from a pump could be an issue for some homeowners, what levels of noise does the Right Pump range produce?
The Right Pump range represents an exceptionally quiet pump option – operating from just 45dBA. 
Centrifugal pumps are much quieter in operation compared to regenerative pumps, due to the water being spun from the impeller using centrifugal force and with no physical action of stripping it, centrifugal pumps are quieter.  
As some of the quietest, most compact and most reliable shower pumps on the market, the Right Pumps range has also been certified with the industry standard Quiet Mark. 
The installation of a Right Pump can also help to keep noise to a minimum. Some of the key things to consider are outlined below: 
– Install a pump mat to reduce the vibration that is passed from the pump through to surface it is sitting on.
– Fit the feet, Right Pumps are supplied with anti-vibration feed that further reduce vibration.
– Keep AV couplers straight. They are able to flex, but they must not be bent more than 35°.
– Clip the pipework from the pump to limit vibrations transferring from the pump to the pipework.

Q. Are there any particular things to be aware of when installing a Right Pump?
When installing a Right Pump, precise specification and installation are essential for optimal performance and durability: 
– Anti-vibration couplers must be kept as straight as possible, bent no more than 35°. 
– Hot water temperature must not exceed 60ºC, and approved temperature control needs to be in place.  
– The hot water supply to the pump must be using a Salamander Pumps approved method such as a No-Stop Essex Flange or S flange.
– The hot supply pipework from the hot water cylinder to the pump should be a limited up to a maximum of 5m in 22mm.
– Ensure sufficient cold water storage capacity (minimum 227 Litres per bathroom, 80 385 Litres for one bathroom and one en-suite shower room). 
Main Image: Salamander Pumps