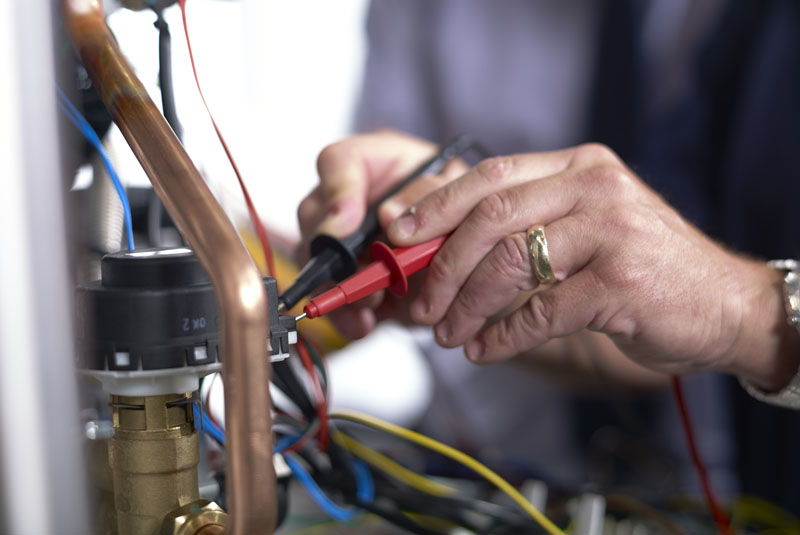 Developments in technology are rapidly changing the way that installers interact with heating appliances and electricity now plays an increasingly dominant role in modern gas boilers. However, there continues to be a general perception that electrics are for 'sparkies'. Graham Collins, Training Support Manager at Baxi Heating, offers his best-practice advice on working safely with electrics.
In my experience, most heating engineers are not qualified electricians and the few that are have not necessarily had the training to understand boilers. In fact, there continues to be a perception that heating engineers do not need to understand electrics, as this is the job of an electrician. The growing prevalence of electrics in modern gas boilers however, means that it's crucial that engineers understand the basics and the role it plays in the functioning of the boiler.
Train to gain
The importance of electrical safety cannot be stressed enough. Over recent years there have been several incidents where heating engineers have been electrocuted while performing routine work. While these incidents are by no means common, even one shock is too many, so we make no apologies for preaching about electrical safety.
There are steps that installers can take to mitigate against the risk of electrocution. Investing in training is a great example. Baxi's three-day fault-finding course includes training to show attendees how to use an electrical multi-meter properly, how to conduct electrical safety tests such as safe isolation, and how to carry out component electrical fault-finding tests. The course also provides detailed training of all boiler components, typical faults encountered and 'hands-on' boiler fault-finding diagnostics.
For a heating engineer, three days may seem like a serious investment of their time. Yet in reality, it's time well spent, understanding safety and risk mitigation. It's also valuable knowledge you can pass on to the rest of your team, or apprentices, to ensure your business is complying with the latest safety regulations and standards. After all, a heating engineer wouldn't work on a boiler without the requisite gas safety knowledge, so why work on electrics without the necessary electrical knowledge?
Watch and learn
An increase in DIY-tutorials on video-sharing platforms such as YouTube has come as no surprise. While watching these videos may at first bolster your confidence, advice isn't always from an industry-approved and competent source.
Engineers should avoid watching unverified videos and turn instead to online material provided by verified companies, such as Baxi Heating's weekly #TrainingTuesday videos, which provide manufacturer-approved top tips and advice. These are available on the Baxi Boilers YouTube channel, covering everything from technical support to business advice.
Staying safe
Working safely with electrics doesn't have to be a complicated minefield to manoeuvre. Making use of a multi-meter and other electrical test equipment can assist an installer with checking the safety of the boiler and also in identifying whether components are working properly. The first focus should always be to ascertain whether the boiler is safe to work on.  This should be done before even touching the boiler by using suitable equipment to determine that the case is not live.
Engineers should then conduct further tests to ensure the boilerthey are working on is safe, including Earth loop impedance, Safe Isolation, Earth Continuity test, a Short Circuit test, Resistance to Earth test and a Voltage polarity test. Understanding how to carry out these basic electrical tests can make fault-finding much easier, and give you the chance to set yourself apart from your competitors. Not to mention the safety aspects!
This can be best achieved by taking the time to invest in training. Failing to acknowledge the importance of electrical safety could lead to serious and, at times, potentially fatal consequences.
Industry best practice recommends staying abreast of the latest technological and industry changes. My own advice to installers is simple: take advantage of the training and support that manufacturers make available – it could prevent injury and save lives.
To find out more about working safely with electrics, visit: www.baxi.co.uk/trade/training-courses/specialist-training-courses/three-day-fault-finding-course