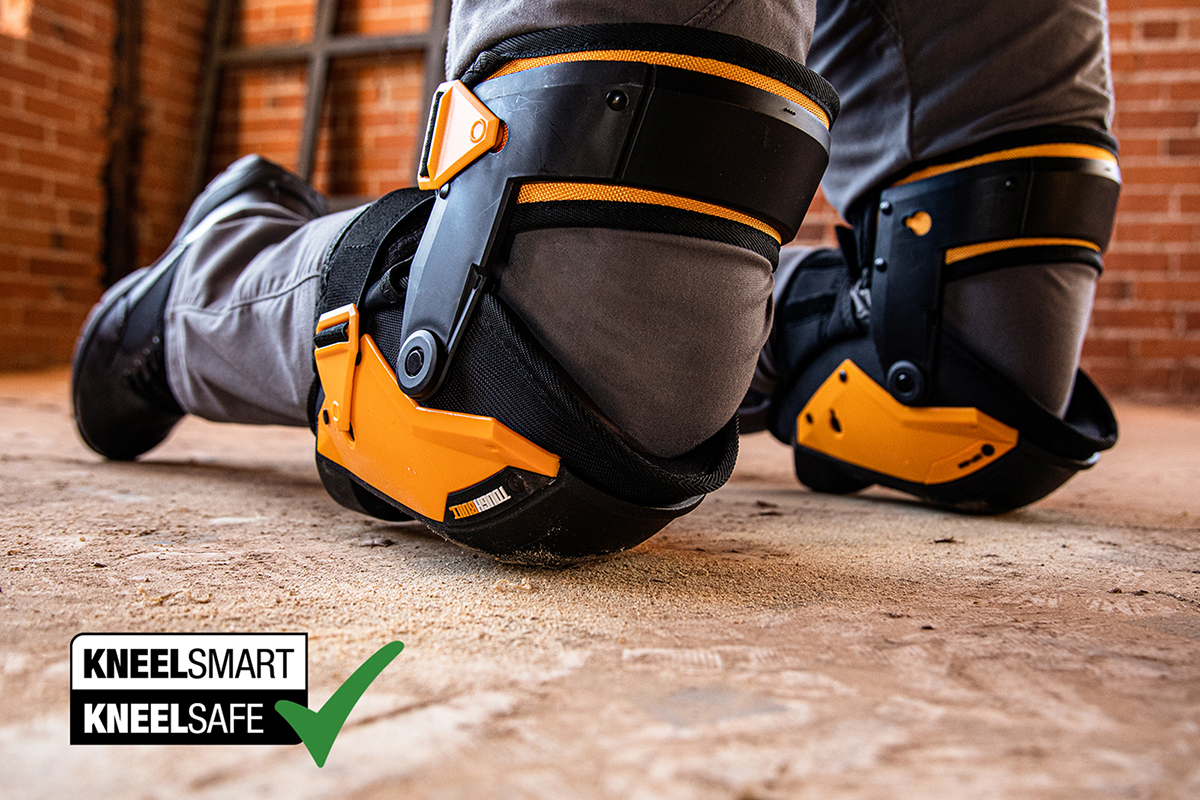 According to statistics from the Health & Safety Executive, the industry has one of the highest rates of work-related knee injuries of any sector. ToughBuilt is on a mission to change that.
Being in the trade can be tough on your knees, and kneeling for long periods of time on hard, unforgiving surfaces could be doing more harm than you think. Much, much more…
"Broadly speaking, knee injuries that can be sustained at work fall into two categories" explains Matt Handley, ToughBuilt's European Head of Marketing. "Impact injuries – such as those caused by kneeling on a sharp item or striking the knee against a hard object – and longer-term 'wear and tear' injuries.
"This latter group includes those caused by extended periods of kneeling without the proper protection. This subjects the knee and surrounding tissue to excessive and unhealthy levels of pressure with the damage building up over time.
"These longer-term, cumulative conditions are perhaps the most concerning as they have the potential to be a ticking timebomb. In a similar way to asbestosis, the harm isn't immediately apparent and it's only further down the line that the consequences come to light."
Just one of the conditions Matt is referring to, which can often be caused by prolonged, non-protected kneeling, is knee bursitis. This entails a small fluid-filled sac called the bursa – which reduces friction and cushions pressure points between your bones and the tendons, muscles and skin – becoming inflamed. In chronic cases, the bursa may need to be removed by a surgical procedure known as bursectomy.
Another knee condition which can be work-induced, is osteoarthritis. Widely known as wear-and-tear arthritis, osteoarthritis involves the cartilage, which provides cushioning for the knee joint, wearing away. Osteoarthritis is the most common form of arthritis in the UK and can be caused by activity that places constant stress or pressure on the knee joint. Again, this includes kneeling.
Worryingly, 71 different studies, involving nearly one million workers, have shown that the trades have roughly three times the risk of developing knee osteoarthritis compared to those in more sedentary, arguably less punishing professions. And this isn't the only concerning statistic.
According to Business in the Community, a network established by the Prince of Wales to champion responsible business, musculoskeletal (MSK) problems such as back, shoulder and knee pain are the leading cause of lost working days in the UK. It is estimated they cost the country's economy an alarming 31 million days every year.
Similarly, research published by the Health & Safety Executive (HSE) in late 2020 highlighted that of the 480,000 work-related musculoskeletal disorders (WRMSD) recorded for 2019/2020, some 93,000 affected the lower limbs – including the knees.
The same HSE statistics listed the construction industry as being an area where WRMSDs are particularly prevalent with higher-than-average occurrences.
#KneelSmartKneelSafe
"When it comes to the risk of work-related knee injuries posed to those in the trade, the facts speak for themselves" comments Matt. "Adequate knee protection on the jobsite shouldn't be seen as a nice-to-have; it needs to be viewed as an absolute necessity.
"It's for that reason that we launched our #KneelSmartKneelSafe campaign. This initiative aims to engage, inform and educate people across a variety of professions on the importance of protecting their knees.
"As a company which manufactures knee pads, ToughBuilt is exposed to some of the frightening consequences of work-related knee injuries on a regular basis. Given this knowledge, our efforts to raise awareness of the need for adequate knee protection isn't motivated by commercial gain, but by a duty of care. We see it as our moral responsibility to share our insight and understanding for the greater good of the industries we serve."
To ensure greater knee safety at work, ToughBuilt's #KneelSmartKneelSafe campaign is a coordinated programme of activity that includes working with the media to produce educational articles, lobbying key policy makers and collaborating with leading authorities such as the British Safety Industry Federation (BSIF).
The business is also offering advice to individuals and organisations to help them choose knee protection which is fit for purpose. As a rule of thumb, the company advocates looking for suitable levels of performance in three key areas – penetration resistance, force distribution and shock absorption.
"Penetration resistance is measured in levels between zero and two with two being the higher," explains Matt. "A knee pad with a zero rating will not prevent impact injuries like those caused by accidently kneeling on a nail, stone or other jagged or sharp-edged surface.
"Perhaps the simplest way of choosing knee protection is to always opt for knee pads that carry CE or UKCA markings. This applies to the majority of the ToughBuilt range. Alternatively, look for pads that are certified to relevant standards such as BS EN 14404."
ToughBuilt's determination to raise awareness of work-related knee injuries and of the need to wear appropriate knee protection where necessary has recently received independent recognition. In April this year, the company received two commendations at the Safety & Health Excellence (SHE) Awards in conjunction with the British Safety Industry Federation (BSIF).
It was commended in the BSIF Product Innovation category for its development of the ToughBuilt GelFit Rocker Knee Pad. These pads use the SnapShell system to offer users versatility as well as the ability to tailor one pair of pads to provide protection across a variety of jobs.
"The SnapShell at the front of these kneepads is interchangeable and can be swapped to suit different tasks and work environments," says Matt. "Three types are available – non-marring, rocker for use on rough terrain and stabilisers. The pads can also be used without any SnapShell."
The company was further commended in the BSIF Safety Solution category. This second commendation was for the ongoing #KneelSmartKneelSafe campaign.