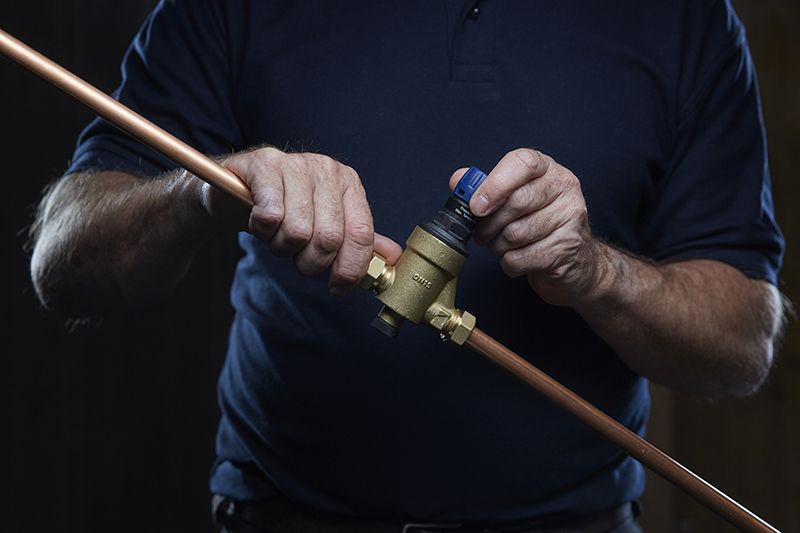 Pressure Reducing Valves are key to a safe and stable water supply. Richard Bateman, Product Marketing Manager at RWC, looks at the different factors involved in product selection.
One of the most important components of any plumbing and heating system is the pressure reducing valve (PRV). This valve not only ensures that water coming into the home is at a safe and comfortable pressure for usage, but also safeguards against pipe bursts, flooded homes and people being left without water.
Choosing the right PRV is therefore crucial, and there are a number of considerations to look at.
Is the PRV 'drop tight'?
The first aspect to look at is how the pressure reducing valve works. In simple terms, a PRV takes a high inlet pressure and reduces it to a lower outlet pressure. When it does this under both flow and no-flow conditions, the type of control is known as 'drop tight'.
Reliance Valves' PRVs use a balanced spring and diaphragm to control the downstream pressure. This 'drop tight' feature is vital for any PRV, as this stops 'creeping' – a term which is used when an increase in the downstream pressure occurs under no flow conditions.
A valve that allows this 'creep' cannot be classified as 'drop tight', or in fact a true PRV, as it will eventually allow the downstream pressure to equal the upstream pressure. In short, if creep is allowed, it negates the point of using a PRV in the first place and can cause significant problems later down the line.
Picking the right PRV
PRVs are sized by DN (Diameter Nominal). To pick the correct PRV, it is always important to consider four key factors:
The type of building (domestic, commercial or industrial)
The required flow rate (measured in litres per minute (lpm), this is the volume of water needed to flow through the outlet to operate effectively)
The required outlet pressure range
The flow velocity
Flow rate is the most important factor to sizing a pressure reducing valve. To work this out, you must identify how many outlets are required and what the combined maximum flow rate for these will be.
The chart shows the maximum flow rates of both the nominal sized PRVs and the pipe size:
Nominal Size
Maximum Flow Rates (Residential Buildings)
PRV Size (DN)
Pipe Size (Inches)
Litres per minute
15
½
30
20
¾
48
25
1
78
32
1¼
120
40
1½
138
50
2
216
65
2½
390
80
3
540
100
4
750
125
5
1050
150
6
1500
200
8
2400
250
10
4500
It's important to go through an example to understand this fully. Let's take a property containing just a single basin (4lpm), a toilet (6lpm), a bath (12lpm) and a kitchen tap (10lpm). If all outlets were opened at once, this gives a total flow rate required of 32lpm. This means, the PRV should be sized at 20DN.
For domestic properties, a general rule of thumb is to size the valve to fit the mains water pipe entering the property. This should provide enough flow for all normal activity in a dwelling.
The sizing of PRVs cannot be underestimated. If oversized, and the flow rate is constantly low, the valve seat can erode over time. This means the PRV will not be 'drop tight' and would allow the downstream pressure to 'creep'.
If undersized, however, the valve can become very noisy every time outlets are opened and shut. This is because of the large volume of water squeezing through the valve, causing the internal spring to vibrate under strain, also creating a 'water hammer' effect in the pipework.
Installation, servicing and maintenance
Along with the 'drop tight' feature and size, think about how practical the PRV is, i.e., how easy it is to install, commission and service.
For domestic use, Reliance Valves' 312 Compact Series PRV is most suitable. Adjustable to pressures between 1.5 and 6.0bar, the valve's compact design makes it quick and easy to fit and test.
This valve offers flexibility too. Available with union, compression and JG Speedfit push-fit ends, installers have plenty of choice when it comes to how they wish to connect the valve. The push-fit technology is suited for tight spaces as it enables tool-free connections – and the PRV can be fitted in any orientation to suit the space requirements, which is handy for retrofit applications.
WRAS approved, the valve features a single cartridge design for efficient servicing, and two test points either side to test the downstream pressure. It also features an integral strainer that protects the seat from corrosion and can be serviced to ensure optimum performance.
Safe and stable
It is vital that installers know all the factors when looking at PRVs. By doing so, homeowners' water systems can be kept safe and stable, and protected from costly remedial works such as burst pipes and flooding in future.