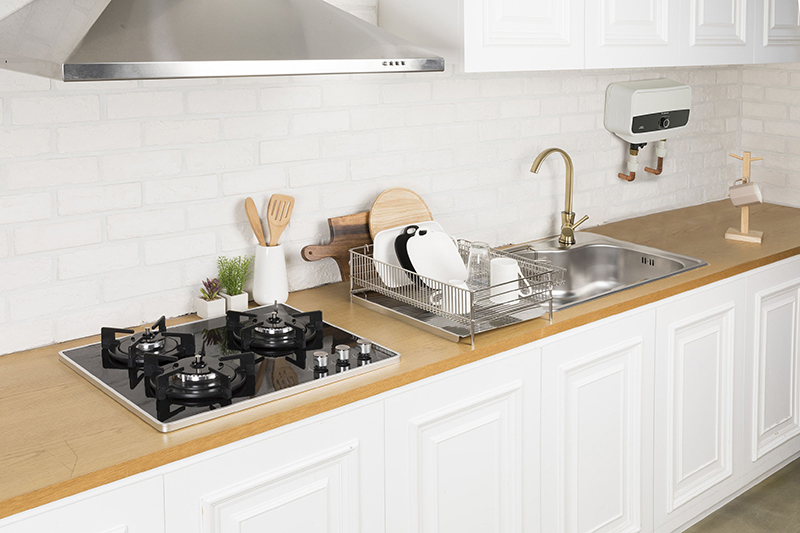 Sometimes rental properties can succumb to the elements, with flooding, fire damage, damp or appliance failures resulting in the need for temporary kitchen units. Ariston's range of electric water heaters can be fitted as part of these kitchen facilities, which are often required during emergency home repairs, insurance claims and renovation work. In fact, models such as Ariston's Aures Slim Multi and Andris Lux can be utilised by landlords to ensure tenants have plenty of hot water until normal kitchen facilities have been restored.
Compact instantaneous water heaters such as Aures Slim Multi can be discreetly fitted into kitchen units; they heat water instantly, ensuring unlimited availability on demand. Once connected to the water feed and electrical supply, each compact unit can supply multiple outlets with instant hot water (one outlet at a time, but not simultaneously). As a result, tenants will not have to wait for the water to heat up.
The Aures Slim Multi has an 'A' class ErP energy rating. Plus, each unit is also supplied with a two-year warranty as standard. Also, to ensure an advanced level of performance, it is equipped with a flow sensor system, which initiates instantaneous water heating when a tap is opened. The unit also boasts an easy to operate, front facing dial complete with LED indicators to highlight the selected power level: 'low' (4.5kW), 'medium' (5kW) or 'high' (9.5kW). Another benefit is all internal components can be accessed from the front of the unit, allowing for easy maintenance, while a double thermal cut-out is in place to ensure safety and peace of mind.
An alternative option available for kitchen units is the Andris Lux range of small electric storage water heaters. These can be fitted underneath the sink inside a kitchen unit, tucked away from view, with six and 10-litre capacity models capable of supplying plenty of hot water. Renowned for their outstanding levels of safety, durability, comfort and design, these compact units are perfect for temporary kitchen applications where space is at a premium.
Andris Lux is fully compliant with the latest ErP legislation (with units rated up to 'A' class) and, as with all Ariston products, has a contemporary aesthetic, with its design incorporating a prismatic shape to maximise capacity and save space. For added durability, each Andris Lux unit boasts a robust four-bolt flange, nickel-free copper element and TBS rod thermostat.
These versatile water heaters also benefit from a central regulation dial with a wide range of temperature settings, located above a heating action LED. There is also an "E" economy setting, enabling optimisation of comfort alongside energy savings. Plus, all Andris Lux water heaters have a durable titanium enamel coating, LED display and heating lamp.
Assessing the benefits of the products, Victoria Gutierrez, Marketing Manager at Ariston, said: "In the event temporary kitchen facilities are needed in rental properties, landlords have to act fast to ensure tenants have all the necessary essentials, including hot water. Fortunately, our electric water heaters are ideal for such circumstances – they are efficient, easy to install and can provide plenty of hot water in an emergency, until any remedial work is completed."