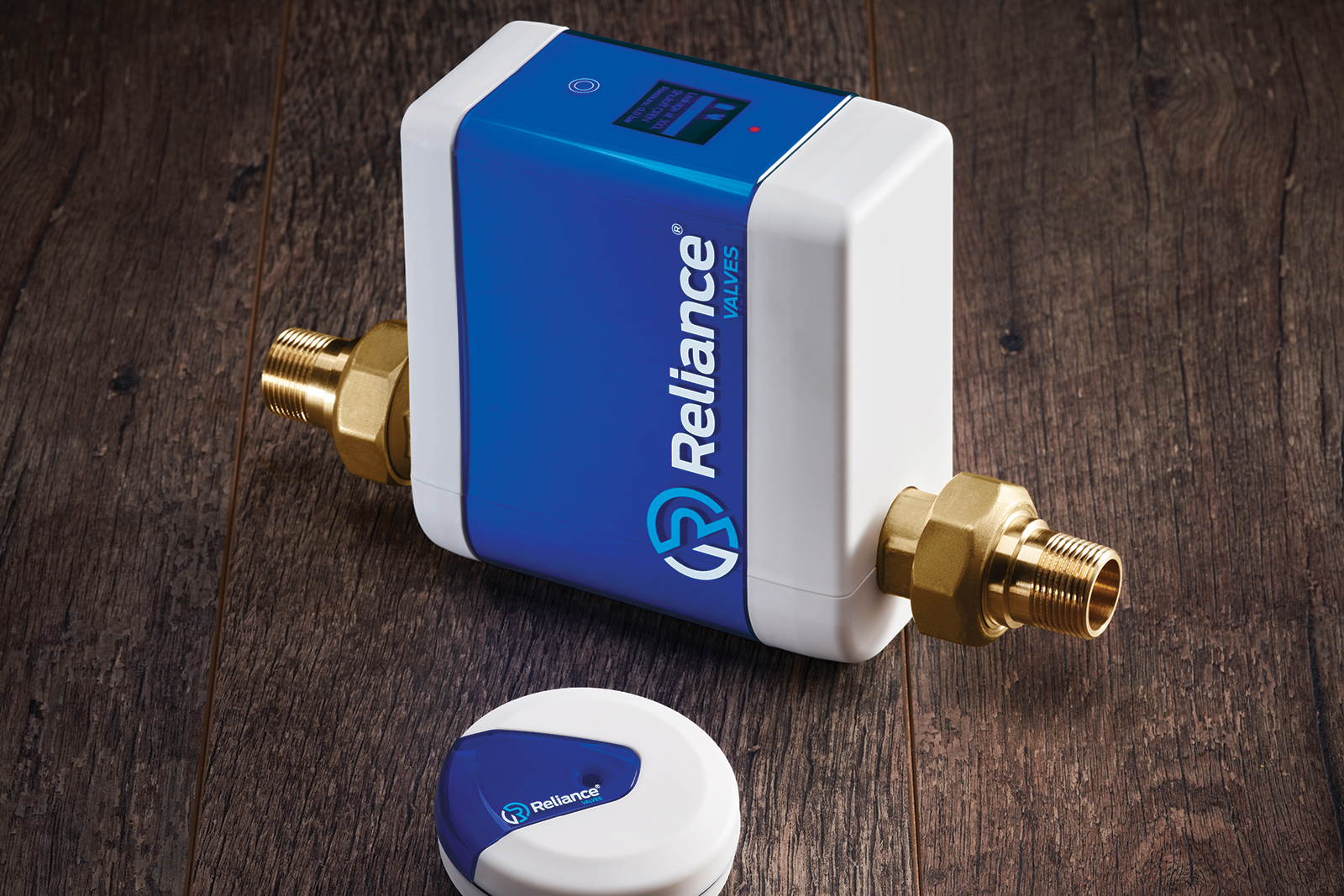 Water leaks can be disruptive and costly. Martin Nicholson, Divisional Director of Specification at RWC, explains how the latest smart technology can help to prevent the damage caused by leaks.
The cost of insurance claims related to leaks are in the hundreds of millions of pounds, while the true cost implications are much higher.
For property owners, architects, contractors and specifiers, the resulting long delays to development projects, substantial damage to ceilings, walls, floors and equipment, and possible subsidence damage to foundations, are just some of the issues to factor in.
However, there is a high-tech way to begin to turn back this rising tide of claims, costs and inconvenience, by using smart leak detection technology, as RWC has recently launched its new Reliance Valves MultiSafe Leak Detection System, which includes the MultiSafe Control Valve and the Floor Leak Sensor.
Real-time prevention
The MultiSafe Control Valve system offers real-time prevention and 24/7 peace of mind. It is designed to constantly monitor water usage to safeguard plumbing systems and identify potential failures that could lead to costly leaks.
The system is suitable for domestic homes, apartment complexes, commercial and public buildings, high-rise flats and tall buildings, as well as large-scale developments.
It works by identifying leaks at a very early stage in order to prevent water damage. An alert is sent when a leak is detected, and it automatically shuts off the water supply.
It also monitors water usage and patterns, identifying potential areas for conservation, and can be connected with multiple devices on the same wi-fi network to centrally control several devices in large buildings or apartments.
Peace of mind
From dripping taps, to burst pipes and leaky plumbing connections behind the wall or in building voids, there are many ways water can escape within buildings. And the cost of water damage quickly adds up, especially when defects go undetected and are often only noticed when it is too late. This new leak detection system offers specifiers, contractors and homeowners peace of mind with real-time leak detection and, critically, the ability to stop leaks in their tracks.
With both leak detection and water monitoring, MultiSafe also helps architects and developers to earn BREEAM points, making it an attractive investment for those that need to consider environment-friendly solutions.
The system earns two BREEAM credits for reducing the impact of water leaks that may otherwise go undetected (leak detection), and one credit for ensuring water consumption is monitored and managed to encourage reduction (water monitoring).
Ease of installation
The WRAS-approved system has been designed with ease of installation in mind, featuring MBSP union connections. It should be installed on the main cold water line, before branches to appliances and after any other control valves.
The installer will cut the pipework and mount the MultiSafe Control Valve using union connections and then insert the battery pack and plug the mains adaptor into a 230v electrical supply (within two metres). Finally, they will connect it to the wi-fi and download the free app.
We recommend that it is used in combination with our Multisafe Floor Leak Sensor for ultimate leak detection in high-risk areas.
The sensor can monitor the floor for wet areas, alerting when water is detected. It can also measure room temperature and notify when it drops enough to cause pipes to freeze and burst, while also monitoring humidity levels to prevent mould formation.
The system can be controlled using RWC's free app, where instant alerts can be set up, real-time insights – such as water usage – can be viewed, and settings can be adjusted using home and away modes.
Domestic advantages
In domestic settings the unit gives people that may be on holiday some peace of mind, knowing that if a leak occurs while they are away it will be shut down before any serious damage can occur.
In large residential developments, one leak detection system per property is all that is required. Every product has a QR code, so when the code is scanned it loads it on to the customer's database.
For example, in a block of 500 apartments, 500 separate QR codes would be loaded into the database, allowing each unit to be monitored and controlled. The concierge, or service manager, would have access to a dashboard monitoring all the units.
They would get instant alerts if a leak was detected and the individual apartment's supply would be shut down, potentially avoiding major water damage to dozens of homes.
www.rwc.co.uk/product/multisafe-leak-detector-control-valve/