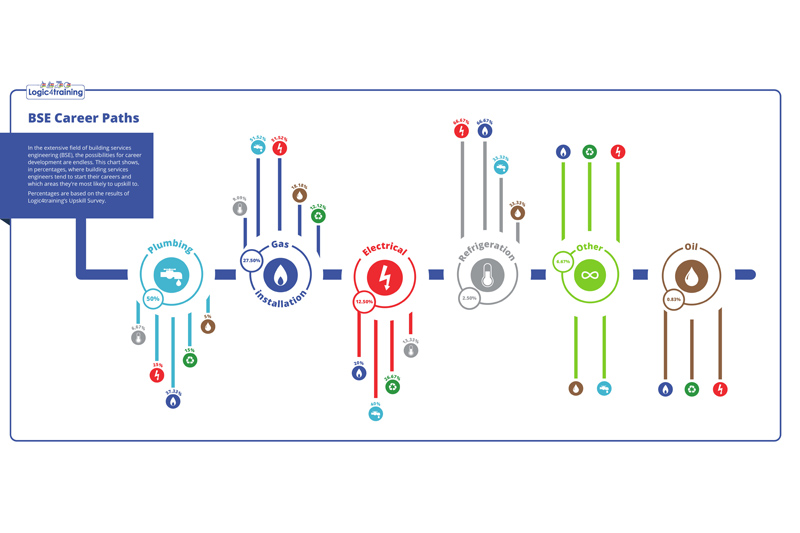 At the end of last year, Logic4training ran a survey asking building services engineers (BSEs) about upskilling. The results showed an appetite for branching out from more than just one profession, with benefits including increased job satisfaction and profits. Mark Krull, from Logic4training, discusses the results.
Our survey at the end of last year was designed to explore building engineers' views on skill set expansion over the course of their career. We were pleased to see how adaptable and practical plumbers and other BSEs are. One respondent of the survey, for instance, reported: "This industry is always changing and you need to continue training or be left behind."
The majority of those responding to the survey began their working lives as plumbers (50%). A further 27.5% were gas installers, 12.5% were electricians and the rest worked in refrigeration, oil and other related industries.
An adaptable skill-set
An overwhelming 87.5% of respondents reported that they had added to their skill-set over the years, demonstrating that a starting point anywhere in the building services engineering sector provides a potential gateway into other areas. Our results showed the majority had added not one but two new strings to their bow.
As you might expect, there was a major cross-over between the plumbing and gas sectors – almost three quarters of respondents up-skilling into gas had started out as plumbers. This is hardly surprising, as some of the skills required in both areas are eminently transferable and both trades are complementary in the workplace.
Improved work satisfaction
Our survey showed that the motivations for up-skilling were varied. Fulfillment was important, with more than 39% reporting an increase in work satisfaction following career development. Those who hadn't up-skilled scored their level of job satisfaction at just 5.38 out of 10, whereas those who'd focused on development or a change in career gave satisfaction 7.5 out of 10, on the same scale.
Financial rewards proved to be a significant motivator too. Following an investment in training and an increase in their skill-set, nearly 73% reported a wider customer base.
There was a clear correlation between an increased skill-set and an increase in hourly rate as well. 53% of those who had not chosen to up-skill earned an hourly rate of under £20 an hour, whereas, following further training in a new field, this percentage fell to just below 18%. The most common hourly rate for up-skilled workers was between £30 and £39 an hour (21.87%) and an elite 15.6% – offering specialist or niche skills – reported earning an hourly rate of £60 or more.
Up-skilling routes
Independent training courses were the most popular means of up-skilling, with 73% of respondents choosing this path to betterment. A small proportion of those who responded reported that they had been encouraged to develop their skills by their employers, but most of the time it was self-motivation that speared the change. There was significant evidence of the value of on-the-job training too, with 40% of those who'd followed an independent training course supplementing their knowledge with practical experience at the coal-face.
And what about the future?
Our survey showed that the UK's BSEs aren't resting on their laurels. Sustainable solutions are gaining in popularity. According to the survey, 39% of those who are currently considering up-skilling are thinking about renewables. Energy efficiency, smart metering and heat-pump courses are popular with engineers seeking to make the most of new and growing marketplaces. Another of our respondents reported on how he was planning to move forward with training to supplement his business: "You can offer clients a complete package, especially now hybrid systems are becoming very popular."
We will always need water, heat and power within our homes and buildings, so being part of the BSE sector is an important and relatively safe career choice. The key to success in any industry is adaptation, and as consumer requirements and technology changes, savvy installers need to keep ahead of the curve, with up-skilling key to business progression and job satisfaction.