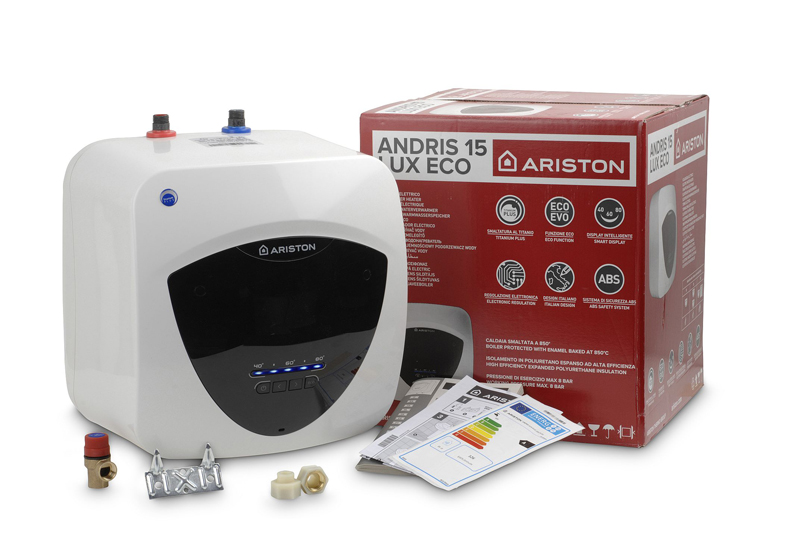 The electric water heating market is continuing to grow at a steady rate. With new products continuing to be regularly introduced, Victoria Gutierrez, Head of Marketing at Ariston, outlines the importance of using only the highest quality unvented electric water heaters, especially those equipped with anti-legionella components.
Small unvented hot water heaters are ideal for a variety of applications, including commercial properties, building sites, kitchens, bathrooms and offices. However, with the electric water heating market continuing to expand, there are some products being introduced that may provide a cause for concern. This is not just applicable in terms of manufacturing and build quality, but also health and safety credentials. The latter point is particularly pertinent, especially when considering the risk of possible illnesses and contaminants, such as legionella.
Earlier this year, the Chartered Institute of Plumbing and Heating Engineering (CIPHE) noted that cases of Legionnaires' disease are on the rise, so urged installers to be vigilant when it comes to potential sources of legionella bacteria. The bacteria are most commonly found in water and, according to the Health & Safety Executive (HSE), multiply where temperatures are between 20-45°C and nutrients are available. The bacteria are dormant below 20°C and do not survive above 60°C.
Awareness of legionella is important in many walks of modern life; for example, landlords providing residential accommodation are required to consider, assess and control the risks of exposure to legionella to their tenants. Similarly, employers and people responsible for public premises have a duty to carry out legionella risk assessments, regulate materials and appoint a competent person to manage onsite water systems.
Prevent and protect
Now, when it comes to unvented electric water heaters, the best option for preventing the formation of legionella is water temperature control. This has led to high quality water heaters, such as Ariston's Andris Lux Eco, being produced with functions that, once a month, automatically increase the water temperature up to 65°C for a 60-minute period. This eliminates legionella bacteria and guarantees the healthiness of the water.
Ariston's software also ensures the anti-legionella cycle is performed again after 30 days, if the device has not reached 60°C during that timeframe. In the event of the unit reaching 60°C, the anti-legionella cycle 'resets' and a fresh count begins.
In addition, electric water heaters should be constructed from corrosion-resistant materials, which prevent excessive scale formation and do not encourage or support microbial growth. Connected taps or showerheads also need to be regularly checked and cleaned, as any cooling water left in them will also be capable of breeding legionella bacteria.
High quality unvented water heaters offer plenty of other benefits, particularly in properties when hot water is required but there is either no DHW system or the current system cannot be expanded. Compact units are easy to install and maintain, while also providing excellent space saving credentials. They are also capable of providing hot water at any time of day to suit a property's needs, with some models further boosting efficiency credentials via specialised energy saving settings.
The future of the UK water heating market looks bright, with AMA Research predicting an increase of around 10% between 2017 and 2021. However, installers need to remain vigilant when selecting small electric water heaters, opting for premium models adhering to the latest regulations.