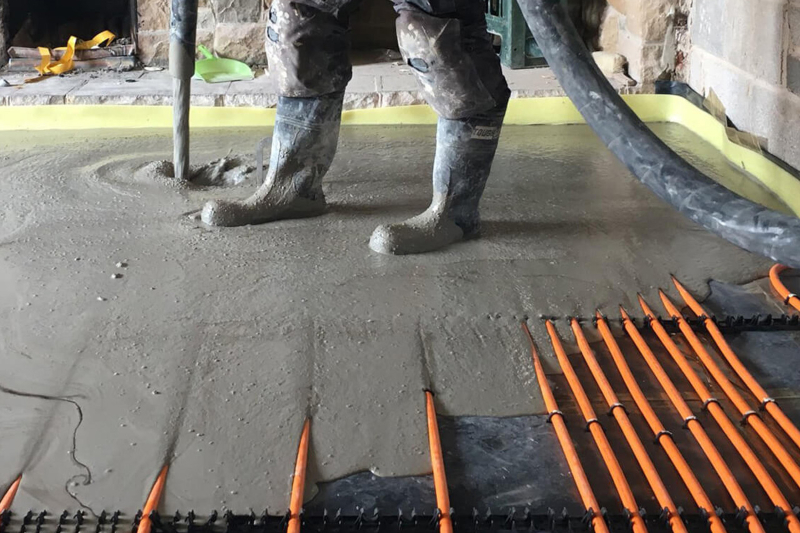 Chris Ingram, Founder of Continal Underfloor Heating, examines the main types of underfloor heating systems and explains when each one should be selected.
Underfloor heating (UFH) technology has advanced significantly over the past 20 years. Once largely restricted to ground floors and new-build properties, today there is a UFH system available for almost any type of installation, and on any floor of a building. With so much choice now available, it's more important than ever for installers to make sure they understand the differences between the systems, so they always specify the right product for the job.
All the UFH systems on the market can be broadly classified into three main types: screed or solid floor; joist systems; and overfloor. Each type sits at a different price point, and any UFH installation must be designed carefully to suit the heat requirements, floor construction and heat source and  give your customers the best possible comfort and efficiency levels.
Screed and solid floor systems
Arguably the most recognisable of the system types, screed is where it all began for modern UFH. Typically used on a new-build ground floor, during an extension or significant retrofit where a new screed floor is being laid, fitting a screed system involves laying pipes on top of a layer of insulation, then pouring either a dry PUG or liquid screed on top to create the floor base. Once the floor has dried, the pipes then transfer heat through the screed to warm the floor and rooms above.
Many different UFH systems are available to use with a screed floor, but at we would always recommend keeping it simple and using tried-and-tested methods. Screed systems have been around so long because they're easy to install and familiar to many tradespeople, with no need for specialist equipment. They are also very cost-effective.
Our EasyFix system can be fitted using either 50mm staples or pipe ties to secure the pipes to the insulation or, for an even easier fit, our SpeedTrak system has a self-adhesive backing that will bond to most surfaces. Pipes are simply pressed into place with no need for ties or staples, creating a safe and fast installation method.
Suspended or joist systems
Joist floor systems tend to be used on first and second floors, in retrofit installations where the floors are already in place, or where the ground floor itself is suspended. Historically these have been considered challenging places to fit UFH, but if you have the right system, designed properly, it can be as easy as laying a screed system.
The classic method for a joist system is to use fit-from-above aluminium spreader plates, such as our AluPlate system. These are typically used with suspended joisted floors, on battens for sprung floors, or with cradle and batten acoustic floors. The plates have grooves where the heating pipe is slotted in to maximise heat transfer and defuse it evenly across the floor. Fit-from-above plate systems can be laid over the joist if a small increase in floor height is acceptable or, if the installer needs the floor height to stay the same, they can also be fitted between the joist.
Typically, these plates have 200mm pipe spacing channels, but 100mm and 150mm spacing versions are also available for low-temperature systems. Some of the more expensive systems come with a quick-snap feature, so that the plates can be quickly made the right size without having to use scissors or cutting tools. This is a very useful health and safety feature, since the edges of these aluminium panels can be incredibly sharp, so care should always be taken during their installation.
Also available for use with joists is our OneBoard structural system. This in-deck suspended floor solution offers a low-profile, high-efficiency system that incorporates 12mm pipe inside a composite chipboard panel that can be laid directly on joists. With a capping of 6mm ply, it can then be used with any floor covering.
Overfloor systems
Overfloor UFH systems were rare just 10 years ago, but since then many different products have come to the market. Overfloor systems can be fitted directly onto an existing subfloor with little disruption, and customers love them because they can be used in properties where other methods aren't suitable. Our SlimFix and ThermoDEK products, for example, measure just 18mm thin, so they can be fitted in almost any project.
It's important to remember, though, that overfloor systems based on a foam substrate won't offer outputs as high as a screed system – typically 60w/m2 compared to 100w/m2 for a screed system. That shouldn't matter in a modern, well-insulated house, but you should always check the property's pre-existing insulation levels before specifying overfloor UFH.
What overfloor systems also give installers is fewer site visits and fewer delays on site. Screed systems need up to 28 days to cure and fully dry, so the time savings during installation can be immense.
But beware – not all overfloor systems are the same. Some of the budget systems on the market offer much lower compressive strengths (kPa), and this can cause real problems once the flooring is laid. A typical budget system comprising foil-faced, white EPS insulation board may have a compressive strength of between 100 and 150kPa, which is simply not strong enough if you're planning to tile on top, and could well cause the floor covering to fail. Many such systems mention in the instructions that you'll need to put a layer of chipboard on top, which significantly reduces the final heat output into the room and increases the build-up height.
Our TileFix overfloor system offers a solution to this problem, featuring decoupling layers pre-bonded to 500kPa EPS board that you can tile straight on top of with normal, flexible tile adhesive – a fast, simple and cost-effective solution. We also offer the ThermoDEK overfloor system, which has a solid gypsum dry-screed panel at its heart to provide a high-output, high-strength solution in an 18mm super-thin product.