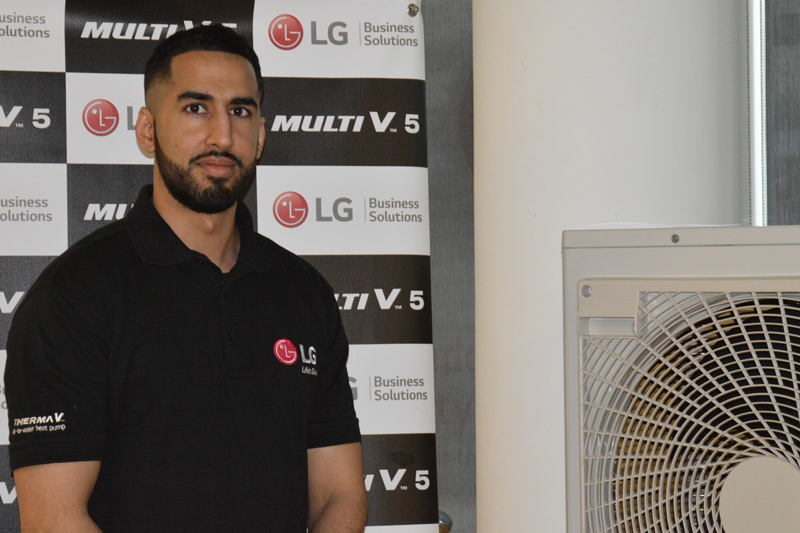 With many predicting a significant growth in Heat Pumps in the coming year, LG Training Manager, Ricky Sethi, explains what training is available to professionals on how to install the LG Therma V air to water heat pump system, and puts the expected boom in sales in 2020 into context.
The recently released document from the Heat Pump Association – "Delivering Net Zero: A Roadmap for the role of Heat Pumps" provides a stark reminder that in order to achieve Net Zero Carbon emissions by 2050, the UK needs to start to take decarbonisation of domestic heating seriously now. It states "Heat pumps are already a well-established technology that can immediately and substantially reduce emissions from our heating and hot water consumption. Efforts must be taken now to put them to good use."
The Committee on Climate Change says that 19 million heat pumps need to be installed in the UK by 2050. Despite the benefits of heat pump installations, heat pump deployment in the UK remains painfully low with just 27,000 heat pumps installed in 2018.
What we do need is to train a significant number of installers to be able to install heat pumps in the numbers we need to see them being installed, if we are to meet the targets set and the numbers needed to achieve virtually zero carbon from heating, by 2050.
Expanded training opportunities
LG has stepped up its efforts to get more installers trained and is ready to begin the heat pump revolution. Training takes place at its two training centres – at the head office in Weybridge and at GREenergy training centre in Chesterfield close to the M1. Two training courses a month have been taking place for a year now and are planned throughout 2020, with the response from those attending incredibly positive.
We're delighted at the level of interest in the Therma V range we have available here in the UK. In particular we have seen huge interest in the Therma V R32 Monobloc unit which requires no F-Gas expertise at the installation stage. It's a very simple alternative to a boiler driven heating and hot water option and is the simplest installation for traditional installers to get to grips with.
The monobloc connects to the wet central heating system in the same way as a gas boiler – no new tools will be required. It's an ideal entry point for installers to add heat pumps to their existing portfolio of heating options for their customers.
More installers needed
The Heat Pump Association's document highlights the steadily increasing number of installers we will need in the UK between now and 2050 – and that figure rises from just over 1,000 in 2020 up to more than 40,000 by 2050. It's a staggering figure but represents the number needed to cope with the anticipated workload as the years go by and the recognition that heat pumps are the only sensible way forward as we head for de-carbonisation by 2050.
The LG Therma V series of air to water heat pumps comprises a full suite of options – monobloc, splits, and high temperature options. The popular monobloc Therma V air-to-water heat pump operates on the low GWP R32 refrigerant and is available in 5kW to 16kW 1Ø and 12kW to 16kW 3Ø, in a wide operating range of between 10-135Hz and water temperatures up to 65°C without an electric heater. It comes with an energy label rating of A+++.
The new version of the Therma V Monobloc contains a plate heat exchanger, expansion tank and a Grundfos water pump. The new unit has a higher capacity due to the choice of refrigerant along with a lower GWP, when compared to R410a. The electric heater can be installed as an optional accessory as this is not always required.
The latest unit has a 5 to 6dB lower sound power level than previous models and incorporates a number of additional new features including a new type scroll compressor, designed and manufactured by LG Electronics with 'wet vapour' injection. The unit has excellent performance at low ambient temperatures – 100% at -7°C.
Software support
Heating engineers will need to correctly size heat pumps units to a property and many manufacturers including LG have selection software for this. UK heating engineers are extremely important to the decarbonisation of domestic heating and LG will continue to provide free of charge training on the Therma V Heat Pump throughout 2020 to ensure that facilities are there to help increase the numbers of competent heat pump installers. Attending a BPEC renewable course is always advisable and will enable the full range of heat pumps to be available to heating engineers.