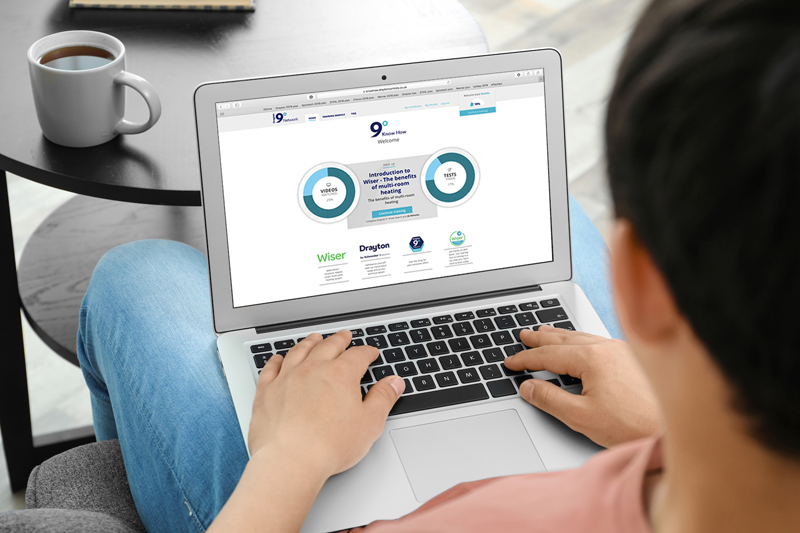 Following the success of its Wiser Approved training tour, Drayton launched an online training portal – 9° Know How – in June. PHPI reports back from our very own trial session.
As popular as Drayton's Wiser training tours have been since their launch, it's never easy for installers to find time out of their busy schedules to attend. Step in, 9° Know How. The manufacturer has added to its 9° Professional Installer Network by introducing a series of training modules, which can be undertaken anywhere, and at any pace – ideal for all that time spent in the van waiting for customers to arrive!
In order to report on the new training academy, PHPI was given access to the portal to gain a better insight of what's on offer, and how it all works. For those new to Drayton's 9° Network, you'll simply have to register for free by entering a few details of your proficiencies and any accreditations, and then you're all set. Once the Know How training has been completed your listing is added to the 'Find an Installer' search on the Wiser consumer website, generating leads for your business. You'll also be granted the usual 9° benefits, which include extended warranties, access to the discounted members shop, and exclusive training opportunities.
Guiding you through
As you are taken through to the training dashboard, which currently focuses on the Wiser multi-zone heating system as its first available module, installers are greeted by four sections. The main topics covered in a series of videos and (short) tests, include:
*Introduction to Wiser – Explains why multi-zone/room to room heating is beneficial, and introduces the various Wiser system packs
*Installation and commissioning advice
*Common installation questions and answers
*Tips on how to introduce the system to your customer
Overall, the series of modules could take engineers as little as 30 minutes to complete, but the animated videos cover everything you need to know about Wiser – from the benefits of room to room heating for your customers and which Wiser packs are suitable for different heating systems, to the entire commissioning and set up process. Once all the videos have been watched and tests completed, participants will be granted with 'Wiser Approved' status.
The overall look is clean and polished, with smart, animated videos and clear instructional advice to keep you on course. Any questions that you may get wrong in the multiple-choice tests are highlighted and then able to be retaken to ensure full understanding – we only discovered this for research purposes, of course…
Assessing the results of the recent PHPI survey, it has become clear that a large proportion of installers are now fitting smart heating devices and products. The benefits for customers are more pronounced, while engineers are becoming more comfortable with fitting and commissioning the systems. And, with reports suggesting that smart home spending will triple by 2025, this trend is only going to continue.
Fortunately, Drayton's 9° Know How offers something for all levels of understanding. The installation process is made as simple as fitting any other thermostat, and there's plenty of advice for engineers looking to upsell a smart heating system to customers. Heck, you can even do it all from the comfort of your own home!