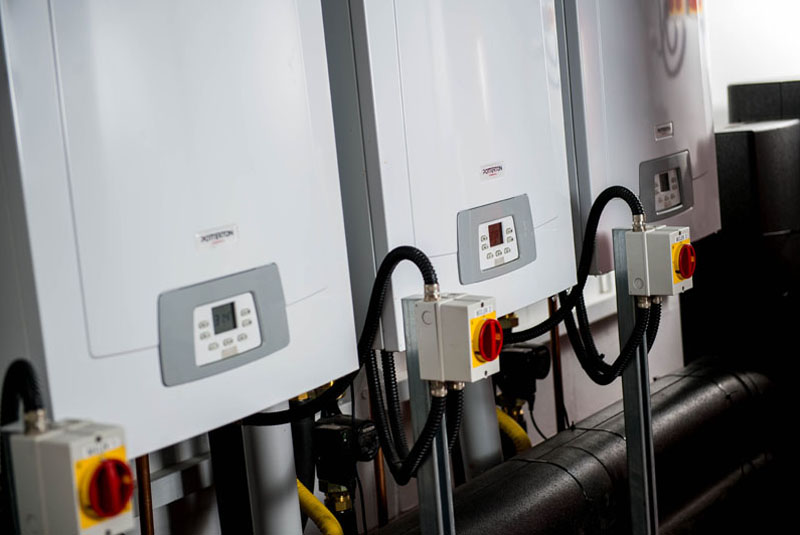 Heating systems installed in cascade are fast becoming the go-to choice for buildings with significant heat demand that need to deliver this heat efficiently and from a small plant room. While cascade heating systems have several benefits for a variety of applications, how do you flue these systems correctly?
Andy Green, Technical Director at Potterton Commercial, offers three practical tips for overcoming flueing challenges for modern condensing boilers installed in cascade arrangements.
Read up on legal requirements
With any heating installation, there are regulations and standards that need to be adhered to. In the case of flueing, the Clean Air Act and IGEM/UP/10 are two key areas that commercial heating engineers should familiarise themselves with. For example, IGEM/UP/10 sets out guidelines for the installation of a range of flued gas appliances, covering the likes of ventilation, flue sizing, and the height and location of flue terminations. As part of the IGEM/UP/10 documentation, installers can complete risk assessments to gauge whether their installations are compliant or not.
Apply additional accessories
Many boiler manufacturers will offer a series of additional flueing accessories to provide extra support with the installation of cascaded heating systems, from cascade flue header kits to external flue kits. What is great for commercial heating engineers is that these additional accessories have been designed to work specifically with their heating systems in mind.
Talk to the experts
With so much detail to navigate when it comes to the flueing requirements and options for commercial heating systems, installers should seek the advice of a flue specialist when they're approaching a cascade of flues. These specialists will be able to help with the design of a reliable flue system that is safe and compliant with all standards and regulations.