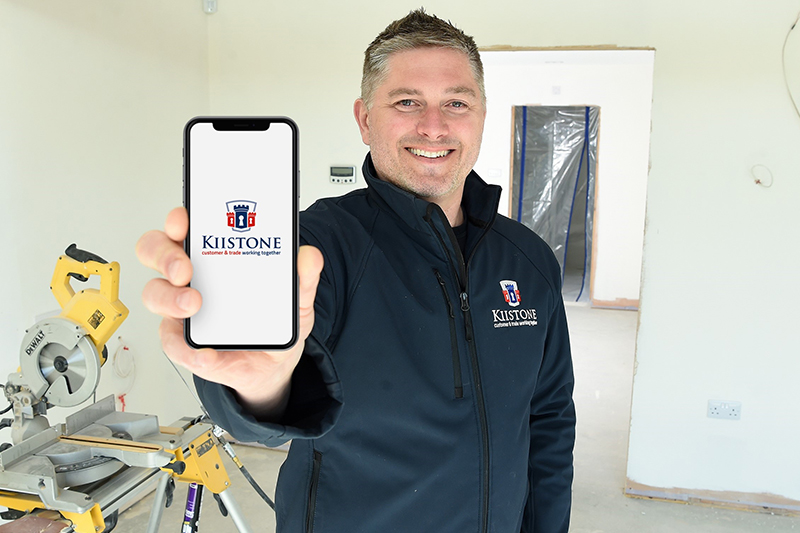 The new Kiistone App has been designed to help tradespeople run their businesses more effectively and minimise payment disputes.
A Lancashire-based tech start-up has launched a new mobile and desktop app designed to help tradespeople run their businesses more effectively and put an end to payment disputes.
The brainchild of CEO Tim Mullock, the Kiistone app – which was launched in April 2021 – is designed to financially protect both tradespeople and customers, who agree job specifications and budgets via the app. Payment is then protected and held independently by the largest Escrow provider in Europe, until both parties are satisfied that the job has been completed as agreed.
Tim Mullock said: "My experience of being a British tradesperson over the last 20 years has shown me both the good and the not so good that the industry has to offer, and the biggest issue that we've still got today is a lack of trust between the customer and the trade.
"While it's undeniable that there are some cowboys out there, professional tradespeople often find themselves tarred with the same brush, which doesn't make for good customer relationships."
Tim continued: "On the flipside, tradespeople can experience lack of understanding from customers or unrealistic expectations, which can lead to disputes over final invoices.
"The Kiistone app has been designed to provide a professional solution for both parties, providing absolute clarity to customers at all stages of the project and ensuring fair payment for the job delivered."
Project management
As well as the Escrow solution, the app provides further functions to help tradespeople manage their projects, diary, cashflow, admin and communication. It also links to the Kiistone Community website, which provides guidance and support for trade businesses and homeowners.
Tim noted: "The aim of the app in the long term is to build a community of tradespeople who take pride in their profession and who understand the value for everyone in modernising the industry. Kiistone's ultimate goal is to be a gamechanger for the industry, to reinstate pride and quality in British trades, and to represent a new benchmark in professional standards."
In safe hands
West Bromwich Albion and England goalkeeper Sam Johnstone has become a shareholder in the Kiistone app. Preston-born Johnstone was one of the first users of the app, having been asked to beta-test it during the full refurbishment and extension of his family home.
Johnstone said: "When we were planning a major refurbishment of our family home I was offered a chance to road test the app by the project manager. It seemed like a really good idea, so I was happy to give it a go. I don't know anything about building works, but having the project broken down into stages helped me feel in control of the progress and my budget.
"It ended up being a great experience and I feel confident it will be able to help others too, which is why I'm really pleased to have come on board with the company as a shareholder."