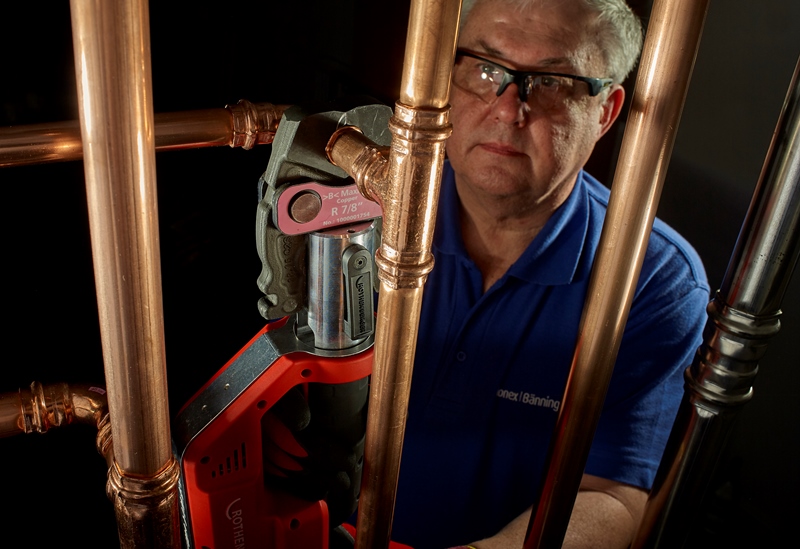 Ged Grimes, UK Business Unit Director at Conex Bänninger, provides some tips and advice on press fitting and outlines why training is paramount to ensure systems are installed correctly. 
Whilst traditional jointing methods still have their place in the market, there's no doubt that the popularity of press fittings has increased dramatically in recent years. 
There are a number of reasons for this, mainly the speed of installation, which can make the completion of a job up to three times faster. Press is also a much cleaner installation process, and there's the fact that installers don't have to obtain a hot works permit, which can save considerable time and money. 
Another factor for the increasing use of press fittings, particularly 3-point press variants like Conex Bänninger's >B< Press range, is the added layer of security and peace of mind for the installer that joints will be pressed correctly. 
A key advantage of press fittings over traditional methods is the ease and simplicity of installation, although this doesn't mean that it can be done without the right training. It is vital installers are up to speed and undertake the necessary training to ensure they are confident and competent installing the fittings.  
Pressure testing
Whatever the size of the project an installer is working on, there's always the possibility that a joint hasn't been pressed properly. This is one of the reasons why pressure testing a system is so critical. 
By filling the system to atmospheric pressure first and visually checking all the joints, it means all unpressed fittings can be identified and crimped effectively to avoid any potential issues in the long term once a system is running at normal pressure. 
Using a fitting that is specifically designed to leak if the joint hasn't been crimped correctly is a great fail-safe measure. It gives installers added peace of mind and the opportunity to check all the joints and go back and press any that might have been missed. 
Joints are occasionally missed by accident, for example, it might be that an installer is distracted with another job and this takes them away from where they are at. Or it could be as simple as having to change the battery in the press gun and going back and missing a joint. This is why using fittings that are designed to leak and highlight any fittings that haven't been crimped properly is essential. 
There are also cases though where press fittings aren't being installed correctly in the first place.   
It may be that an installer is using the wrong type of jaw profile to press the fitting, for example, such as an M Profile jaw instead of a B or V Profile jaw, or the tube hasn't been correctly prepared or inserted fully to the right depth. This is what makes training so important.   
The right approach
It is vital that installers follow the basic procedures for correctly installing a press fitting to ensure a reliable and leak-free joint. Choosing the right tool for the job is vital in order to achieve accurate and secure press fitting. 
First, you need to choose the size of the tube and cut this to size with a proper pipe cutter. Next, the tube needs to be deburred inside and outside to ensure no debris is left in the pipework and it has a smooth finish.   
Then, using a depth gauge or the fitting socket, simply mark the depth of the fitting with a marker pen. This gives a visual guide that the tube will go into the socket at the correct depth. Once the tube has been marked to the correct depth, take the fitting and put it into the Jaw. Press the joint using a press machine for the perfect joint. 
Free training
At Conex Bänninger, we understand the importance of providing installers with the right level of training to ensure they can fit our products to best practice standards. All of the training we provide is offered to installers completely free of charge, either at our training centre or we will also come to site as many times as required to undertake training sessions to ensure all installers on a job have the necessary skills to press-fit correctly.   
Everyone that goes through our training receives a certificate to prove their credentials, which many sites are now requesting to see as standard to try and regulate the level of professional they allow on-site. We provide certified ID cards that an installer receives once they have completed their press-fit training as part of our commitment to add value to our customers' businesses. 
Finally, we are also investing heavily in our training offering at our head office in the West Midlands, creating a Training Centre of Excellence where installers can come and spend time with our expert industry trainers on a host of courses to keep up-to-date with the latest trends and innovations in the HVAC fittings industry.