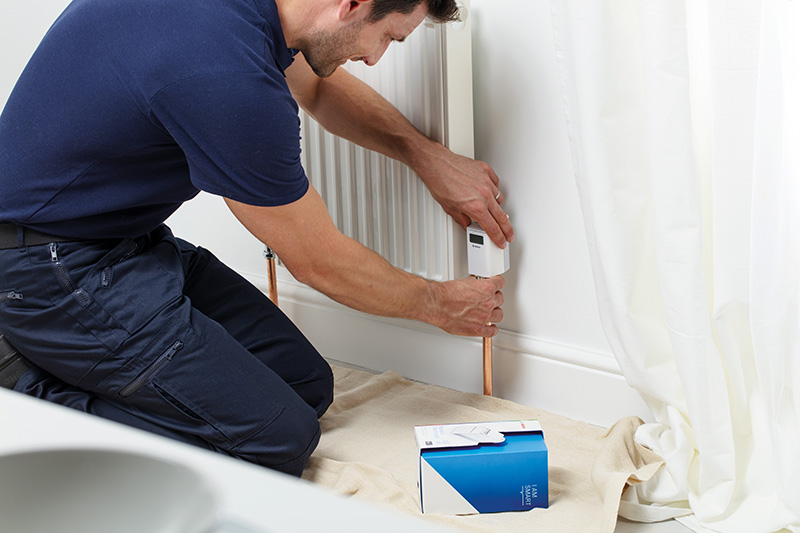 Martyn Bridges, Director of Technical Communication and Product Management at Worcester Bosch, discusses the evolution of heating controls.
Heating controls have come a long way compared to the systems of 10 to 15 years ago.
With the continuing increase in packaged boiler sales such as combi boilers, controls will continue to be sold in their millions. This sales demand mixed with new technologies to meet this demand will help revolutionise heating controls even further over time.
Additionally, remote boiler monitoring is a rising tool that will help customers quickly and easily identify problems with the boiler and be able to solve these without the hassle of waiting around for engineers to come and inspect the property.
Year to date
In July of this year, we saw the millionth boiler sale for the year to date, and 80% of that number were combi boilers.
In most cases controllers are sold with a combi boiler, particularly in England where Boiler Plus is a requirement, where you must fit one of four extra energy saving measures to the boiler.
As three of those options are controllers, generally, the more combi boilers that get sold, the more controllers get sold.
Introducing TRVs
In the coming months we are going to start to see more thermostatic radiator valves sales. The market is already healthy for TRVs but soon it will become mandatory to fit them on every radiator bar the one where the room thermostat is situated every time you fit a replacement boiler.
This requirement is being enforced in the Building Regulations in England, Scotland, Wales, and Ireland and puts into local law a piece of European legislation called the Energy Performance of Buildings Directive.
We know that TRVs are a great addition to saving energy. Increasingly systems include them somewhere but not necessarily on every radiator. It would make significant energy savings if it was a requirement to fit TRV's when replacing the boiler.
Current state of play
We believe that around 75% of homes in the UK already have thermostatic radiator valves, so there is an additional 25% of properties left to tackle.
Fitting a boiler is quite often straight swap. However, adding TRV's will be extra items to fit once the 2020 Building Regulations are mandatory.
I believe this will be a good thing in a way as TRVs are a great way of saving energy and therefore reducing carbon dioxide emissions.
Nowadays smart TRVs are available. They are electronically operated through a radio frequency signal to a controller, which allows you to very easily only heat specific rooms, particularly useful if you are working from home and only using one or two rooms.
This is a good move as both electronic and smart TRVs will start to become more appealing, which means we will start to see an increase in smart, or internet enabled controls.
Currently there are several on the market. The major benefit is that you can operate them remotely, from anywhere in the world, if you have access to a smart device.
A note on monitoring
Moving away from home controls, there are also developing solutions for remote monitoring – mainly in social housing. For example, Vericon Systems offer tools to be able to monitor their boilers virtually.
The system allows communication with a wide range of boiler manufacturer's appliances. It also acts as a gateway for other devices which can highlight potential issues or prevent future faults completely.
Virtual monitoring gives relevant customers that have multiple properties the flexibility to monitor their tenant's boiler from anywhere, making it an affordable and reliable compliance and safety tool. Additional benefits include heating temperature settings, low pressure warnings and interrupted gas supply sensing.
What's to come?
Due to the success of various digital schemes, including both TRVs and remote monitoring and the impression they have made, relevant government departments have been considering recommending them as a vehicle to approve any potential future funding that might be available for heating technologies.
In summary, technology is a huge driving factor when it comes to the evolution of control systems.
When looking back at controls sold between 10 and 15 years ago, these systems were basic mechanical time clocks and mechanical room thermostats. There is no comparison between these analogue devices and the smart electronic controls available today.