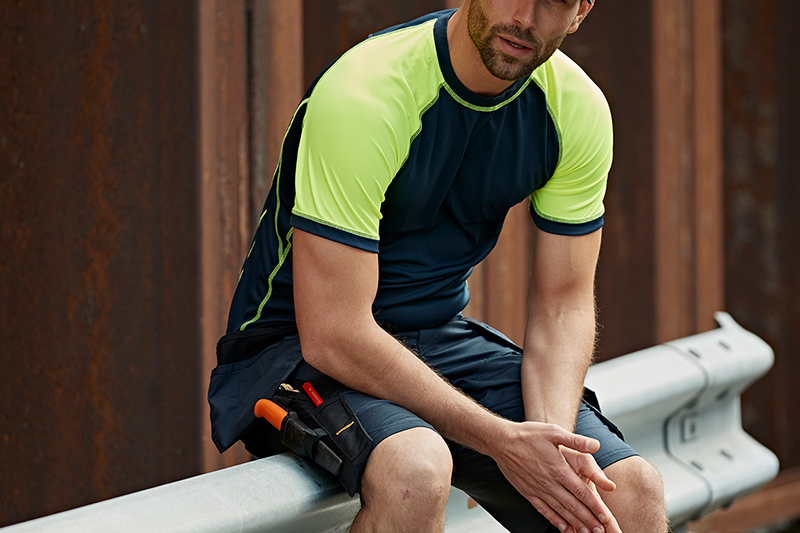 Peter Dumigan, Managing Director of the Hultafors Group UK, looks at why sustainable workwear that's also great for leisure activities is high on the agenda for trade professionals this summer.
It's nearly 150 years since Levi Strauss took the clothing world by storm with denim working clothes. Little did he know then that rugged looks, utilitarian garments and responsibly sustainable clothing would become one of the statements of the modern cool in fashion trends.
For over 50 years, Snickers Workwear has been building a workwear trend that now delivers eco-friendly, technically advanced, innovative and high-quality working clothes that are built to last and look good at work and at play. In essence, workwear that can be used both on site, and for leisure activities too.
Nowadays though, environmental considerations are more important than ever for Workwear and Footwear brands. Just as the effects of plastic waste on the environment has been brought to the centre of consumer consciousness in recent years, so the problems caused by the disposal of shoes and clothing are also coming to the fore.
Images of 'ragpickers' and animals feeding on waste clothing mountains in Africa are an increasing cause for concern as landfill sites become overwhelmed because we dispose of our waste on someone else's doorstep. But it's not just everyday consumer waste that's causing problems. Thousands of tonnes of used clothing and footwear end up in landfill or on waste mountains overseas. It's high time they were disposed of in an environmentally responsible manner so that 'footprints' can be maintained at levels that benefit everyone, not just the environment.
Tested to the extreme
Snickers Workwear clothing is trialed from the Arctic Circle to the southern Mediterranean, tried and tested in extreme environmental conditions – cold, heat, wind and rain. But not only are these working clothes tested for performance, they're now tested with regard to 'Environmental Sustainability'. What makes these garments so appealing to individuals and corporates alike is not only the ergonomic body mapping designs but also the 21st century fabrics including the latest in recycled, organic and sports fabric technology.
Design and development has always been driven by continual research into user needs and experiences in a variety of working environments and weather conditions, but nowadays recyclability and carbon footprint impact is a key part of that evaluation. So, it's not just the physical demands on the body when working hard on site or in sports and leisure activities that's researched, it's the physical demands that product manufacturing and disposal place on the world around us that matters too.
So, if you're thinking about what's most practical – and beneficial – to wear this summer for work or leisure, some of Snickers Workwear's LiteWork and FlexiWork clothing is dual purpose and works hard in reducing our collective carbon footprints.
If it's performance you need, check out the upgraded lightweight and breathable 37.5 fabric technology in Snicker's Workwear's shirts and base-layer clothes. With superb cooling technology, they're great for demanding tasks on site as well as high intensity gym work, circuit training, jogging, hill walking and mountain-biking. The new AllroundWork styles are made from highly functional waffle- structured 37.5® fabric for optimal ventilation, cooling and moisture transport to keep you feeling fresh for longer.
Verifiable sustainability
But if you want to be more than just cool and comfortable at work this summer – and do your for bit for saving the planet – the 'Verifiable Sustainability' in Snickers Workwear new T- and Polo-shirts will suit you down to the ground. The brand aims to be at the forefront of sustainability in Workwear which is why the new lightweight Polo and T-shirts are made of 100% recycled polyester with a bio-based, anti-odour finish plus a smooth texture and efficient moisture transport for great working comfort.
If your focus is on being kind to animals, the Sustainable Merino Wool mid- and base-layer clothes are 'Mulesing-Free which will help you stay warm or cool because of the nature of its 100% all-natural Merino Wool fabric that delivers optimal comfort for all kinds of working environments and leisure activities. Designed by nature for excellent ventilation and insulation, Merino wool is extremely soft, and naturally odour-preventive for an all-day fresh feel. It's also temperature-regulating, repels water, dirt particles. It's anti-static and Snickers Workwear ensures that the wool it uses is produced in kind-to-animals, 'Mulesing-Free' environments.
If recyclability is your particular focus in eco-friendly priorities, then the AllroundWork fleeces and bodywarmers could be your 'Sustainable Choice'. Made from 100% recycled polyester, the POLARTEC garments are comfortable and lightweight with great freedom of movement. They'll also deliver just the right warmth and comfort to keep your body warm in chilly early mornings or comfortably cool in the warmer evenings.
If you want to ensure 100% Circularity in what you're wearing, a product that's completely made from a combination of recycled materials and materials that are recyclable is EMMA, Sustainably Responsible Footwear.
EMMA is a socially responsible brand because it's totally committed to sustainability and reducing waste. Every shoe, trainer or boot in its range is safe for the environment with a '100% 'Circular' manufacturing, usage-mapping and recycling process for every single product it produces. So, to make a positive social impact in your workplace, if your ordinary safety footwear just isn't contributing to your sustainability policy, you can be sure there's an EMMA product that is.
While style, comfort and functionality have been key drivers in Snickers Workwear clothing development over the years, fabric performance and sustainability is now central to the technical design of the garments and footwear just as it is in performance sports and leisurewear.
The result is environmentally-friendly, ergonomically designed dual-purpose working clothes and footwear that are not only designed to meet the physical demands that tradesmen and women face at work but are also ideal for some sports and leisure activities – and reducing your carbon footprint too.
www.snickersworkwear.co.uk
https://www.emmasafetyfootwear.com/home-en