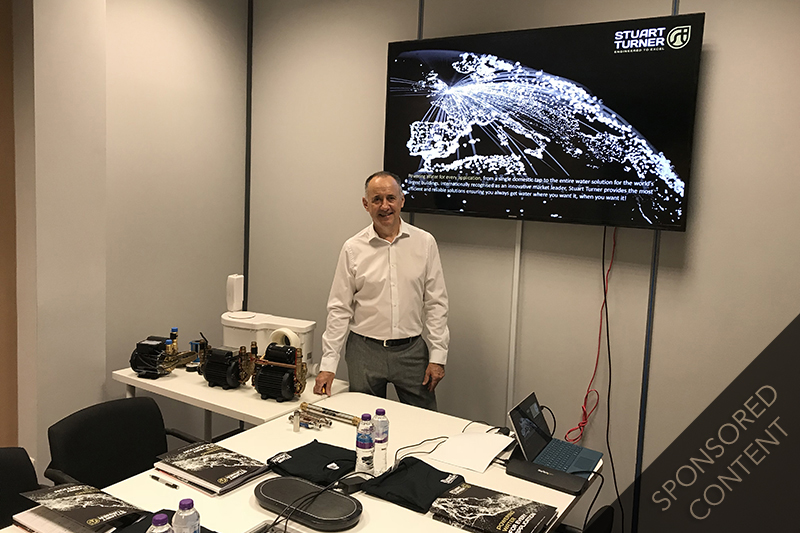 Keep your skills up to date with the latest training from Stuart Turner.
Stuart Turner has long supported the need for training throughout the industry and its regular training programmes include college students, installers, and merchant trade counter and showroom staff. Whether you are an installer currently using Stuart Turner products, or would like to learn more about the product ranges, these are the training sessions for you. It is easy to join and there are many benefits to joining our Installer Club.
Having recently enhanced its popular Academy to offer online training webinars to installers, when the training academy was forced to temporarily suspend due to government guidelines during the pandemic, Stuart Turner was able to continue in delivering first class training to hundreds of installers online.
The company is pleased to announce that since August 3rd it has been back hosting in person training days consisting of one full day training with its National Training Manager, Richard Ballard. So make sure you keep up to date on Stuart Turner's website and social media for all news and updates regarding training, webinars and future dates.
Focused training
Each training day focuses around one product line, so whether you are an installer looking to learn more about the Mainsboost range, or are looking to sharpen up your knowledge on shower pumps, there is always a training session for you. The trainers will be able to answer any questions you have on the day as well as tailoring content to best suit your needs. There is an open Q&A session at the end of the training day where you can have all questions answered by those who know the products best.
Following the success of online training webinars instigated by social distancing guidelines, these will now form part of the academy structure. While hands-on practical training will always be the preferred method, as spaces in training academies are limited, Stuart Turner will create a hybrid model with a mixture of "live" and online audiences at training sessions going forward – meaning if you can't make it to the academy in person, you can always join online!
Training seminars are provided free of charge, take place over one full day and include topics such as: Overview of Stuart Turner products; Product selection and application; Installation best practice; and Troubleshooting and repairs.
Richard Ballard, National Training Manager for Stuart Turner, comments: "We've been delighted with the response from installers to date and this is an ideal opportunity to for them to update their knowledge on established Stuart Turner pumps such as Monsoon and Showermate, along with new products to market."
Approved Installers
For installers who would like to benefit from attending a Stuart Turner Approved Installer training session, an automated booking system allows access to numerous free training sessions held across the UK, and the opportunity to become a Stuart Turner Approved Installer – with their company details promoted through the Approved Installer Finder page on the Stuart Turner website. This allows Stuart Turner to promote Approved Installers when handling homeowner enquiries, so it can work to support you and your business.
The Technical Assist team is on call daily to take calls from installers as well as homeowners regarding Stuart Turner products. By joining the club, you are added to a database of national installers that are recommended to homeowners when looking for approved installers.
Installer Club
Not only do you gain the support from Stuart Turner, but once you are an Approved Installer, you are automatically enrolled to join Installer Club. This allows you to collect points every time you install a Stuart Turner product, which you can then exchange for merchandise or even more products – build points with ease and earn rewards every time you install.
It's simple and easy to use, simply enter the product code online through the Stuart Turner website and your points will register to your account. From free workwear to free products, you can reclaim points easily online – so why not join the thousands of Installers currently earning points
The Stuart Turner Approved Installer training programme has proven to be particularly popular, and the online booking and confirmation process now makes it even easier for installers to view their nearest locations, venues and dates for each training session before quickly and simply reserving places for themselves and their colleagues.
Stuart Turner is looking forward to welcoming installers back in for its training sessions. If you would like to join them then head over to the Stuart Turner website and you can either reserve your space for in person training or join along online. The training is free to those who wish to join.