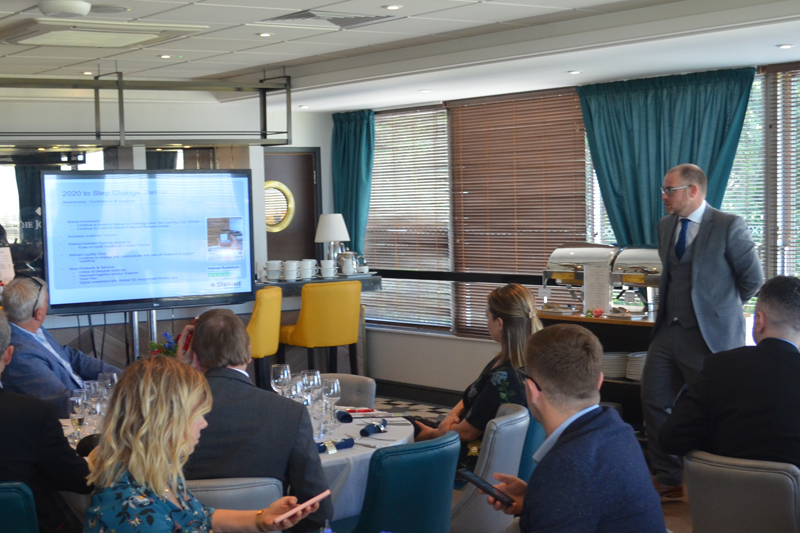 Chris Harvey, Head of Marketing for Stelrad, provides a market update for the radiator sector.
A media event held at Sandown Racecourse in Surrey, saw Chris Harvey, Head of Marketing for Stelrad, providing a comprehensive market update for the radiator sector and highlighted several issues that are affecting the heating industry as we head towards the end of the year.
During 2019, the radiator market has reduced every month and up until June 2019, the market was down 7% year on year from the same month in 2018. Steel panel radiator sales were down 8%, LST radiator sales were down 1%, towel rail sales were down 15%, but decorative radiator sales were up 21%.
Year on year, the company's market share is up 2.5% at 50% for all radiators. In June, its market share was up to 58%. Steel panel sales were up 11% year on year, giving the business 62% of sales in June. LST sales were up 22% giving a 74% share of the market in June, while July has seen the best month for LST sales in the company's history.
How have the new initiatives announced last year been working?
"It's all been really positive," confirmed Chris. "We've actually pushed ahead with everything we said we would and 12 months down the line we are beginning to see all of them deliver. We launched our installer loyalty programme and after an admittedly slow start, we have seen sign up's increasing month on month.
"We've put investment into our Quotation team and Customer Service team, which has paid huge dividends, with customers gaining confidence in what we do and how we operate for them, building trust with installers – providing a speedy and accurate service that they appreciate. We have between 300,000 and 400,000 radiators in stock at any one time that ensures we are able to meet orders within 72 hours in all but the smallest number of orders, and this too has helped build our reputation still further. On the Customer Service team side of our business, we have joined the Institute of Customer Service and we achieved 89.5% – the highest performance figures they have ever experienced in any sector, which was a feather in our cap.
What does the next 12 months hold for the business?
"More of the same," says Chris. "We'll step up to the plate across all the areas we've addressed this past 12 months and improve still further. We'll be keeping our awareness levels high – we're renewing football and rugby club sponsorships, we're sponsoring the Heating Installer Awards again next year, we will be launching new products throughout the year with a push in the kitchen and bathroom sectors. We've invested in the website and the new version will be available around September time. We're launching a digital app that will allow installers and specifiers to visualise our products in-situ in a property. We're stepping up our presence in Ireland – north and south, and our acquisition of Hudevad will be opening even more doors for us. These are truly exciting times for us and the one thing we will not do is stand still."