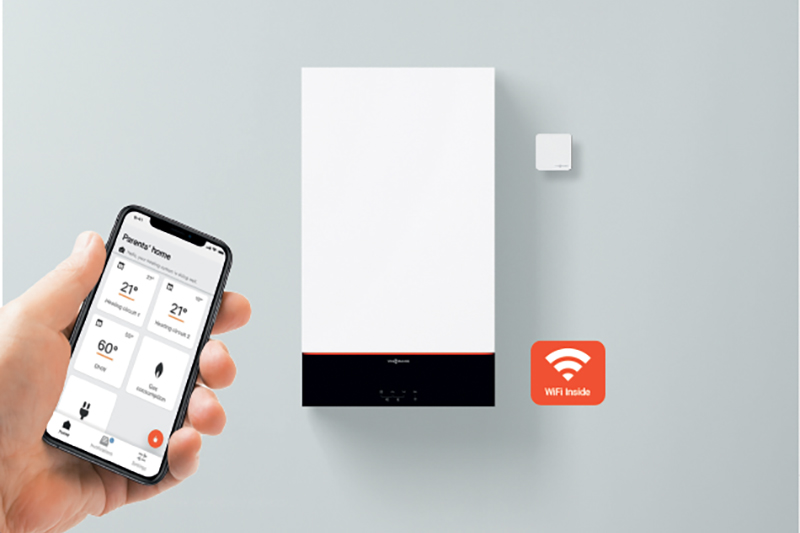 As well as being convenient for end users, smart controls should also make life easier for installation and maintenance engineers. Darren McMahon, Marketing Director of Viessmann UK, explains how.
As central heating controls get smarter, installing and maintaining boilers should become easier. And when smart controls enable engineers to monitor and tweak the boiler remotely – as some now do – customer loyalty should also improve.
But not all smart controls have the same capabilities, and not all will give you the same advantages. So let's take a look at some of the smart control capabilities really worth having, seeing things from the installer's point of view.
Much of what I share here is taken from feedback from Viessmann Trained Installers, and from a long conversation with Glen Wakeling, director of East Midlands-based heating and mechanical services specialists Heatspec. I'm also mindful here, of course, of the essential need to keep customers happy.
Customer reaction
Before installing smart controls, it often falls to the heating engineer to explain to the customer why they're desirable. The moment you start on this subject, you're likely to get one of two reactions: either the customer's eyes glaze over, or they're itching to know more – but expect you to talk about well-known brand names such as Nest, Hive, Alexa or Siri.
Those customers with the glazed-over eyes may fear that smart controls will make controlling the heating system too complicated for them. They may even have heard horror stories about heating controls taking hours to set up or even get them confused with smart meters. What to do? Glen Wakeling says that in such circumstances it's worth explaining the practical benefits of smart controls, but there's no point pushing too hard against a door if it's closed and bolted. It's sometimes better, Glen says, to give the customer the traditional controls they know, then leave it to weather compensation technology to ensure the boiler runs efficiently.
More tech-savvy customers, on the other hand, will love the idea of controlling and monitoring the heating system from their smartphone or tablet. These customers might save money on heating bills because of smart controls – for example, by not heating an empty house on those days when they find they're going to get back home later than usual. And many customers really like the fact that smart controls give them more convenience – for example, by being able to bring on the heating an hour or two before arriving home after going away on holiday, without having to heat the place while it stands empty.
Smart boiler controls
What even tech-savvy customers don't know, however, is that there are smart controls and there are smart boiler controls, and there's a difference. Whereas many smart controls are capable of sending instructions to the heating system's timer and thermostats, smart boiler controls communicate directly with the boiler. As Glen Wakeling puts it: "A boiler manufacturer's own smart controls are much better because they talk to the boiler, they give you more information, and you can access that information from one package."
A good example of this is the Viessmann ViCare control system app. Available for both iOS and Android devices, this allows the heating system to be operated not only on the boiler's touchscreen display, but also via smartphone or tablet. ViCare can also be used to look at operation history, and to control heating and hot water timing zones. Glen says: "When I show customers this, most are interested. And personally, I like the fact that I can show the customer gas usage on a graph to help explain how weather compensation works."
Smart software
What Viessmann installers like even more is the Vitoguide software. This gives engineers remote access to a heating system's current operating data, showing the status of the system at a glance, and allows adjustments to the system to be made online.
Until this year, Vitoguide was available only on Viessmann's top-of-the-range gas-condensing boiler, the Vitodens 200 range (1.9 to 35kW), but now it is also included with the recently-launched, latest-generation 100 range (3.2 to 32kW). This shows how sophisticated smart controls are starting to become available for mainstream market boilers and consequently, finding their way into many more homes.
Glen Wakeling says: "With Vitoguide it's possible to see fault messages instantly and to call up spare parts and availability. Even when the app is closed, you receive automated notifications if there are any issues with the boiler. It is fairly common to take some time to set up a new system with weather compensation controls. End-users phone me up and say that the heating could be either a bit warmer or cooler, or they prefer different timings. I can simply log into their system at their request and make the appropriate parameter changes, saving me unnecessary car journeys and allowing my customer to experience an instant improvement.
"Only recently, I saw on Vitoguide that the room temperature of a customer's Vitodens 222-F (floor-standing storage combi boiler) was three degrees higher than the set point – straight away I was able to tweak the curve to match the set point and put it right. Best of all is the feature which shows all my customers on Google Maps. Instantly I can see which customer is due for a service or perhaps has a fault. So I can plan my day accordingly."
All of these capabilities shorten the service process helping to save on costly call outs, whilst at the same time amazing customers. They can also reduce operating costs and professionalise the engineer's customer service. Letting customers know that you're always looking out for them can make a big difference to customer loyalty. The same installer is more likely to be invited back again and again to service the boiler throughout its life, and when the time comes for the boiler to be replaced, the same installer will probably also get that business.
The best boiler controls, then, can be good for end-users and good for installers alike – and anything less isn't so smart.
www.viessmann.co.uk/professionals/installers