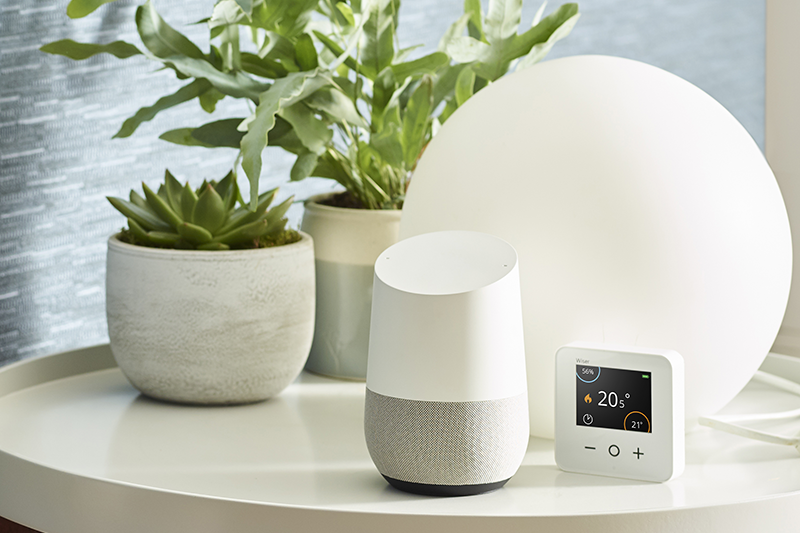 Whilst smart heating controls can play an important role in maximising the performance of existing systems in the here and now, Remi Volpe, Managing Director at Drayton, discusses why their installation is also key for preparing houses for heat sources of the future.
Smart heating controls now often include a wide range of features that can help enhance the performance of the system and help reduce carbon emissions. Whilst fitting a smart heating control alone can offer an additional 10% energy saving compared to basic time and temperature controls, opting for one that offers multi-zoning capabilities can help save an extra 20% by enabling users to heat individual rooms rather than the whole house, preventing energy wastage.
Additionally, some controls also offer intuitive smart modes that help optimise the performance and ensure that extra energy isn't wasted. For instance, Wiser's Eco Mode combines optimum stop and weather compensation to adapt heating schedules according to changing weather conditions and by learning the thermal properties of the house, helping to save up to 7% energy. Meanwhile, by utilising Away Mode to de-activate the heating schedule when the house is empty, users can save up to 24% on energy bills.
These different functions and savings are hugely beneficial for customers who are concerned about their energy usage and also help to ensure that whilst the majority of UK homes currently still rely on gas boilers, that they are running as efficiently as possible. However, the installation of smart heating controls in homes today is good preparation for alternative heat sources in the future.
Be prepared
By now, most installers will be aware of the changes the industry faces as we find more carbon neutral heat sources for our homes. With gas boilers already being phased out in new build homes, it is widely expected that alternative heating methods, such as heat pumps, electric IR radiators and under-floor heating, will become more widely adopted in existing homes over the coming years too.
As this happens, installers can expect to see a growth in connected homes and Home Energy Management Systems (HEMS), which are expected to grow by 31% every year over the next five years. HEMS enable households to better manage energy consumption by providing information about energy usage and/or allowing more precise control of the so-called 'energy guzzlers' in the home like EV chargers and heat sources.
Energy demand
In the future, HEMS will potentially play a significant role in understanding the energy demand of household applications, and smart heating controls will be a crucial piece of technology to integrate with these systems. As part of the wider Home Energy Management concept, having one user interface or app that allows users to control all connected devices within the home is expected to become more important.
For example, Wiser already has this capability, allowing users to control its Wiser Plug through the Wiser Heat app, and Drayton as part of Schneider Electric is reviewing ways to incorporate products such as lighting in the future. By being able to enhance energy efficiency within the home by learning homeowner behaviours, HEMS could also help homeowners access additional savings on energy bills.
It's clear to see that connectivity and automation, which will both help to improve the performance of a heating system and offer better efficiencies, is a common theme in our journey to meeting the 2050 Net Zero goals. By recommending smart heating controls from manufacturers leading the way in home automation and fitting this technology in installations today, heating engineers can help their customers be prepared for the changes to come.