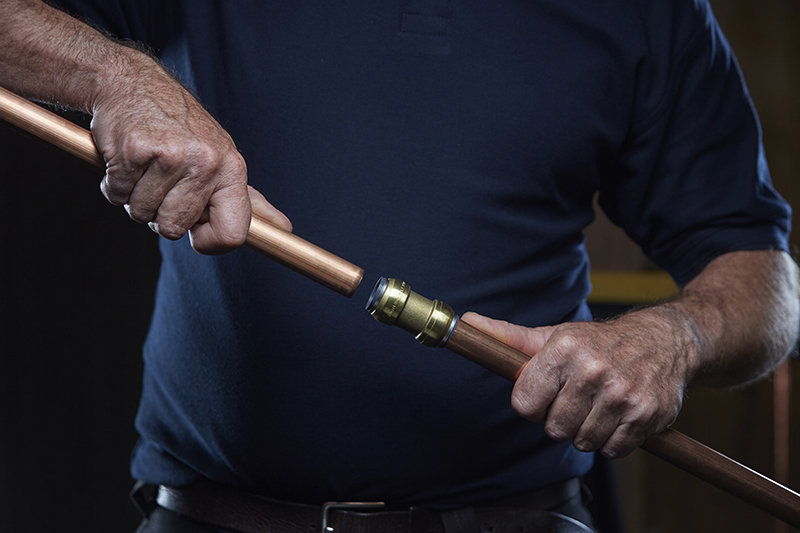 Clean, sleek and modern bathrooms are becoming more commonplace in new builds and home renovations. Nigel Sanger discusses how selecting the right pipes, valves and fittings can help achieve 'the look' that homeowners and developers want, while simplifying the installation.
Contemporary bathroom designs have become a staple in all new build and renovation projects. Homeowners by default don't expect to see exposed pipework anywhere in a house, especially as there is an ever-growing focus on aesthetics and interior design.
All these expectations pose a challenge for installers who are supposed to achieve the desired look, while concealing pipework and plumbing fittings in these tight spaces. However, selecting the right plumbing products can simplify these jobs, leading to neater finishes and faster installations.
Choose the right TMV
Space comes at a premium in most bathroom installations, be it new builds or renovations. This makes squeezing in the plumbing essentials even harder. This is especially the case with Thermostatic Mixing Valves that became a legal requirement for all domestic new builds in 2010.
TMVs offer protection against scalding, while enabling the hot water system to maintain disinfection temperature of above 60°C to restrict Legionella growth. Considering the seriousness of risks around the usage of hot water in households, it is best practice to install them while carrying out retrofit projects as well.
However, most TMVs available in the market are targeted at commercial applications and are quite bulky in size. Fitting these valves in tight spaces such as underneath the bath, presents a major challenge.
This is where installers need small, compact TMVs, such as the Easifit TMV from Reliance Valves. Being the smallest TMV in the market, it can be fitted in much tighter spaces, and its flat faced union connection makes the installation and future maintenance a lot easier and faster. The Easifit TMV is also designed to run at exceptionally low flow rates, helping homeowners conserve water.
Opt for flexible pipes
In most modern bathrooms, exposed pipework is often a no-no, especially when the emphasis is on aesthetics and minimalistic design. This means all pipes connecting to the bath, shower and basin need to be hidden behind walls, under the floor or beneath freestanding fixtures.
Traditional bathrooms with exposed pipework would usually have soldered copper pipes. But the rigidity of these materials makes it much harder and time consuming to hide them behind walls and fixtures. To get around this, flexible polybutylene pipes such as JG Layflat pipe can be used to cable through joists, behind walls or fixtures.
Available in coils of varying lengths, the JG Layflat pipe can bend and flex around tight spaces, making it ideal for out-of-sight installations and removes the need for joints.
Flexi hoses
Hiding pipework in vanity units or behind pedestals can be a bit of a nightmare, particularly if you are using rigid pipework, which can take a lot of effort and time to install. In fact, installers often find that second fix installations are even trickier. Making the final connections from the first fix pipework to the outlets is often done blind and in awkward spots where it is difficult to manoeuvre tools.
This is where flexi hoses, such as those in the JG Speedfit range, can help. Made from braided metal or white PVC, they're flexible and can bend around any existing pipework or obstacles, without compromising the connection. The seal is created with one easy push, and on average, using a flexi hose can save you up to 40% on installation time.
Another benefit of using flexi hoses from JG Speedfit is that they are available with built-in service valves. This removes the need to install an additional valve for water isolation to carry out future repairs and maintenance work.
Push-fit your way to luxury
While many are choosing to hide their pipes, there is still some appetite for exposed pipework as a design feature in luxury bathroom projects. Shiny copper pipework and brass fittings particularly can be paired with deep blacks and brilliant whites to give a striking feel to contemporary bathrooms.
Achieving this look can be made easier with SharkBite's slimline brass push-fit fittings, that are easy to install in awkward spaces without the need for tools, flux and solder.
SharkBite is also a godsend for replacing aged, rusty fittings in old bathrooms and eliminating the risk of pipes leaking due to aging soldered joints. These push-fit connectors are easy to install and demount and can be used with all sorts of plastic, copper and carbon steel pipes.
Work smarter, not harder
For bathroom projects, the crucial point for installers to remember is to work smarter, not harder. Compact spaces can make installations complicated and slow down completion times.
Delivering a contemporary bathroom finish is easier when you work with a smarter selection of products, such as push-fit pipes, valves and fittings. Whether it's a minimalistic aesthetic, or exposed pipework is a deliberate design feature, solutions from RWC's family of brands can make the job quick and hassle free.