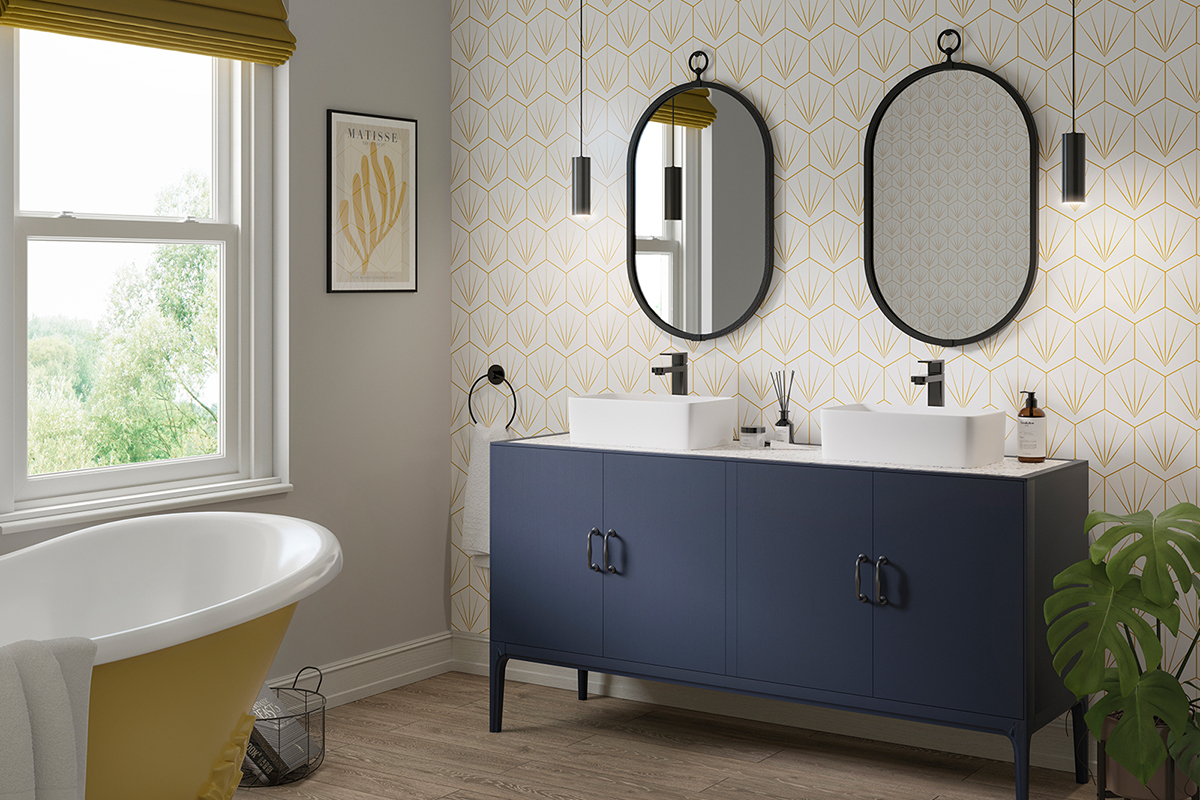 John Bagshaw, Managing Director at Showerwall, reveals what's now available for modern bathroom décor.
Gone are the days when tiling was the only option for bathroom walls. Wall panelling is taking the market by storm, giving installers and homeowners stylish new options that are easy to fit and keep clean.
Tiles may well be the traditional choice for shower enclosures, bath surrounds and basin splashbacks but the time and hassle associated with grouting and keeping them clean has long been a bugbear for trade professionals and homeowners. Wall panelling has been available as an alternative for some years, but design choices have historically been quite limited, perhaps slowing its mass market appeal in its early days.
Today, the wall panelling market could not be more different. Hundreds of design choices are now available, ranging from tile-effect designs and replica marble finishes to wallpaper-inspired prints.
Homeowners can choose panels that replicate the look of metro, scallop or herringbone tiles; all popular on-trend looks that can be intricate and time-consuming to achieve with individual tiles. There are also mineral and marble-inspired finishes available that give the effect of these stunning natural materials but without the cost and need for grouting. And for homeowners looking to create a feature wall effect, there are designs that reflect wider interior trends, from nature-inspired botanical prints to vintage floral patterns and travel-inspired safari-scapes.
The ability to make a style statement is resonating with today's increasingly Instagram-inspired bathroom renovators – especially when wall panelling offers practical benefits too.
The large scale panels are easy to fit with near invisible joins, saving time for installers and speeding up bathroom fit-outs. Simply cut to size, fix to the wall, fit the finishing trims and seal. There's no need to cut tiles to size, mix grout or bring in specialist trades, and the panels can typically be installed in less than half the time it would take to tile a like-for-like space. They can also be retrofitted over existing tiles to reduce preparation time.
No grout means fewer gaps and grooves for the build-up of dirt, soap residue and mould, keeping bathrooms looking new and cleaner for longer. The panels provide a hardwearing, hygienic and waterproof surface that is easy to maintain with a simple wipe down. Wall panelling's low maintenance credentials are beneficial for time-stretched busy families with high-use bathrooms, older customers who want to minimise the physical effort of cleaning and landlords too, who need bathrooms to stay looking as good as they can, irrespective of tenants' cleaning patterns.
The volume of homeowners and trade professionals who are switching on to the benefits of wall panelling is reflected in reported market growth. The sector has seen estimated growth of 25% year-on-year for the past six years, with over 3.5 million square metres of wall panelling sold within the UK.
My own company has experienced this growth too, recently investing in new digital printing technology that increases capacity by 400% to meet demand for its premium Acrylic panels, which offer a high-end polished finish.
Consumer demand also led the business to launch its Find a Fitter scheme, matching bathroom installers, plumbers, joiners and builders with homeowners seeking professional wall panelling installation. Homeowners can find local fitters in their area through our online search function and approved installers benefit from increased business opportunities in their local area through the listing as well as receiving an enhanced service offering from us. This includes video guides to help with training and sales, regular prize draws and a gift on registration.
Our own product offering includes Laminate panels as well as an Acrylic Collection and brand new Compact Collection. The Laminate range has a high-pressure laminate surface, which delivers a smooth, watertight finish that's tough, hard-wearing, stain resistant and hygienic.
The Acrylic Collection offers a library of modern designs including a bespoke facility which allows customers to feature an image, photograph or artwork of their choice on their wall panels. Manufactured using a 4mm acrylic sheet that is rear printed to create a glass-like finish, the material is 100% waterproof and doesn't require trims so can simply be joined with sealant for a streamlined finish.
The new Compact Collection offers the real look and feel of tiles without the need for grout. With five designs available, the Compact panels are made from a strong solid composite material, embossed to create a tile effect wall.
The Compact Collection panels measure 1220 by 2440mm and are a waterproof system when installed correctly with coordinating trims, available in four complementing colours: Chrome, Satin Silver, White and Black.
The full collection offers over 100 décors to suit all tastes, with Laminate panels available in 600, 900 and 1200 by 2440mm and Acrylic available in 900, 1200 and 1220 by 2400mm. The panels are backed by a guarantee of up to 30 years.