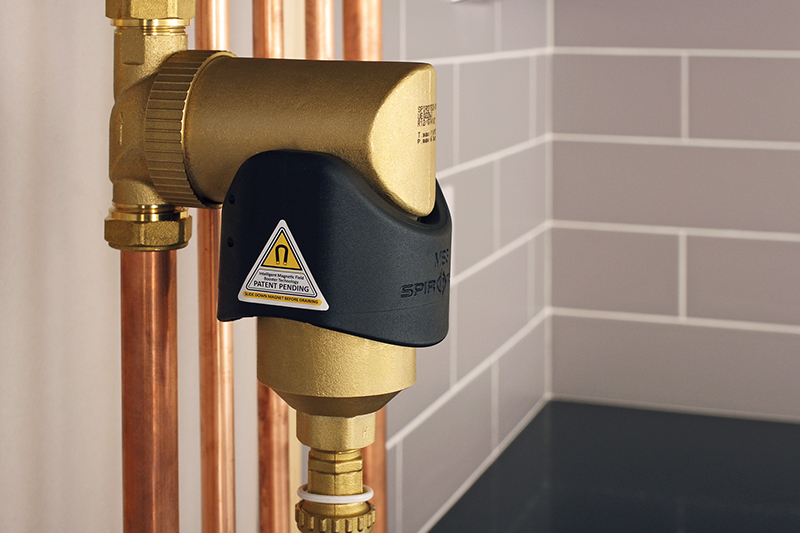 Recognising that some form of water treatment is required is just the first step when upgrading heating system performance; the next is to identify which solution is going to be most suitable based on the system set-up. Dave Goodyer, Area Sales Manager for Spirotech, explains which products should be used when. 
From deaerators and dirt separators for domestic properties, through to hydraulic balancers and degassers for larger domestic and light commercial jobs with multiple zones, there's plenty of options out there to choose from, when it comes to system protection and enhancing performance, efficiency and reliability. So, which solution should you be using?
Dirt separator
A dirt separator should be the absolute minimum requirement when it comes to system protection, with the installation of an in-line filter now specified as best practice under BS 7593:2019. A dirt separator, such as the SpiroTrap MB3, should be fit on the return and works by capturing dirt and magnetite from the system water, before it can enter the boiler and re-circulate around the system. As well as helping to contribute to the overall health of the system, a dirt separator also helps prevent cold spots on radiators and noisy pipework, which both can be troublesome for customers.
Deaerator
For the very best results, it is recommended that a deaerator should be installed alongside a dirt separator, as this will help to remove one of the causes of magnetite formation; air.
Failure to remove air in the form of microbubbles can be hugely problematic in a heating system. If left untreated, microbubbles will eventually be reabsorbed into the system water, where the oxygen will then react with any ferrous internal surfaces and gradually corrode the system, creating the magnetite collected by dirt separators such as the SpiroTrap MB3. By fitting a deaerator like the SpiroVent RV2, you can remove air from a system, preventing the conditions for corrosion to occur and magnetite to form.
While deaerators and dirt separators such as the SpiroVent RV2 and SpiroTrap MB3 can be used for both domestic and light commercial applications, the size of the installation will determine what type of products are required.
Light commercial projects are often bigger than domestic systems and so require larger pipework. Products such as deaerators and dirt separators are available in a range of different connection point sizes. For example, the brass SpiroVent RV2 and SpiroTrap MB3 are available in connections up to 2", which may cover off some light commercial systems. However, for any pipework larger than this, the steel version of these units would be required, which are available with larger connection sizes.
Combined air and dirt removal units
A combined air and dirt removal product, like the SpiroCombi MB3, is ideal for systems where there may be limited space to fit both a deaerator and dirt separator separately.
Depending on the job, where a combined unit should be installed will vary. On a new system, where there is no pre-existing build-up of dirt, it should be fit on the flow. For older systems where there may be existing dirt and magnetite that needs to be removed, it should be fit on the return to capture these contaminants before they re-enter the boiler.
Hydraulic balancing units
For systems with multiple zones, a hydraulic separator may be required to ensure the circuits do not interfere with each other and cause system inefficiencies.
A hydraulic separator, such as the SpiroCross, should be considered in systems where primary and secondary pumps are used; when primary and secondary flows are not equal; or when a constant primary flow is required. A well-designed hydraulic separator will not only perform hydraulic balancing, but will also have both deaeration and dirt separation capabilities too.
Degassing units
Used in light commercial jobs, a small degassing unit is ideally suited for low temperature and low pressure systems, where it is hard to predict where air will be released. Like with typical domestic systems, if left untreated, the presence of air will lead to the formation of magnetite and contribute to overall poor-running of the system, often resulting in higher running costs and the need for more frequent maintenance.
A mini vacuum degasser, such as the SpiroVent Superior S250, creates its own environment to release gases from the fluid, meaning it is not dependent on a specific location in the system; no matter where it is installed, it will remove air. The unit works by drawing off a portion of the saturated fluid in the system, then creating an 'under pressure' in the vacuum vessel of the unit that causes dissolved gases to be released. These liberated gases accumulate at the top and can then be expelled.
Over time, as air inevitably finds its way back into the system during maintenance, water replenishment or from any leaks, the vacuum degasser can be set to operate at regular intervals to maintain an efficient balance between degassing and energy consumption.