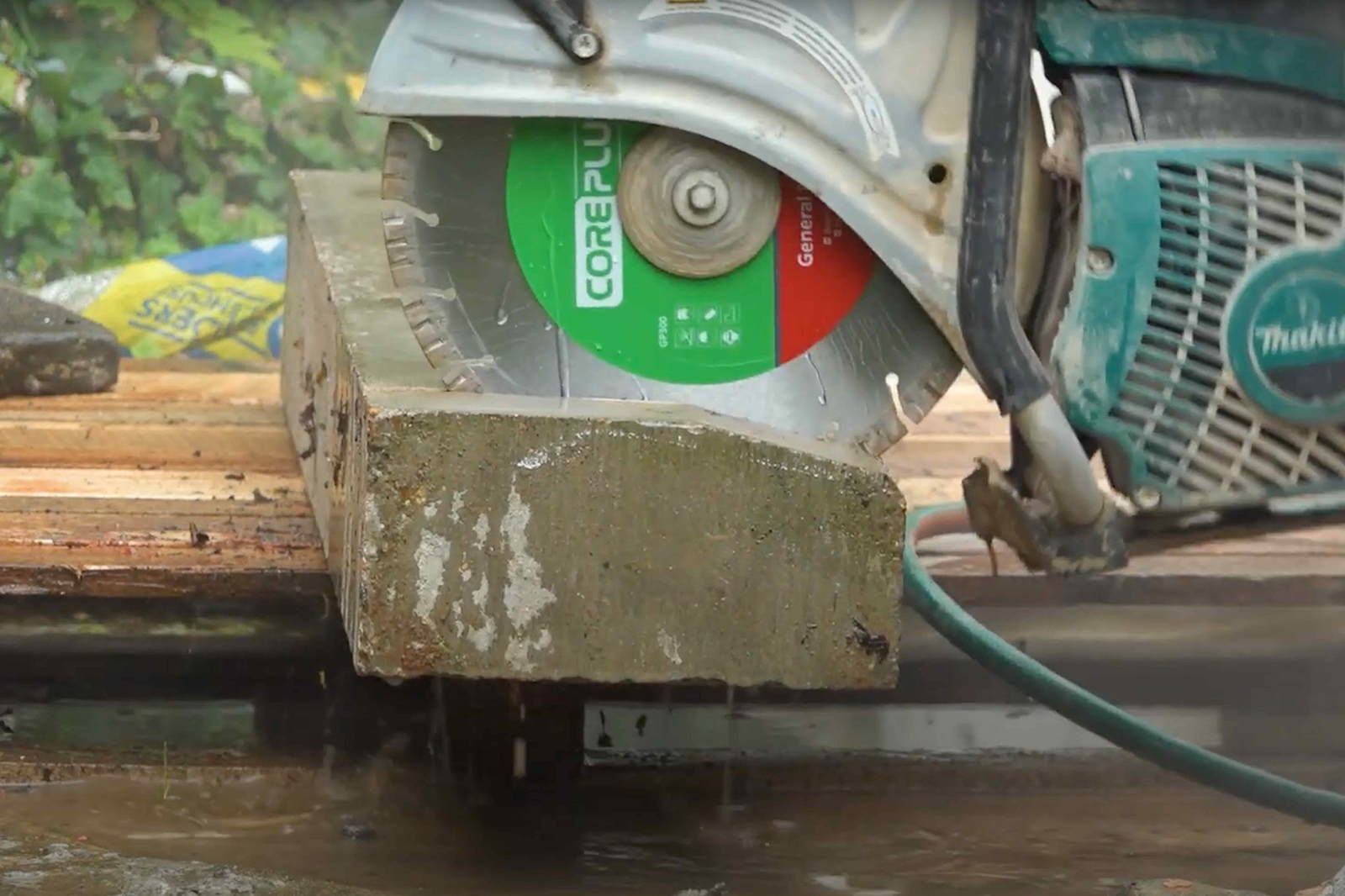 Brian Trevaskiss, Marketing Manager of CorePlus, explains what to look for when choosing a diamond blade, hole saw, dry core drill or tile drill bit.
Selecting the right diamond cutting tool can be confusing. Products that look the same with overly complicated naming can mean you choose the wrong tool for the job, wasting time and money. We developed the CorePlus range because we think that choosing Diamond Cutting Blades, Hole Saws, Core Drills or Tile Drill Bits should be made a lot simpler. The range has specially designed packaging that makes it easy to match the right product to the job in hand, making it easier to choose at the trade counter.
However, a little basic knowledge can save you a lot of time and money and correctly identifying the material you're going to cut really is the most important factor in choosing a diamond blade.
Blades for cutting hard, dense (less abrasive) material such as tile, hard brick, stone or hard-cured concrete require a softer metal matrix bond – these wear faster, replacing worn-out diamonds fast enough for the blade to keep cutting.
Blades for cutting soft, abrasive materials such as block, green concrete or asphalt require a hard metal matrix bond to resist abrasion and hold the diamonds longer. As a general rule, determine the material that will be cut most often, or the material for which top blade performance is most important.
Before you get started also decide which is most important to you ­­– the initial price of the blade, or the cost per cut. For smaller jobs, or occasional use, a low-priced blade may be preferable. For longer jobs, or regular use, a higher priced blade will actually be less expensive to use because it will deliver the lowest cost per cut. For really big jobs, the lowest possible sawing cost (cost per meter) is usually much more important than the initial price.
The CorePlus range has specially designed packaging that makes it easy to match the right diamond blade to the job in hand. Trade users need simply look at the packaging and it clearly shows the type of jobs it will do and blade life they can expect. The star rating displayed on the back of each blade pack indicates how the blade will perform. For extra simplicity, when long blade life is the key selection criteria the 'Elite Endurance' mark provides the maximum number of cuts for your spend.
Hole Saws
If you are carrying out any kind of kitchen or bathroom work involving porcelain tiles, stone or cement then a Diamond Hole Saw will be the best way to get the job done. Hole Saws should ideally contain premium grade braze-bonded diamonds that will cut the hardest of materials. As well as premium diamond technology, look out for leading-edge vacuum brazing technology that ensures the diamonds stay bonded for an extremely long life.
A quality product will need minimal water cooling when cutting hard tile, stone and glass and can be used fully dry on other materials. An ultra-thin kerf will generate a low amount of torque for faster cutting and extended battery life, with fluid, snag-free cutting, so no secondary finishing is required.
Tiles
Professional diamond technology will give you a fast, clean cut on porcelain and ceramic tiles and premium grade braze-bonded diamonds will cut the hardest of materials. Tile Drill Bits, such as CorePlus, require only minimal water cooling, not a continuous water feed and provide an easy start, with no drill guide required. We have also created convenient four-piece kits for the trade, containing 5mm, 6mm, 8mm and 10mm bits.
Dry core drilling
For cutting through brickwork and hard materials to install pipework you need a decent diamond dry core drill bit. To make life easier, look for professional quality core construction, which will deliver better performance and a smooth drilling experience. A 'V' shaped groove segment design and a ribbed core body will help clear away debris quickly.
The CorePlus range has these benefits and more, and as with the tile drill bits, we have put kits together containing everything you will need. In the seven-piece kit there is a 38mm, 52mm and 117mm Core bit, A-taper pilot drill 10 x 200mm, an SDS-plus extension adaptor 10 x 200mm a Hex extension adaptor 12 x 200mm and an Extractor drift key.