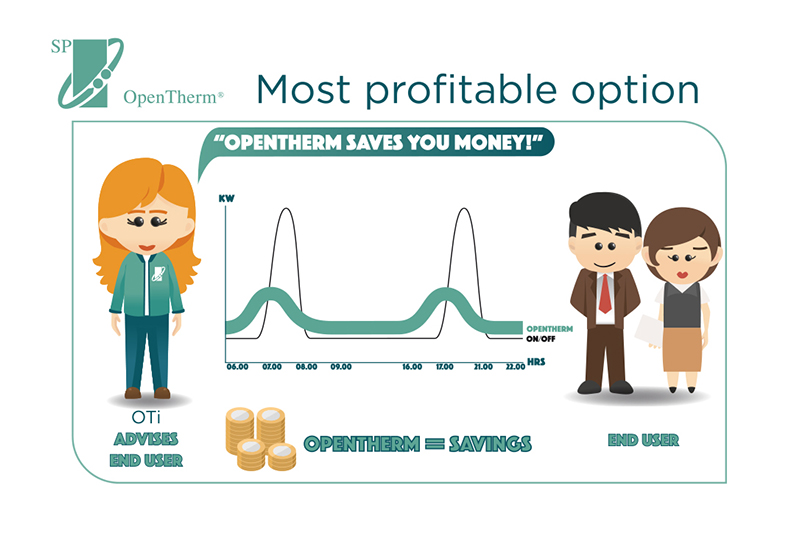 With energy costs soaring and apparently heading in only one direction, any opportunity to save money on heating bills in particular should be taken advantage of. One way to do this is to embrace open connectivity by using OpenTherm technology. Properly utilised, using OpenTherm will reportedly see 10% savings and in many cases up to 15% savings on energy use.
Wind, solar and nuclear electricity generation and the 'green gas' scenarios provide the promise of a carbon free home in the future. But all scenarios have in common that the time to implement them on a large scale will be significant. But the new generation of heating controls with open connectivity, like OpenTherm, can realise carbon savings from existing heating systems as well as facilitating further innovations in the future.
What are some of the potential benefits of OpenTherm in decarbonising UK homes?
Firstly, boilers will operate at their maximum efficiency. Many installations in the UK are still using mechanical on/off room thermostats, or don't have a room thermostat at all. This results in boiler supply temperatures that are temporarily or continuously higher than required to provide a comfortable living temperature. The challenge is to operate the boiler at a supply temperature that is as low as possible, such that the maximum efficiency is realised. Current condensing appliances are modulating and modulating ranges are getting better. OpenTherm believes that the optimal solution for 'Boiler Plus' load control is to use the modulation feature of today's boilers to the maximum. Use modulating controls for modulating boilers.
Secondly, heating appliances with open connectivity provide an installed base for innovative energy saving control solutions. The best example is the development of internet connected smart controls. The companies that introduced this new generation were not traditional controls companies – they were from the IT world, looking for useful applications of IoT technology. Features like remote control with an app on your mobile and geofencing can contribute to energy saving. New developments include combinations of gas boilers, heat pumps, thermal and/or PV panels where maximizing the system carbon footprint is still a challenge and open connectivity incentivises innovation.
Thirdly, equipment with open connectivity facilitates remote diagnostics. Aside from benefits in the logistics operation and the reduction of costs, remote diagnostics assures that systems continue to work optimally during the lifetime of the equipment.
Finally, freedom of choice facilitates competition and innovation; freedom of choice for manufacturers, for installers and for consumers. A heating appliance can be combined with a heating control from another brand, providing a system that fits the installation and user requirements, importantly, at the right price.
OpenTherm is a communication protocol for open connectivity. The protocol is managed by the OpenTherm Association, currently consisting of 90 manufacturers of heating products. The association was established 25 years ago and the protocol has been updated continuously to broaden its application. Initially focused on gas fired combis, the protocol now also supports heat pumps, whole house ventilation and thermal solar generation. Recently, the OpenTherm Association introduced the OpenTherm Automated TestTool to its member manufacturers. This is a protocol test device that allows manufacturers to test their OpenTherm products for compliance with the specification.
Importantly OpenTherm is a here and now technology to help in the decarbonising of homes in the UK by upgrading systems to increase efficiency in combination with reduced energy use as a result of improved levels of home insulation.
And tomorrow's homes offer further reductions in energy use. Inevitably, different heating scenarios based on green electricity and green gas with local generation and maybe nuclear power will be pursued as well. Home ventilation and cooling will become ever more important.