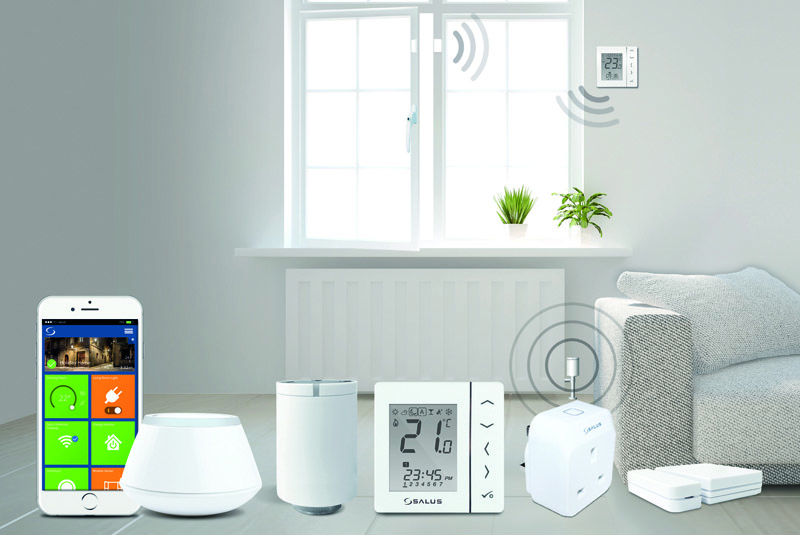 PHPI talks to Salus about the changing role of the humble TRV.
With all the noise about smart heating controls, it's often easy to overlook the TRV. However, all that's set to change as the market heralds the dawn of a new type of TRV that could not only energise an installer's business, but also put accurate energy control and comfort at homeowners' fingertips.
First introduced in the UK in the 1940s, TRVs have become the most common form of control for wet domestic heating systems. Designed to improve the overall efficiency of the system, TRVs also ensure greater comfort levels for the user and help increase energy savings. Such is their importance as a heating control mechanism that tests conducted by Salford University confirmed that satisfactory heat distribution around a dwelling was simply not possible without TRVs, even if the system was balanced.
But it's their ability to keep energy usage to a minimum that has elevated this most-widely used heating control. Indeed, statistics show that household energy bills can be reduced by up to 30% thanks to TRVs. Given that in a typical UK household, heating and hot water account for around 82% of the total energy used, and that the cost of energy has increased by a staggering 170% in the last decade, such energy savings are not to be sniffed at.
In terms of operation, TRVs are fairly simple and are basically designed to keep the air temperature in the room at a level that is predetermined by the user. Essentially, the TRV automatically opens and closes through the expansion and contraction of a thermal element located inside the head; thereby switching the radiator on/off in order to maintain the required room temperature.
Over the years, as the market has become more competitive and manufacturers look to differentiate themselves, TRVs have evolved to provide improved design and performance. Now, we see TRVs with open vents to provide a more efficient air flow, colour coded settings, special touch indicators, and even copper elements to provide a faster response and more accurate temperature changes. This is all great news for users, but in reality such choice can often cause confusion.
Against this backdrop, Salus is unveiling a product which it believes will end the days of TRVs as we currently know them. The result of substantial research and investment, this latest TRV – known as a Smart Radiator Control – is claimed to be unlike any other TRV on the market.
The new Smart Radiator Control forms part of a pack that comprises a digital thermostat and a battery-powered, mini-size thermostatic radiator valve that can be wall wall-mounted or freestanding. What makes this product different is that it takes its temperature reading from the thermostat and not the actual radiator. As such, it's designed to be more accurate than a conventional TRV, and is not affected by its surroundings – such as curtains near the radiator or direct sunlight.
In addition, when the thermostat is used in conjunction with the Salus Universal Gateway, every room or zone can be internet-enabled and controlled via a Smartphone App. Furthermore, when used with other connected devices in the company's Smart Home range – including smart plugs, door and window sensors, and an electric monitor that provides data on any particular product – homeowners can control many aspects of their home simply from their phone and from wherever they are.
The Smart Radiator Control uses ZigBee wireless communication and can be fitted by simply replacing the existing passive head on the standard radiator valve. Meanwhile, the battery-operated thermostat features a modern design and touch sensitive button, and can be used as digital or programmable. Feature-packed, there's also temporary override, and holiday, boost and schedule modes. Just one thermostat is needed to control up to three radiators, and further thermostats can be easily added to the system, if required.
This Smart Radiator Control is said to be a real game-changer for heating controls. For the first time, homeowners can benefit from individual room control of their existing system that is highly efficient and reliable. And, when internet-enabled, they have the freedom and flexibility to maximise the comfort, convenience and control of each room and make energy savings too. From the installer's perspective, the opportunities for upselling TRVs are endless.
For more information on the Smart Radiator Control from Salus, visit: www.salus-controls.com/