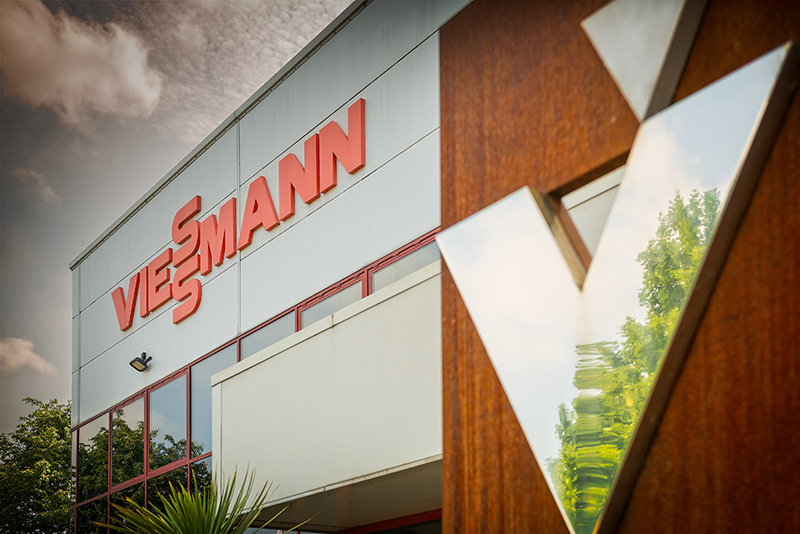 2020 was a uniquely challenging year. With uncertainty around how 2021 will pan out continuing, in January PHPI sat down (virtually) with Graham Russell, MD of Viessmann UK, and Darren McMahon, the company's Marketing Director, to discover how it has adapted during the pandemic, and what installers can expect from the company in the months ahead.
"I cannot overstate how awful the pandemic has been for some. What we have done is grasped the best of it and made it a priority to look after our people, keep them safe and keep them employed," Graham Russell, the UK MD of Viessmann told us during a virtual chat. It is a sentiment likely to be shared by many businesses throughout the sector – whatever their size.
For Viessmann, grasping the best of it included recruiting more people to work in the business and staying in close contact with its installers to understand their needs and requirements. The company also shifted its training online, with installer engagement almost doubling. Marketing Director Darren McMahon told us: "We had a very face-to-face training package offer and digital was on our horizon, but we had not quite got there by the time the pandemic restrictions hit. We had our hand forced with the changing environment and in retrospect that was really good for us. We geared up very quickly with converting our courses from classroom courses to online environments."
Graham Russell added: "We have continued our commitment to high quality technical content, not sales sessions. I think that is what a lot of installers appreciate. We are investing, going forward, in better quality equipment to maintain that, so we can give even more detailed technical knowledge to installers, and I think installers quite like it. They can have a couple of hours on a session without having to take a day out of their life to go and visit the product, they can look at it virtually and learn most of what they need to know without any down time. I think that has been a real benefit to installers."
The company plans to incorporate much of what it learned in 2020 into its future operations. Graham told us that 2020 was "a pivotal year for us as a business and we will retain a lot of what we learnt and take it forward with us. We are robust, sustainable and looking forward."
Brexit deadline
As the end of the year approached the Covid crisis combined with the Brexit transition deadline. Graham explained that Viessmann had been prepared for the UK leaving the EU up to two years in advance, and although they were concerned, the impact on the business was minimal.
"I think there was a perfect storm back in December of Brexit and Covid which created some bottlenecks – that was widely reported in the media," explained Graham. "We had a small bottleneck, a couple of trucks didn't arrive, subsequently they are arriving. We have been very prepared since the end of 2018 for this. We have done all of the things we needed to do. We have product leaving Germany Thursday/Friday and arriving [Monday]. It's OK."
New products
Turning to 2021, Viessmann has plans for launching a number of new products in the coming year – many of which are designed to bring greater levels of control to end users, delivering a 'smart' offering to a wider audience.
Graham Russell said: "We have new ranges of gas boilers coming in this year, both mid-range and entry level at two different points in the year, and the key difference with them is that they come WiFi enabled and also have RF built in as standard, for communication with a brand new suite of controls."
He continued: "The installer will get the benefit of things like a commissioning app, they will be able to get all their controls in one place so whereas at the moment they may be fitting our boiler with a third party suite of WiFi receiver, room sensor, TRVs – they'll be able to get that all in one place, so that obviously gives a convenience factor."
New products have also recently been introduced – and more are scheduled to follow in 2021 – in the company's heat pump offering, notably the Vitocal 100-A air source heat pump. Graham commented: "We are very much interested in, and supporting the energy transition from fossil fuel to electric and a big part of that will be heat pumps. At the end of last year we soft launched our entry level Monobloc heat pump to the market. Later in the year we are planning to extend the range of our heat pump offer. We are actively engaged as a stakeholder in that market."
The Vitocal 100-A air source heat pump is an integrated outdoor unit that does not require a complementary indoor unit. It has been designed for ease of installation in the standard British heating system. The monobloc design means installers are not required to work on, or connect any, refrigerant-carrying parts; therefore, a refrigerant certificate is not required. Six versions are available with outputs ranging from 6 to 16 kW.
Energy transition
Alongside its heat pump solutions Viessmann is also engaging with alternative fuels, notably hydrogen. "We have a very close eye on what is developing in the hydrogen market and believe that there is a place for it," said Graham. "There are many, many applications where a heat pump wouldn't physically be viable in small properties due to the requirement for stored hot water and those things, and direct electric wouldn't be efficient, so we would see hydrogen as a viable replacement for a methane gas boiler or in the transition to a blend of hydrogen in the existing gas grid."
However, a fully hydrogen boiler may not be so likely in the short term. "The horizon for 100% hydrogen in the UK as a primary energy source is quite distant, I think we are at least a decade away from that," explained Graham, "But the blended hydrogen – up to 30% mix in the existing grid – is a more real potential, and by the end of 2021 all of our domestic gas products will be capable of burning that fuel blend."
As part of its commitment to an energy transition, Viessmann will appear as a supporting partner at the Sustainable Innovation Forum as part of COP26 in Glasgow in November.
Crystal ball
Looking ahead both Graham and Darren are feeling positive about Viessmann's position in the sector. Graham said "We are cautious for obvious reasons – cautiously optimistic. We have had quite a strong start, but it is looking OK. We are fortunate that we are in a market of need rather than want. We are in a sustainable robust industry. The RMI market is very robust. I would see mid-year as potentially a turning point and we will be evaluating constantly how we are progressing within that."
Darren summed up the company's position: "Brand reputation is good, strong, brand awareness is increasing and we have new products with additional features. It is cause for optimism and we wait to see what happens externally."