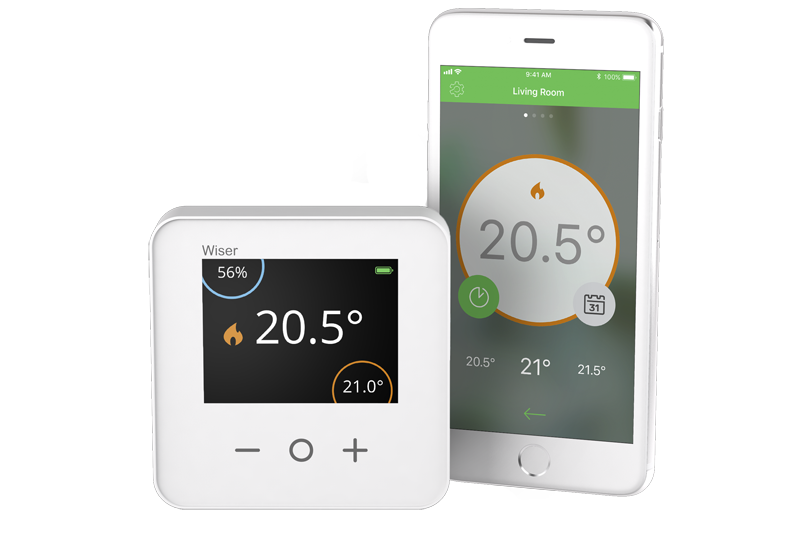 With the installation of smart controls becoming an increasingly requested job for heating engineers, Natalie Wathan, Product Manager at Drayton, answers some of the frequently asked questions about the recommendation and installation of smart controls.
To decide if a smart control is suitable for a customer ,what questions should I ask them?
Before recommending a smart control, it's important to find out more about your customer and their needs. Would they be comfortable with a smart control? Do they have a regular schedule or not? Are they energy conscious? Are they looking to integrate their heating with a smart speaker?
One of the most appealing factors of smart controls is the ability to control them from your phone. So, whilst systems like Wiser do have the ability to create a set schedule via the app, which is ideal for customers with a set routine, it also offers the flexibility to adjust the settings remotely. This feature is well suited for families on the go with unpredictable schedules.
Multi-zoning capabilities are ideal for multigenerational families that need individual room heating control, or for those who are keen not to waste energy. Systems like Wiser utilise smart radiator thermostats to manage the heating on a room-by-room basis. For example, this can save up to 20% more energy in a 3-bedroom semi-detached house over a smart thermostat system alone.
It is also useful to find out whether your customer uses a voice assistant, such as Amazon Alexa or the Google Assistant, as many compatible smart heating controls, such as Wiser, allow homeowners to adjust their heating with just a few words.
Are smart heating controls easy to install?
Many smart controls are designed with ease of installation in mind. For example, the Wiser Heat Hub is compatible with the standard UK wallplate so that it can be retrofitted in minutes – making rewiring a thing of the past. Furthermore, to speed up the installation process, no personal data needs to be collected from the customer during commissioning.
For further guidance on installing Wiser, Drayton has launched its new online training academy, 9º Know How, which includes easy-to-follow installation tutorials on the Wiser module.
Can I create different heating zones for my customer using smart heating controls?
In a house where smart radiator thermostats are installed in every room, homeowners can adjust the temperature of each room individually to create a 'zoned' home, offering more efficient heating control. Thankfully, some smart heating controls on the market offer these multi-zoning capabilities. Wiser allows up to 16 zones to be created within a property by installing its smart radiator thermostats and room thermostats.
The Wiser radiator thermostats are designed for simple installation and fit onto to the majority of existing TRV valves, and more smart radiator thermostats can be added to the system at a later date if desired, offering a buildable system.
How secure are smart heating controls?
Many smart controls on the market collect a host of personal data to function correctly. For example, weather compensation often requires the homeowner's postcode to utilise online weather data. Additionally, for smart controls that allow users to set schedules or active 'Away Modes', it is important to ensure that this information does not fall into the wrong hands as it could provide information about when the property is empty.
As long as you are recommending a smart control from a reputable manufacturer, there should be little need to worry about the safety of a smart control as it will be designed with the necessary data security mechanisms. Most data collected by Wiser is used to perform the necessary heating function, but when it needs to be stored, it is predominantly done in the cloud. Additionally, many manufacturers offer training courses providing installers with the opportunity to ask any questions about the product's security barriers.
What kind of other information can smart heating controls offer my customer?
To help homeowners better understand and improve the performance of their heating system, some smart heating controls present data relating to energy usage, patterns and potential savings. By being provided with this data, homeowners are consequently influenced to become more mindful of their energy usage, thereby reducing emissions.
One example of this is the Insights page on the Wiser Heat app. By clicking on the Insight tile, homeowners will be able to see the percentage of energy they have saved each month by utilising Wiser's smart modes. The Insights page also features Wiser's Heat Report, which gives the user a detailed overview of the performance of the entire heating system.
Do smart controls help me meet the additional requirements of Boiler Plus?
The additional requirements of Boiler Plus state that both new and replacement combi boilers must be installed with either; weather compensation, load compensation, a flue gas heat recovery unit or a smart heating control that includes automation and optimisation.
As well as helping you to meet the final additional requirement, you can usually tick off another two requirements as most smart controls feature weather and load compensation. For example, this is met by Wiser's Eco and Comfort Modes.