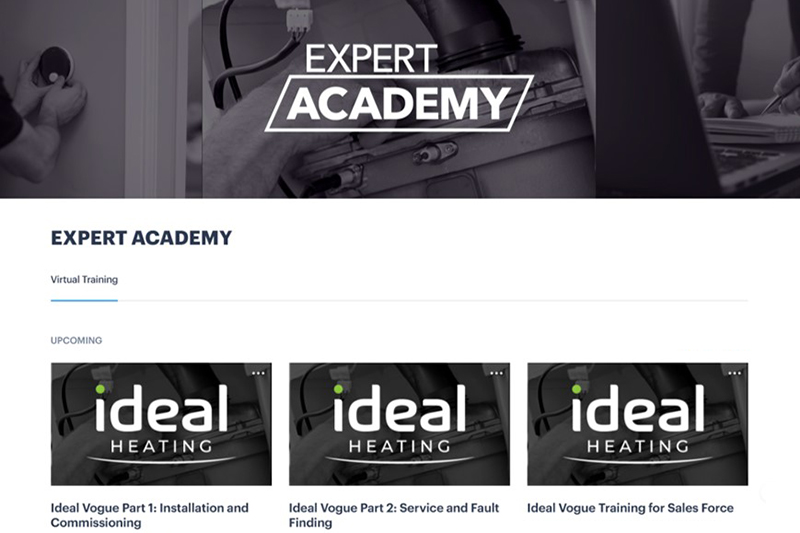 Following the launch of Ideal Heating's Expert Academy online training service in September 2020, PHPI caught up with the business's Head of Technical Training, Tony Rossetti, to find out how it's going.
How successful has the launch of Expert Academy been? And why launch an on-demand Learning & Development service now?
The feedback we've had has been tremendous. We're 100% committed to helping installers provide the highest standards of service to their customers – across a wide range of heating technologies – and we're incredibly proud of the role the Expert Academy is playing in bringing this to life.
Online learning has shown significant growth over the last decade, as the internet and education combine to provide people with the opportunity to gain new skills. It's vital that the plumbing and heating industry keeps pace with other sectors, so that installers can access information and training in a way that works for them, and that fits around everything else they've got going on in their daily lives.
Our virtual classrooms are free to use and cover all the skills and knowledge installers need to work with our domestic and commercial product ranges. They also allow users to access live training from anywhere in the country, and to interact with and receive feedback from our expert trainers.
At the same time, we appreciate that structured training sessions might not suit everyone, and that being able to learn on the go – in your van, on your phone, after a job – might work best for some installers. Our on-demand service provides installers with a range of video content, tips and guides that can be accessed from anywhere, and is mobile friendly for handy troubleshooting on the job. We'll also be continuing to grow the amount of resources of offer to include multiple interactive e-learning modules and assessments for installers to complete when it suits them.
We're always finding ways to enhance and develop the service we provide to installers. As well as helping them keep their knowledge and skills up to date, both Expert Academy services can be linked to our Installer Connect loyalty platform. This gives us more insight into who's installing our products, their skillsets and what interests them, and we can use this to tailor and adapt the way we work together now and in the future.
What impact has the coronavirus pandemic had on the training options for installers and heating engineers? Did it impact the decision to launch Expert Academy?
Pre-pandemic, most training was carried out in a group setting, on an all-day course. A limited number of training centres and places were available, requiring installers to book months in advance and to take on the cost of travel, accommodation, and in many cases the course itself. These factors made it a real struggle for some installers to access learning, and the added challenges of Covid-19 meant a complete rethink was needed to ensure learning and development opportunities remained accessible to all.
But even though Covid-19 has highlighted the need for installers to be able to access online learning, launching Expert Academy wasn't something we did reactively. We're passionate about strengthening our relationship with installers and providing a digital training platform that suits them, and these plans had been in the works long before we'd even heard of coronavirus
We've put a lot of thought into the platform and invested in the very latest technology to ensure that all of our live, virtual courses and on-demand content are as engaging as possible. We're extremely proud of the finished product and truly believe it's the best installer learning and training platform out there in terms of both the breadth of the content and the formats it's delivered in.
What topics and types of training have you seen installers taking advantage of? What plans do you have to grow the range of training you currently offer?
The highest demand we've seen has been in training for Ideal Heating's Logic boilers, which is unsurprising given their popularity among both installers and homeowners. The Logic is a mainstay of the Ideal range and we expect interest to continue for some time.
In terms of adapting the platform, we're constantly looking to improve in response to feedback from users. In recent months we've made small tweaks like the addition of evening sessions to give installers even more flexibility around when they access live training, and adding more kit to our studios that has improved the way we film and edit content.
We're also working to grow the number of courses we offer and plan to make training available across our full range of products, including those from our sister brands – Keston by Ideal Heating, Hamworthy Heating and ACV – by the end of 2021. In addition, we'll be offering a 'Basics in Electrics for Gas Engineers' course, covering topics including general safety and fault-finding.
In what areas do you think installers will be looking to expand their skills in 2021?
Sustainability is going to be a key area for 2021. The UK's direction of travel on emissions is clear, and it's evident the government's ambitions for the heating sector are geared towards low carbon solutions.
As a business, we're fully committed to a more sustainable future and our recently-formed Environmental Division already oversees a programme of investment into research, product development and stakeholder engagement, to support the decarbonisation of domestic and commercial heating.
It's our responsibility to help upskill our loyal installers in this area, and we remain committed to future-proofing their businesses as we adapt and diversify our own. The Expert Academy will have a huge part to play in delivering against that commitment, and in ensuring that our installer base is ready to meet and embrace the changes that are coming.
idealheating.com/installers/training