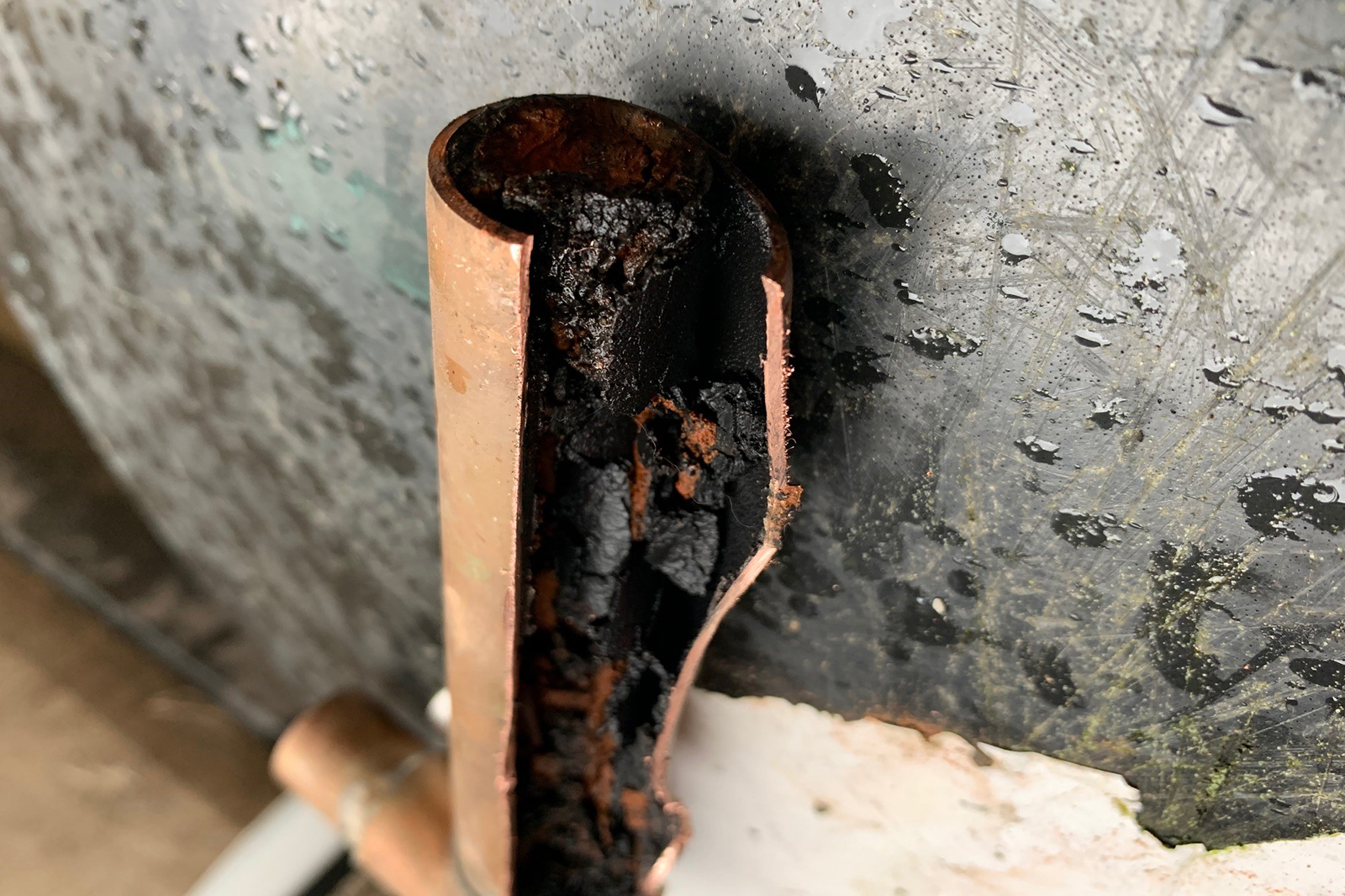 The build-up of corrosion in a heating system full of metal components can be rapid and leads to the build-up of magnetite or 'sludge' which will settle at the bottom of radiators.
Independent research commissioned by ADEY shows that poor water quality contributes to 60% of boiler breakdowns annually and sludge has a significant impact on efficiency. The research also shows that a sludge-free system will use less energy, potentially saving up to £80 a year on energy bills and reducing carbon emissions by up to 7%.
There are a wide range of chemicals available for domestic heating systems, all of which play a different part in keeping systems clean and running efficiently. Neil Watson from ADEY explains the differences between the various types of chemicals that are available for installers.
What do the new regulations mean for water quality?
The UK Government has set a clear ambition to decarbonise the country's domestic heating and the Future Homes Standard, due to be introduced in 2025, is a clear indicator for this as it will mandate that new homes are built to produce at least a 75% reduction of CO2 emissions.
To support this transition, the Approved Documents of the Building Regulations have recently been updated – including some major changes to Part L – Conservation of Fuel and Power. The recently released Part L will offer an average reduction of 27% to 30% in CO2 emissions, compared to the 2013 version, with efficiency a key driver. Coming into effect from June 2022, in terms of water treatment the updated regulations require installers commissioning boilers and heating systems in new and existing dwellings to adhere to the BS7593:2019 code of practice. This means that in addition to cleaning a system and dosing with a chemical inhibitor, fitting a filter, and testing the water quality also become a requirement.
How do I know what chemicals to add?
A water test is essential in establishing which chemicals to dose a system with, and a sample test is a straight-forward process that most installers will be familiar with. However, in some cases the results only detect inhibitor levels, not signs of corrosion – the after effect of a chemical imbalance in the system – or can be open to interpretation.
ADEY ProCheck produces lab-style results instantly on a smartphone or tablet. This includes measuring for all good quality inhibitors, indications of corrosion, and pH levels to give a clearer picture of what is going on in the system. Installers can take a water sample, dip the dedicated test strips, hold them against the test card, then simply scan them via the ProCheck app to receive immediate results.
Checking for turbidity, inhibitor, PH, corrosion and are essential requirements in ensuring that the system has been adequately cleaned and the chemistry is well balanced for best protection of multi-metal systems. Failure on one or more means the heating system is at risk of breakdown or loss of efficiency. While noting the inhibitor levels is important, it can easily be negated if the system is full of sludge. If a system passes the four simple parameters (turbidity, Ph, inhibitor and corrosion) you can be sure that the system water is clean and healthy with less risk of breakdown or reduced efficiency.
How do I get rid of sludge?
All systems should be cleaned using a chemical product formulated specifically for heating (or cooling) systems, as even brand-new systems may have contaminants such as grease, solder, or installation debris.
Using a cleaning chemical, such as ADEY's MC3+ Cleaner, will help shift any sludge that has already built up in the system's pipes, radiators and boiler. Once added, its powerful formulation gets to work on breaking down magnetite and other sludge in as little as an hour.
In the case of repairing an existing system, or commissioning a new system, a flush should be undertaken to ensure the water is completely free of magnetite. A system flush is mandated in Part L when installing a new boiler, as whilst the old boiler is being taken out of use, sludge will still remain in existing pipework and radiators – damaging the new appliance from day one. Just as you wouldn't put old oil in a new car and expect it to work to its full efficiency, putting a new boiler on a dirty system will have the same outcome.
What do I use to remove more stubborn sludge that is stuck at the bottom of radiators?
You may need to use an agitator on the more stubborn magnetite to lift the sludge from the bottom of the radiator and subsequently flush it through. For example, ADEY's MagnaCleanse includes the Vibraclean agitator, which when used with a drill on the chisel action, can be used to dislodge more deep-seated sludge from the base of the radiators without needing to remove the radiator itself. After the more stubborn sludge has been lifted, a full system flush can then be performed to remove virtually all the magnetite.
If you are concerned about the integrity of a system, for example systems with older pipes and radiators, then using a cleaner which incorporates the heat and flow from the boiler, such as the ADEY MagnaCleanse, will deliver an effective, yet gentle flushing process. For heavily sludged-up systems, ADEY MC5 RapidFlush System Cleaner is recommended to be used in conjunction with MagnaCleanse. The chemical heats up, enhancing performance and making the system cleansing process faster and more efficient.
How do I prevent sludge from coming back?
Following a system flush, and as per Part L and BS7593 best practice, an in-line filter should be fitted to remove suspended magnetite from the heating system water before it gets into the boiler. A magnetic filter is more effective than a mesh filter as it will capture even the smallest of magnetite particles within the filter as water passes through. Filtering out sludge before it goes through the vital parts of the heating system helps protect the boiler from breaking down and means it can run more efficiently.
The system can then be refilled with fresh water, and the correct chemicals added to prevent magnetite from forming in the future. Chemical inhibitors, such as ADEY's MC1+ Protector, creates a protective layer over the metal components within the radiator to keep corrosion at bay, lubricate components, and protect against limescale build-up. This keeps the boiler working efficiently and helping to ensure the system lasts for longer.
When should I dose the system with inhibitor?
The update to Part L stipulates that dosing the system with inhibitor will be mandatory when installing a new boiler or alternative heat source such as a heat pump. However, given that the levels of inhibitor will be dramatically reduced when removing or replacing a radiator, carrying out a full or partial drain down, or a system flush, it's best practice to check and maintain the inhibitor at every installation, every boiler service, and every time a radiator is repaired or replaced.
ADEY's MC1+ Protector is a highly concentrated formula, a 500ml bottle will treat up to 125 litres of water in a system. With 98% of UK heating systems using less than 125 litres, one bottle is all that is needed to treat most systems.
Ensuring inhibitor levels are topped-up will continue to keep sludge at bay, reducing the chances of further breakdowns. As a result of following water treatment best practice, a customer can also gain up to 47% more heat from their radiators without using more energy, simply because the system will work more efficiently.