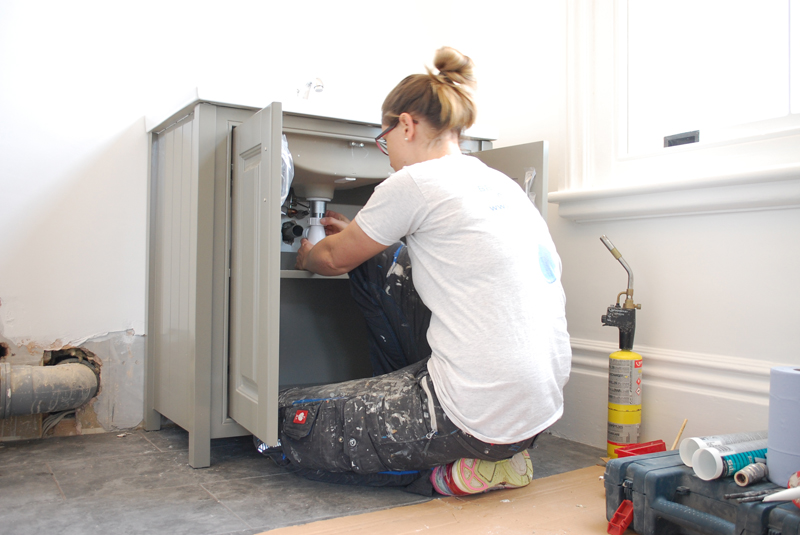 PHPI's James Moore puts the questions to Becky Bates from BB Plumbing.
Tell us a little about yourself and your background in the industry? What made you want to become a plumber and what was your route into the industry?
My name is Becky, I'm 34 years old, and I am a plumber. I grew up in a very creative and practical family. Both grandfathers were aircraft engineers; both grandmothers could pretty much turn their hand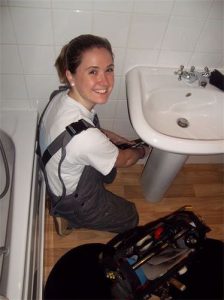 to anything. My father is a precision engineer and my Mum, well, I don't think there is anything she can't do! Most of my childhood was spent tinkering around in my Dad's workshop, shot blasting old car parts, using the lathe, welding or getting up to no good by mounting hedge trimmer engines to the back wheel of an old scooter – you know, the usual things that 10-year-old kids get up to!
My route into the plumbing industry didn't come until later in life and the journey towards it wasn't the easiest. I don't think my teachers had come across a young woman with interests in woodwork, metal work, or mechanics before, so I wasn't offered the best career advice. After I finished school, I enrolled in a cabinet making course, which I really enjoyed and which taught me skills that I use every day in my work. As much as I enjoyed the course, I felt it wasn't an area that I wanted to develop a career in. Throughout the next few years, I tried every job you could imagine; sign writer, animatronics engineer, furniture restoration, luxury tree house construction. The list is endless but nothing stuck. That was until one day I saw a local paper advertising City & Guilds plumbing courses, and there was no looking back.
Do you think more can be done to promote the industry to women? Who do you think is responsible for this?
As an industry we do seem to be making headway in promoting opportunities to young women, but I think there is more we can do to advertise trade apprenticeships. That is why I am so passionate about wanting to engage young people, but especially young women, about a career in the industry and deliver the message that plumbing, carpentry, electrics, bricklaying, painting & decorating, mechanics, and the construction industry as a whole, is a fantastic career path to choose and is an opportunity for both boys and girls equally.
I am very keen to join forces with other tradespeople to do some work with young people in schools to begin to present these opportunities in a creative and interactive way. The more women are seen in these roles, the more it will be accepted by young women and children as a natural career path to take.
What do you believe makes BB Plumbing different from other companies out there? What are the main services you offer?
I've been running my business, BB Plumbing, for over eight years now, and I specialise in full bathroom design and installation as well as offering general plumbing, property maintenance and repair. One of the things that is very important to me is being able to design a high-quality bathroom that is uniquely tailored to each customer's needs. Getting to know my customers and learning what they would like is an essential element of my job. I particularly enjoy the challenge of being faced with small or awkward bathroom spaces, and having to be creative in the design to make the space work better for my customers.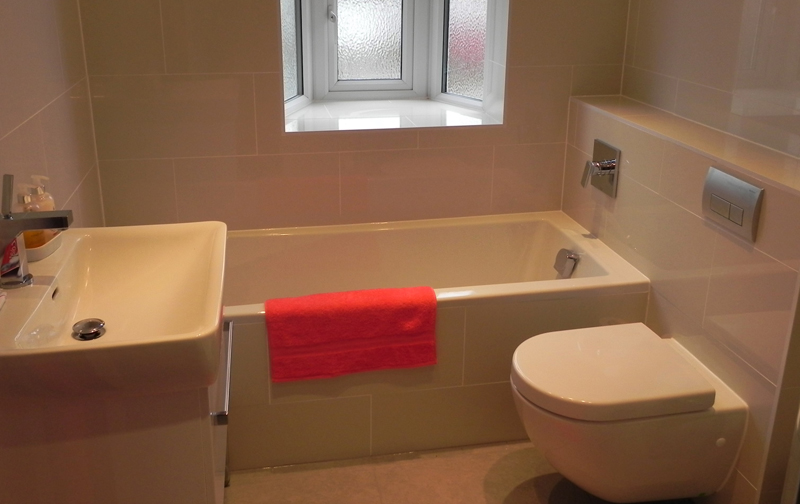 What's your marketing strategy for the company? Is social media used and how useful do you find it? Do you have any advice for fellow female installers looking to set up their own company and be successful in the industry?
I must admit, up until about a year ago I avoided social media. My business largely came from recommendations. I had a website, but it was outdated and didn't reflect the way my business had grown over the past few years. However, I decided to join Twitter as a way of promoting my business in my local area and it was the best decision I have made. Not only have I gained many new clients, but I have become part of a fantastic, fun loving, banter filled community. From sharing pictures and videos of new projects, swapping trade secrets and situations unique to our industry, to being a guest judge on Vanpool Karaoke.
"One of the things that is very important to me is being able to design a high-quality bathroom that is uniquely tailored to each customer's needs."
I have also learnt more about how to promote my business online, and with help and suggestions from the installer community, I have now redesigned my website to better reflect my business. Check it out at www.bbplumbing1.co.uk
If I was going to give any advice to fellow female installers looking to build their business, it would be to get yourself involved in the social media community. It's a great way to make business connections, solve problems, and keep up to date with developments in the industry. It is not just about work, it's about feeling part of something bigger – and that was important for me.
What do you do outside of plumbing?
Outside of work I try and look after my physical and mental wellbeing. Yoga has become a big part of my daily routine which helps me take care of my body. I also do lots of hiking, cycling and swimming. I love a good challenge and am currently working towards completing the 630 miles of the South West Costal Path. I absolutely love live music and I try and spend as much time as possible going to gigs. Most importantly I spend my spare time with friends and family, as these are the people who are the foundation to all I have and will achieve.