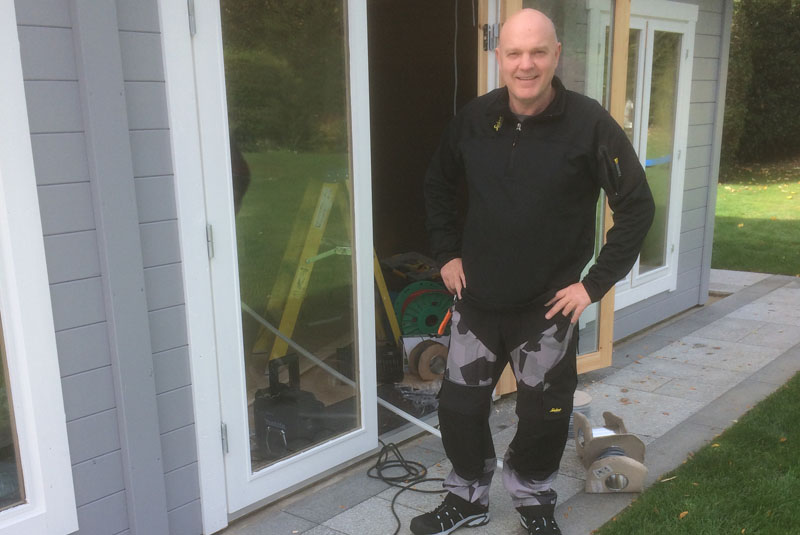 In preparation for the annual battle against the elements, Gary Fisher slips into some of Snickers' latest winter workwear.
When it comes to work clothing, it's always good to see installers dressed smartly, as this gives the impression that they're professional and have spent the time and money getting the right clothing for themselves and their staff.
One company that never seems to fail with its workwear is Snickers, who've designed a new generation of 'flexi' clothing that gives the wearer a much greater range of movement and is extremely comfortable.
Fortunately for me, I was sent a cracking package of products that are perfect for the colder months, so let's take a look at what it contained:
9217 LiteWork 37.5 Mid Socks
These socks fit really nicely and provide you with that all important comfort zone; let's face it, if your feet aren't cosy then you're not going to have a good day. The ankle part features extra cushioning, while the sock material also gives you a moisture barrier to keep your feet as dry as possible.
The socks are also stitched in such a way that they appear seamless, whereas most socks I've tried suffer from that annoying stich across the toes. In addition, there is reinforced Polyamide fabric protection for both the heel and toe which will stop these areas from getting worn out as quickly – no more holey toes when taking your shoes off in the client's premises!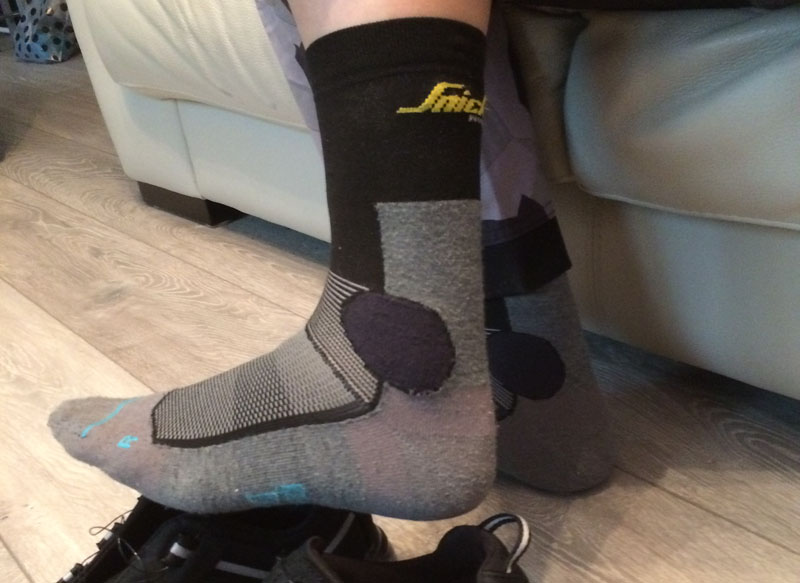 Revolution Infinity Safety Shoe
These Solid Gear safety shoes/trainers really are quite something; I've not seen a design like it before.
The first thing you notice about them is the lace up part, or indeed the lack of any laces at all. Instead they use a very thin plastic type cord which takes the place of the lace and a dial is attached to the tongue of the trainer to help you tighten them. All you do is press inward and turn clockwise and it tightens the cord, then to loosen you just pull the dial up and it releases.
For added protection, the shoes feature a robust steel toe cap, while the overall fabric is very stylish with a design that is resistant to tears, scuffs and abrasions. The sole is also capable of withstanding the usual penetration of site materials.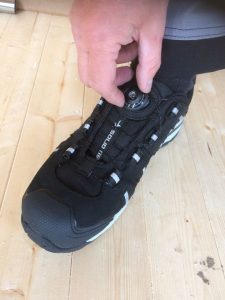 The Revolution Infinity is a great work shoe that is very comfortable to wear and feels like you have a pair of trainers attached to your feet, rather than a heavy, cumbersome work boot.
6902 FlexiWork Trousers
I've had Snickers trousers in the past and the only reason I'm not still wearing them to this day is that I've basically worn them out through constant use.
These new trousers are a step up in design terms. They're made of Cordura, a very lightweight but durable fabric, and feature a camouflage print (black and white in colour). A lot of clothing is made from Cordura these days and you can certainly see why it's proving popular as it provides a much more flexible and elastic feel to the garment.
That flexibility is great when you're working as I'm sure you'll all come across many occasions where you'd be better off playing a game of Twister, such are the positions that you need to get your legs into, so it's great that these trousers take away some of the previous restraints.
Pockets are always important and there are plenty available here – front and back, holster and cargo type, pockets within pockets, some with zips and some that are open – so there's no excuse not to have a pocket for your mobile phone and wallet. One other interesting item that comes with the trousers is an ID holder.
I have to say that for a work trouser these are exceptionally nice to wear, and a pleasure to spend the working day in.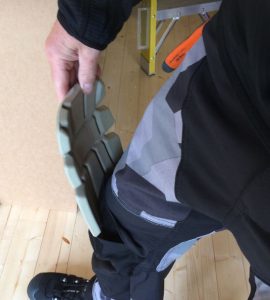 9112 D3O Lite Kneepads
A work trouser wouldn't be complete without those all-important kneepads and the D30 Lite pads are the perfect companion to the trousers – all you do is simply insert them into the trouser knee from the top downwards. These have actually changed a bit as well since I last had any and feel much more solid, but at the same time they're still light and flexible.
I found the kneepads to be a really cosy fit and that they allowed a great deal of movement in the knee still. As importantly, however, they offer great protection against those nails and gritty bits that you would certainly know all about if you kneeled on them without the correct knee protection.
9435 Body Mapping ½ Zip Micro Fleece
Out of all of the clothing that I've had the pleasure to trial for this review, this item is my favourite – in fact it's so nice that I regularly wear it for 'best' as well. It fits lovely and is very comfortable, while offering the wearer plenty of movement still.
Although it's lightweight and breathable, I found that it kept me very warm and toasty. There's a shoulder pocket on the fleece which is really handy for keeping your mobile or other items that you need to have tucked away and the front zip is good quality for an easy up and down motion.
In conclusion
As you can probably tell, I'm a big fan of this workwear and would certainly argue that Snickers has come up with its most comfortable selection to-date; so much so that I wear most of the garments both at work and in my own leisure time.
If I were to suggest an improvement then it would be great to see reflectors added to the clothing for future versions. As the design is camouflage and darker colours are used, this would help the wearer to catch someone's eye and would certainly add another layer of safety to the products.
That said, I have to give full marks to Snickers on this occasion. Its modern range of workwear is so much better than I can remember from the past – and they were very good then!
For more information about the Snickers range of workwear, visit: www.snickersworkwear.co.uk