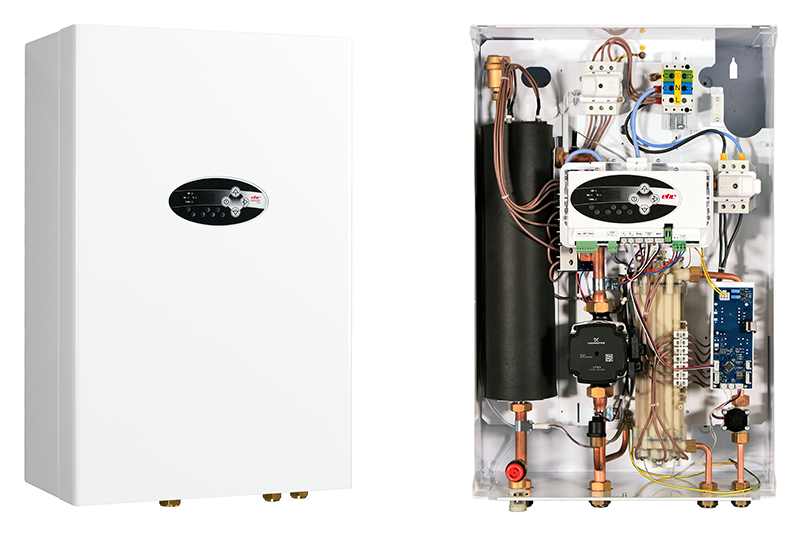 Following the launch of the Electric Heating Company's Mercury Electric Combi Boiler, PHPI caught up with the company's Service & Technical Manager, Chris Allan, to find out more about the versatility of electric heating solutions. 
Q Why has the Electric Heating Company developed the Mercury Electric Combi Boiler?
With the move towards greener heating alternatives, we are experiencing a rise in customer enquiries for electric heating systems. With space at a premium in most UK homes, the most common question from customers moving from gas to electric is: "I'm looking for an electric combi boiler." Due to the increase in demand, we embarked on our journey to create the Mercury Combi Boiler.
Q What type of property is the Mercury Electric Combi best suited to?
Electric Combi Boilers in general are not suitable for all property types due to hot water flow rate requirements, which are hindered due to restrictions on incoming power supplies. In general, the single phase Mercury Combi is best suited to one and two bed properties which have a shower and sink outlets. For larger properties, the Mercury Combi is available in three phase, which boasts rapid heat up times and higher flow rate performances.
Q What are the key features of the new boiler?
The Mercury Combi Boiler is designed for the future and brings a new era to the electric boiler market with the introduction of External Weather Compensation to automatically modulate the boiler temperature based on outside temperatures. The Bare-Wire Heating Element technology for Domestic Hot Water are more robust in tackling the formation of limescale due to operating at higher temperatures with a lower surface area. The Mercury also features advanced service diagnostics via the main interface.
Q Can it be used in properties which have a bath, or would you suggest an alternative solution?
UK legislation states that the minimum boiler capacity to fill a bath with instantaneous hot water is 18kW. Single phase electric combi boilers are limited to 14.4kW meaning they are not suitable to fill a bath in a reasonable time frame. Properties are better served by storing hot water in an unvented cylinder or use a storage combi, like our Comet Combination Unit. For properties with three phase power supplies the Mercury Combi boiler is available in 19 and 26kW which can be used with baths, showers, and other tap outlets.
Q What are the advantages of using an electric boiler for the provision of heating and domestic hot water?
Electric boilers are continually becoming an increasingly viable option for heating properties due to lower upfront installation costs compared to gas, oil or LPG systems and have no flue requirement, with the added benefits of low maintenance, rapid heat up times and high efficiency. The introduction of Net Zero and the move from gas to electric in new build properties from 2025 heralds an exciting future for new generation electric products.
Q Are there any limitations as to where the Mercury Combi can be installed?
Unlike gas or oil boilers, Electric boilers can be installed anywhere within a property as they do not require a flue, meaning there are no limitations to location and no requirement for an external wall.
www.electric-heatingcompany.co.uk/electric-boilers/mercury-electric-combi-boiler