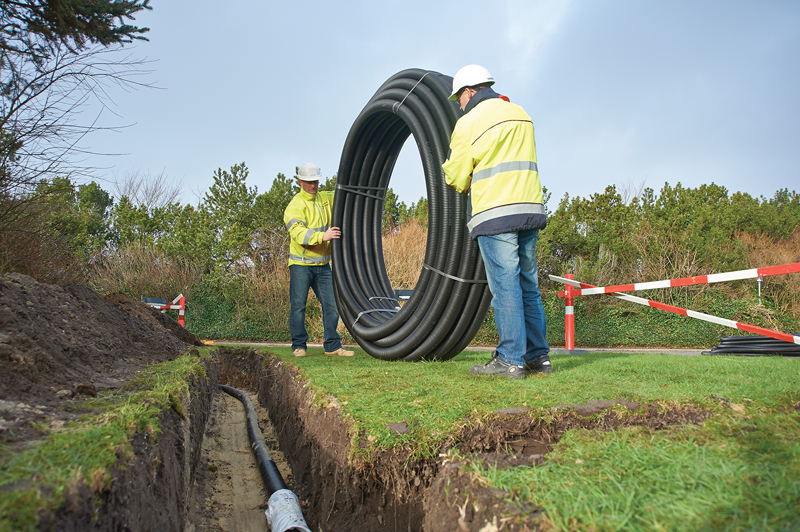 The sustainability benefits of renewable heat sources such as biomass boilers are resulting in a rise in the number of such systems being installed. But when that heat source is housed in an outbuilding, could pre-insulated pipework be the answer to ensuring heat can be transferred with maximum efficiency? Maincor's Business Development Director, John Gittens, argues the case.
Demand for renewable heating installations is growing, and with energy prices steadily increasing too, demand is set to rise even further with more and more households opting for alternative solutions. The renewable heat incentive (RHI) is partly responsible for this trend too, with such heat sources offering the potential for significant returns on investment from both reductions in energy bills and RHI payments over the long term. Coupled with the feel-good factor of 'going green' it makes for a very tempting proposition.
Biomass boilers, for instance, offer significant savings when replacing oil, LPG or direct electric heating systems, resulting in a relatively quick return on investment, not to mention the environmental incentive of making the switch. However, as is often the case, if the heat source itself is sited in an outbuilding or communal plant room, the delivery method by which the heated water is transferred to its end point will go a long way in determining just how energy efficient and cost effective the entire installation turns out to be.
There is a very real danger that if a non-optimum transfer medium is specified, that during transfer much of the original heat is lost; this would be largely due to lack of appropriate insulation around the pipework, requiring the heat pump or boiler to work for extended periods to produce the required amount of heat and therefore becoming inefficient.
Thinking long term
Pre-insulated pipework, although appearing a more expensive outlay than standard pipework initially, is a far more cost-effective solution in the long term. With an insulating layer and an outer casing, pre-insulated pipe systems can not only provide high-quality insulation to maintain the temperature of the water running through the pipes, but also the added benefit of reduced installation time. Available typically in lengths ranging from one to 100m, the pipework is laid underground at a depth of between 0.4 and 1.0m and has an average working life of around 30 years.
Increasingly being chosen for large domestic applications due to the rise in popularity of biomass boilers we referred to earlier, these pre-insulated, or district heating pipes, are already commonly used for projects with a centralised heat source feeding multiple properties, predominantly in the commercial heating sector.
Such projects tend to have several pipe branches and multiple underground joints featured in the design, with pre-insulated pipes enabling the low heat loss performance of the system to be maintained throughout.  Pipe systems with an average lambda value of circa 0.0207W/mK have a very low heat loss level, which will improve energy efficiency and system performance. Additionally, as with Maincor's Flextra product, an EVOH barrier contained within the outer casing ensures that the insulation's thermal efficiency properties remain constant over the entire lifetime of the pipe.
Pre-insulated pipework is often thought to be costly, but this isn't necessarily the case, and it is fundamentally important to look at the product cost versus life-cycle returns at the specification stage. Choose a pre-insulated piping system with a very low heat loss, and the savings soon add up. Calculate the cost of the heat loss over a 30-year period versus the initial outlay and it quickly becomes apparent that efficient pre-insulated piping is an extremely cost-effective, sustainable solution.