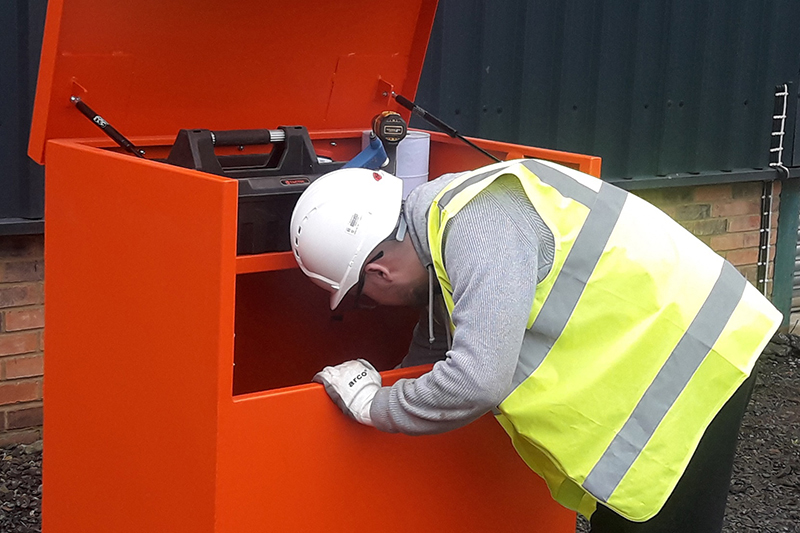 Michael Brown, Product Design Director at Metal and Modular, discusses how to tackle tool theft.
According to research based on figures from police forces across the UK, tool theft from site could cost contractors almost £95 million each year. It's a problem that's getting worse as opportunist thieves take their chances with site security to lift equipment that is portable, saleable and, most of all, valuable.
The value of any piece of equipment is not just in the money required to replace it. The real value – and cost – is the loss of a tool that is fundamental to the operative's job and, therefore, not only needs to be replaced but needs to be replaced quickly.
It's often the knock-on consequences of tool theft that are the most damaging. The more high value and specialist the equipment, the harder it is to replace, leading to wasted time and potential delays to installation programmes. Potentially tool theft can even result in workers not being paid because they have been unable to work, financial penalties due to site delays, or even contra-charges if an alternative sub-contractor has to be brought in.
Locking down risk
Regardless of site security, lightweight, portable equipment remains an easy target for casual thieves, so it's essential to protect these vulnerable items. Tool vaults are a robust and convenient solution but it's important to look for the right model to suit the site and ensure the right level of flexibility.
The first consideration is selecting the right size to meet the needs of the number of operatives on site and the amount and size of equipment they have. Even on larger sites, it may be more appropriate to use two or more smaller units than to locate everything centrally.
Manoeuvrability is also key. Castoring wheels will enable movement in any direction and a footbrake should be included to ensure the unit is fixed in place and cannot roll.
The unit should also have a robust locking system. For example, our medium and large Tool Vaults have key-operated fiver-lever deadlocks specified to the British Standard, while the small Tool Vault has two fixed padlocks. Tool vaults should also be designed to safeguard against forced entry, so it's advisable to select a unit with anti-theft doors cannot be forced open with a crowbar.
For sites where only a small amount of hand tools need to be stored securely but storage of small fittings and components is also needed, a secure fittings cabinet with anti-theft doors and a robust locking system can be a useful alternative to a tool vault. Fittings can be stored in storage bins on shelves, helping operatives find what they need quickly and easily and aiding stock checking.