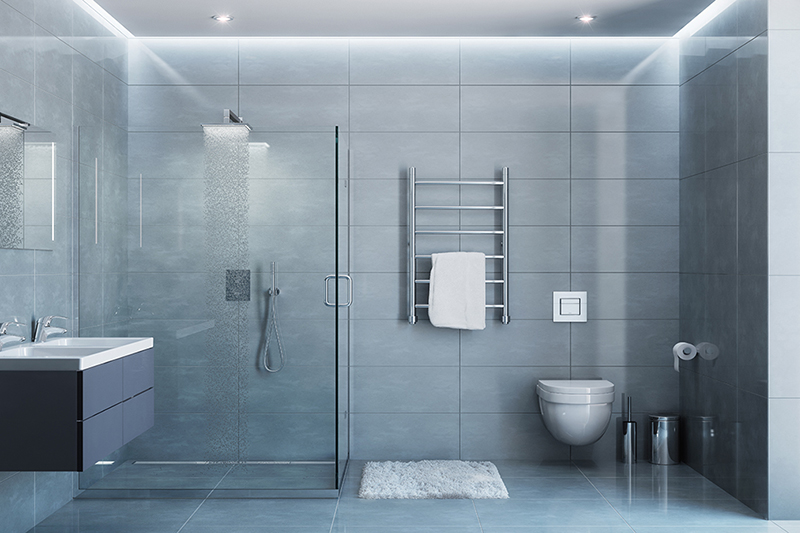 Wet rooms have become a popular alternative to traditional bathroom layouts and are frequently seen in hotels and domestic settings alike. As Andrew Scanlon, Applications Manager from Sika Everbuild explains, it's essential to cover all bases to make sure the floor and walls are completely watertight. Using products that are specifically formulated for a more demanding wet room environment will mean they remain pristine even with daily use.
Wet rooms provide a more inclusive showering space, making them ideal for those with mobility issues. They also create a feeling of luxury and can be an effective way to maximise space, especially in a relatively small bathroom area. But whatever the reason your customer has opted for a wet room over a traditional free-standing shower cubicle, it is essential to achieve a totally watertight seal behind all tiled areas as failure to do so will almost certainly lead to water leakage and a whole load of problems later down the line.
Tanking – three steps to success
Tanking is an effective way of preventing water ingress by creating a completely impermeable waterproof barrier on an internal wall. In fact, the word 'tanking' comes from the idea that the seal creates a waterproof tank-like barrier around the room. If you think of it in these terms, you'll see just how much care and attention you need to pay to this process. When it comes to wet room installation, tanking is the only way to fully prepare the walls and floor prior to tiling to make sure a complete watertight barrier is created between the surface and the floor – so that no leaks get through.
The first step is to apply a tanking primer by brush to all porous and semi-porous surfaces in the areas that are to be waterproofed. For extremely porous surfaces, you'll need to apply a second coat once the first has completely dried.
Next, you'll need to apply tanking tape carefully to all corner joints, board joints and pipe penetrations. The idea here is to create a watertight seal that accommodates multi-directional movement so take your time to make sure the tape is pressed down and has adhered properly everywhere. Once the tape is in place, a drain mat capable of coping with board movement needs to be installed around the drain outlet. The drain is the area most susceptible to water leaks so special care must be taken here to make sure there is no room for failure in the future.
By now you're on the home straight and the last step is to apply a tanking membrane. Sika Everbuild's Aquaseal Tanking Membrane is ready to use and can be easily applied by brush. It is recommended that you take time to apply two coats and that the second coat is applied at a right angle to the first as this creates a permanently flexible watertight membrane. Non-hazardous, Aquaseal Tanking Membrane is quick drying and tiling can begin after 12 hours – so it won't hold things up.
Sika Everbuild offers a complete tanking solution, its Aquaseal Tanking Kit, which is available in two sizes and is designed to make the tanking process quick and easy, with just three steps. When used correctly, it creates a permanently flexible watertight membrane which can then be tiled over and is also compatible with underfloor heating systems, which are often specified in wet room environments.
On the tiles
Tiles are a key part of wet room design and can lift the space from being purely functional to being a stylish design feature. As well as making sure you incorporate a subtle slope to allow for drainage, you'll also need to consider which adhesives and grouts to use.
With underfloor heating a common addition to wet rooms, allowing floor areas to dry out quickly, choosing an adhesive which is strong enough to hold even when immersed in water and flexible enough to withstand changes of temperature is a must. Without this flexibility, the adhesive may crack over time which would make the floor uneven and could potentially cause tiles to break, especially when any weight or pressure is applied. TileSet 711 Flexiplus S1 from Everbuild, which sets in just three hours, is fully waterproof and will adhere to a range of tiles including large format ceramic and porcelain tiles.
Bathrooms and wet rooms are also subject to a lot of moisture in the air which, when coupled with the warm atmosphere, makes for perfect conditions for mould growth. Opting for tile adhesives, grout products and sealants which are formulated to resist mould growth and withstand harsh cleaning chemicals, will ensure a long-lasting finish as well as reducing the cleaning burden in future.
With a wide range of sealants, adhesives, mortars and tiling grouts specifically suited to a wet room environment, your project will stand up to the pressures of daily use and look as good as new for years to come.