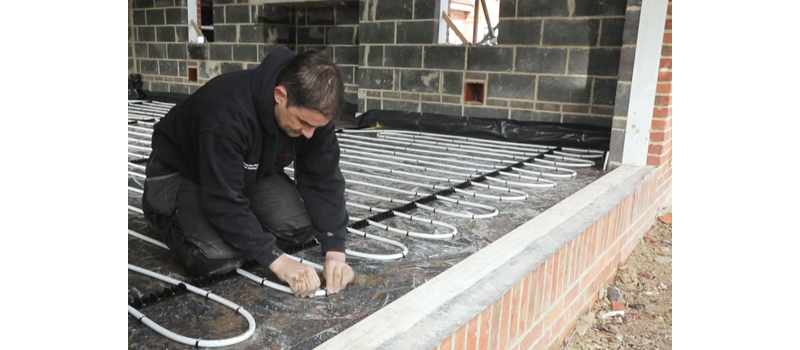 From lowering energy bills to offering superior levels of comfort, underfloor heating has many benefits – especially if the installation is planned out properly. Continental Underfloor's Chris Ingram looks at how installers can get in the zone and help their customers take full advantage of their underfloor heating system.
Research conducted by Continental Underfloor found that 30% of Brits want underfloor heating in all or some of their home. A fifth said they wanted underfloor heating in key spaces – such as the bedroom, bathroom or kitchen – a 5% increase on stats released by consumer campaign Ask for Underfloor in similar research conducted in January 2014.
Underfloor heating can work alongside a radiator system, meaning if homeowners do only want to install it in some rooms, they can have both systems running together. This flexible approach naturally lends itself to creating different 'zones' around the home. Installers should spend some time discussing with the customer how they want to zone their house and what sort of controls they may wish to use. This is typically done on a room by room basis.
Lifestyle choices
If underfloor heating is installed throughout a property, it can be fitted with a single control, but it is most common to install separate room controls. The benefit of having individual room controls is that the homeowner can set different rooms – or zones – to specific temperatures throughout the day; allowing complete control, as well as saving money and ensuring their home is comfortable.
Asking the right questions will help to create an idea of what the homeowner's lifestyle is like and how their underfloor heating system needs to fit around this. For example, the bedrooms may be one zone, programmed to come on first thing in the morning and in the evening, while the main living area and kitchen could be a further two zones, intended to be warmer during the day or at weekends.
Boosting the benefits
People are becoming more and more aware of the benefits of underfloor heating. Continental Underfloor's research found that 42% of those who have underfloor heating said it helped to provide a better level of comfort than other heating sources, 37% found it contributed to lower energy bills and one in 10 said it had improved their quality of life.
These benefits will be felt by the homeowner whether they have their whole house fitted with underfloor heating, or a system which includes radiators for bedrooms and underfloor heating for the living areas. An optimum comfort level can be achieved in different rooms at different times. Energy – and money – don't need to be wasted unnecessarily heating areas of the home that aren't in use.
Plan your work, work your plan
Installing underfloor heating is now commonplace for many heating engineers, but this checklist should provide a good starting point to ensure the job runs smoothly and the best results are achieved:
Does the homeowner want underfloor heating in all or some of their rooms? If the latter, then be aware that some of the energy efficiency will be lost because radiators will need to run at higher temperature – ensure the homeowner is aware of this
What is the homeowner's routine like and what level of complexity would they be comfortable with for their heating controls? It's all well and good fitting the latest app controlled thermostats (such as Continental's therM), but is the homeowner more familiar with rotary dial thermostats? Continental's Technical Sales Advisors talk through the options for every project with the installer
Do you have all the right equipment and tools for the job? Ask if your underfloor heating supplier can advise you on which products and quantities you need if you send them an image of your plans and check if it is a reputable member of the national trade association
Are you overcomplicating matters? While it could be beneficial for the homeowner to have multiple zones operated by several smart heating controls, remember an underfloor heating system can operate simply and effectively from a traditional heating control.