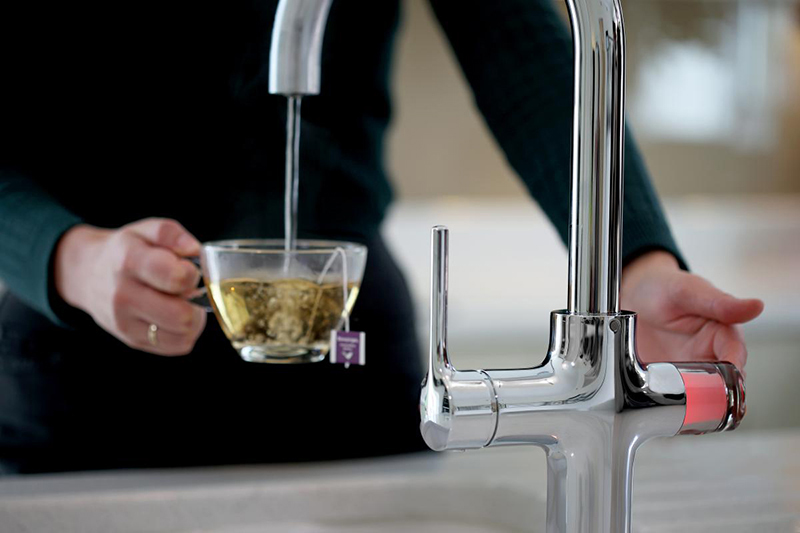 It's no secret that lockdown reminded everyone of the importance of their homes and, two years on, tradespeople are still experiencing huge demand from customers looking to tackle home improvement projects. Kitchens and bathrooms, in particular, remain popular spaces with research last year reporting that these rooms were among the top areas for improvement in the home. Christopher Tranter, Senior Product Manager at Bristan, takes a look at some key trends and innovations that installers should keep an eye on over the next 12 months.
Warmer finishes
In both the kitchen and bathroom space, it's all about finishes. Colour trends are getting warmer and we're seeing a shift away from chrome on taps and showers. Black, of course, continues to be a hugely popular colour trend; indeed, we have introduced black finishes across our top bathroom products and expect this to remain big with homeowners for some time.  In addition to this, brushed gold and antique brass finishes are also gaining popularity, with trends like brushed metallic or gun metal emerging.
Of course, chrome's popularity comes from the fact that it is extremely hard wearing, easy to clean and long lasting; any alternative finish needs to be rigorously tested and checked to ensure it too will survive in the real world. We submit all our finishes to the most stringent third party testing available before approval, so that customers can be confident in our guarantees.
Boiling water taps
Boiling water taps have grown exponentially in recent years with more homeowners turning to the convenience of having instant boiled water on tap. This growth has led to these products becoming increasingly available at a much more accessible price point compared to, say, a few years ago.
If your customer is looking to install a boiling water tap, they will, of course, need to ensure they have plenty of space under the sink. Make sure, too, that your chosen brand has a filter on the taps – if you're installing in a hard water area, it's likely that, without the right filter, it will limescale-up in a matter of weeks. We recently upgraded our boiling water tap ranges to incorporate a new and improved filter to ensure the best possible protection against this.
Sustainability
Your customers are becoming increasingly more conscious than ever of sustainability and this will, of course, be a particularly important factor for installers on commercial jobs. So installers should keep front of mind any products that can save water and energy.
The good news is that this can be achieved in some simple ways. Fitting flow limiters to taps or on shower handsets or hoses, for instance, is one effective way to reduce water waste. Again, we have recently upgraded our existing range of basin mixer taps to include Neoperl 5ltr/min aerators, reducing waste without affecting the feel of the water flow. This aerator is a small attachment that fits onto the outlet of the tap, controlling the amount of water flowing through.
More recent product development has also resulted in the introduction of cold start mixer taps. These ensure that mixer taps operate at the cold water setting when started, avoiding firing up the boiler and saving energy. We will be introducing these in 2023.
Ease of fitting
And, whilst not a trend, it is essential for installers to be constantly on the lookout for smarter ways of working. Our Easyfit technology was introduced with this in mind, making kitchen taps up to 70% quicker to install than a standard 'c' plate fixing.
Replacing showers (often a time consuming task) is another way installers can look to save time and work more efficiently. All showers from our core range come with our fast-fix Wallmount 12, giving installers a quick and easy way to isolate the water supply at the wall. In addition, it provides the option of installing the mount on first fix and then adding the bar shower itself on second fix.
This is perfect not only for jobs where you want to protect the whole bar shower whilst other bathroom work takes place, but also on larger commercial projects or new build projects.