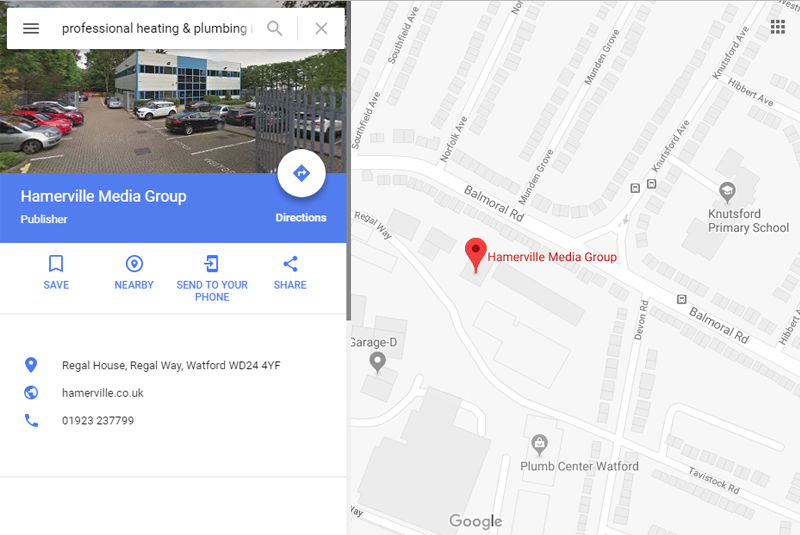 Have you thought about how you can take advantage of Google Maps and help grow your online presence?
The way people search for local businesses such as plumbers and heating engineers has changed forever. The days of customers finding plumbers and installers in the Yellow Pages or Thompson Local are long gone. Small and medium businesses now need to adapt to this new environment to survive.
Google Maps is currently the default location for customers to search for a business. A recent study showed that 89% of people search online for a local business once a week with 58% saying they searched for a local business daily (via Hubspot).
However, here at Ambiente, we've noticed that many of our customers in the heating and plumbing industry are still unsure of how to add or manage their business in Google Maps. In fact 56% of local retailers haven't claimed their Google Maps listing according to Brand Muscle via Local Search Association.
With everything else business owners need to do this is not surprising, but, getting started is quick, easy and free. Generally speaking, if you can use the internet or social media then you will be able to manage your business listing in Google Maps, get one step ahead of your competitors and gain some easy online exposure.
Failure to act
If you do not manage your listing in Google Maps, not only are you missing out on a lot of visibility from online customers, but you could be leaving yourself open to unscrupulous spammers and fraudsters.
This is because you don't actually need to add your listing to Google My Business in order for Google to know about your business. Instead, the search engine giant can collate information from other sources such as Facebook or Yell.com to create a listing on your behalf.
It might surprise you to know that online users can "suggest an edit" to these listings. Perhaps most worrying for independent fitters and installers is the fact that you will not receive any notification of these alterations. These may include changing your business hours, address, phone number, leaving reviews or even marking your business as permanently closed.
Has this happened to your business? To find out, just go to Google Maps and type in your business name and location. If you see your business is listed along with a "Claim This Business" button, then Google has created your listing without your knowledge. In that case go ahead and claim your business now!
How to claim
One of the first hurdles to being listed in Google is that listings are not managed through Google Maps, but instead through Google My Business. To set up your listing:
Login to your Google account or, if you don't have one, create one for free
Once you have a google account go to google.co.uk/business
Click on start now
Enter your business name
Enter your location
Most installers and fitters will want to choose the option for "I deliver goods and services to my customers". This ensures that you can specify the area where customers will be searching for your services.
Specify the radius of the area that you serve
Describe your business category and choose from one of the available options: plumber, plumbing equipment and services, heating contractor and heating equipment supplier are some of the available choices.
Add a phone number and website.
Verification – sometimes it is possible to verify a business by phone but more commonly you will be sent a postcard within a week. This will contain a code that you enter to verify that you are the legitimate business owner.
Going the extra mile
To really help your business listing stand out, consider using some of the features below. Here at Ambiente we have recently been using these free features and would suggest that you do the same:
Add specific "Call to Action" buttons like 'Get Directions' to your physical store, 'Call Now' or 'Message Us' buttons. These allow users to tap on their mobile phone to call or email you directly and instantly. You can even add links to specific actions like 'Book a Visit From Our Engineer'
Add opening times and show when the business is closed or has special hours (bank holidays etc).
Utilise the new "Posts" feature which allows timely updates on new products, special offers and upcoming events in an attempt to rival twitter. You can even impress potential customers with local case studies and the latest news about your business.
If all this sounds too much, you can add additional users and delegate management of your business listing.
Regardless of who you choose to manage your business listing in local maps, make sure that you stay aware of any edits being "suggested", reviews posted and keep changes to your contact details accurate. Doing so means that you will be able to take full advantage of all the opportunities Google Maps presents.