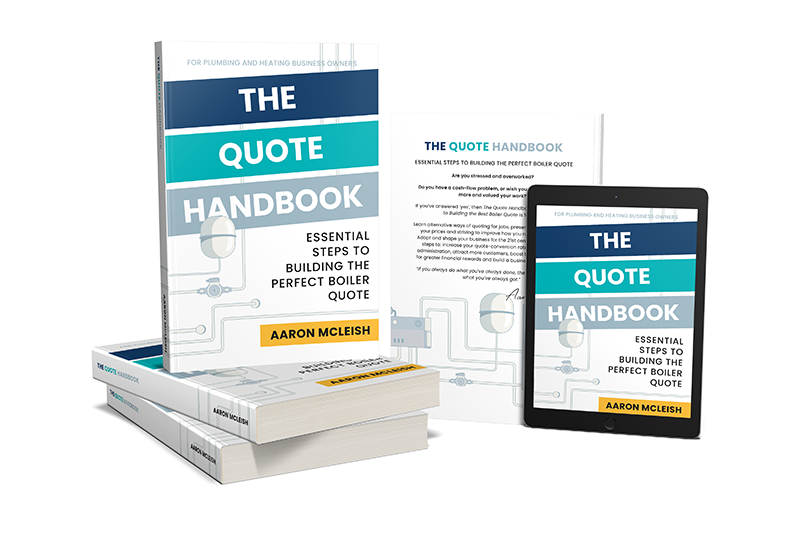 Quoting for work is a common task for all plumbers – but could you be doing it better? Aaron Mcleish, a specialist accountant for the plumbing and heating industry, and author of The Quote Handbook, explains more.
My name is Aaron Mcleish, and I am a specialist accountant for the plumbing and heating industry. As the world locked down in early 2020, and many committed to a life in their pyjamas (I'm not suggesting anyone in the plumbing and heating industry did that), I decided to get to work on resolving a problem which I had witnessed time and time again with my clients. It was time to end the cycle of poor quotes.
You may not realise it, but there could well be room for improvements with your quotations. The reason many people struggle with quotations, estimates, prices and proposals is because no-one teaches it. School doesn't teach us how to write a quote, what needs to be included, how it should be structured for maximum results, or what the best practice is. Likewise, no-one tells you, "if you do it this way, you'll get x% more sales", or "if you do it this way, people are more likely to buy from you."
The top line
Let's talk about your top line in business. This is often referred to as sales, turnover, revenue or income. Whatever you want to call it, it is one of the most important figures in your business. By having consistent revenue coming into the business, this then allows you to satisfy all of your expenditure and also to draw down on the profits in your business and put them into your own pocket.
If you've got no income coming in, you're going to struggle to satisfy your expenditure and to have a comfortable lifestyle. Therefore, respect, time and consideration needs to be given to your top line.
As is the case with most plumbing and heating businesses, revenue comes from quoting for jobs. You'll quote for a job, the job will then get accepted, the quote will then convert into a sales invoice, you would then get paid on that sales invoice. My point is, the quote is the very first part of a sale, of your income, the first stage of getting cash in the bank. Therefore, you need to get your quote right.
Get your quote right
If you don't have your quoting system right, you won't have a business. That's why I created 'The Quote Handbook – Essential Steps to Building the Perfect Boiler Quote'.
The Quote Handbook focuses on the quoting system within your business. It breaks down what needs to go into a perfect quote into twelve sections:
The front page
Restate the pain/problem
Take the pain away
Your bespoke quote
Describe their options
Set out everything you do
State your prices
Offer options
Warranties, guarantees and promises
FAQs
T&Cs
Call to action
The Quote Handbook takes you on a journey from receiving the initial phone call from the customer to scope out a boiler replacement, handling the initial inquiry, answering questions of the customer when you attend their premises and then using all that information to produce the perfect quote. Everything after that is down to the business to fulfil the job in hand.
The Quote Handbook – Essential Steps to Building the Perfect Boiler Quote is available on Amazon as a paperback, Kindle and Audible version: https://amzn.to/3u1dspr