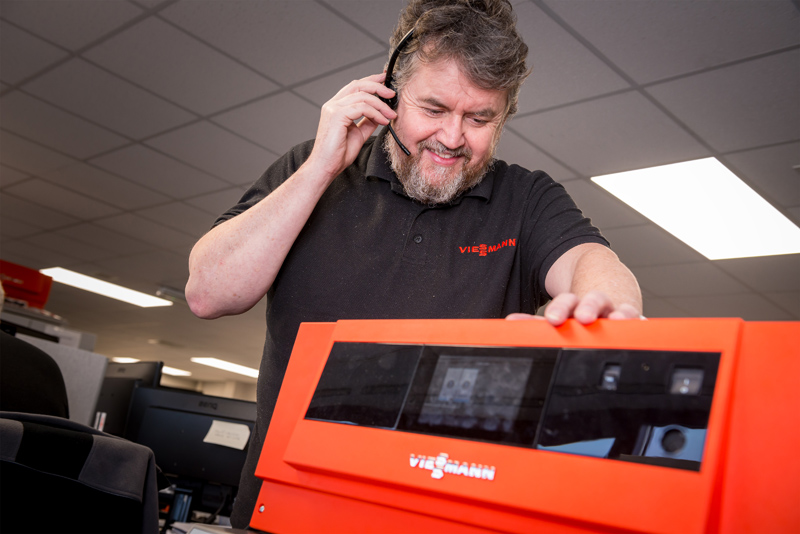 Viessmann's customer services team is expanding rapidly to support a growing installer base, but not at the expense of recruiting for the right attitude, insists Viessmann's Service Director, Paul Lambert.
Viessmann has grown its field service engineer force by over a third to 35 in the past two years, giving what is believed to be the highest ratio of service engineers to installed boilers of any manufacturer in the UK. A further three engineers will be recruited this year. The company's in-house team is supplemented by 25 domestic product contractors around the country.
This growth in personnel has enabled the company to almost halve the proportion of call outs attended by contracted engineers, as opposed to Viessmann employees. It followed an extension to the operational hours of its 16-strong, office-based customer service team, making it available to respond to calls or emails six days a week and for longer periods. Within the field team are four area service managers who support the two national managers and focus on training and development. The total number of Viessmann team members devoted to customer service excellence in the UK is currently 54.
"Approximately 60% of our incoming calls are from installers and 40% are end-user queries," says Viessmann Service Director, Paul Lambert. "The number one reason installers call us is that they want to be able to efficiently and easily book a service visit"
A survey of nine boiler manufacturers' aftersales care, conducted by theheatinghub.co.uk, found that Viessmann was the quickest call centre to get through to (to speak to a person) at just 21 seconds; it was one of only two manufacturers offering installers a route straight through to booking an engineer and it offered the quickest engineer attendance time, according to survey results. Other installer-pleasing factors include Viessmann's use of a local rate phone number for its call centre, as well as the option to send an email.
The company still wants to do better, however. It is in the process of introducing a new automated scheduling system to increase call-out efficiency, reduce response and travel times and improve reporting. "The new system will be very customer-centric," enthuses Paul. "It will manage the entire process from the customer's call to the problem being solved on site. It will help us to continue to meet and exceed our customers' expectations."
Recruiting right
The organisation's investments in customer service staff and technology are part of an unending process. "You never reach your goals in customer service," Paul continues. "It's ongoing. But, at the same time, it's not that difficult. Good service is about being courteous, providing the information installers need to know, turning up on time and cleaning up after yourselves at customers' properties. We can train people to fix a boiler, but it is more difficult to change a person's attitude and character. So, we put a lot of effort into making sure we recruit the right people in the first place.
"The level of expertise of our engineers is world class and it will continue to get better," says Paul. "They are attracted to work for Viessmann for the same reasons we want them working for us: they care about what they do. And once they're in, we keep investing in them through our focus on individual training & development."
Viessmann has also recently extended its professional development to incorporate gas engineering apprenticeships, with the scheme's first participant joining in September 2018.
Meet the team: Lee Pedley, Technical Support Supervisor
Lee has worked in Viessmann customer services for nine years, becoming a supervisor five years ago.
What's the best thing about your job?
It's the personal satisfaction you get from resolving an issue for a customer. If an engineer has been on site struggling and you can give an objective view and help out, that's a good feeling.
What's the most challenging part of what you do?
There are seven of us in the technical team, including two people who work part time, and between us we are 'on the go' all day. Also, Viessmann has a large product portfolio, so staying on top of that is quite demanding.
What is the one piece of information you would like to get across to installers, to save them having to call in?
Viessmann has a fantastic resource in the Vibooks website. All our product manuals, brochures, spares lists, and more are on there in one handy place.
What do you like to do outside of work?
I'm a bit of a DIY enthusiast and I also enjoy car maintenance. Apart from that, I love spending time with my daughter.