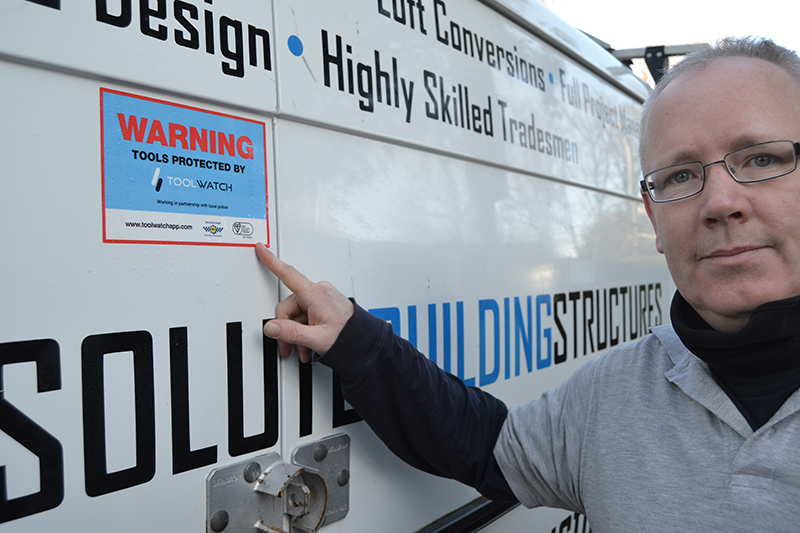 Developed by a tradesperson Alan Brett, the ToolWatch web-based app hopes to restore stolen property to its rightful owners, and deter crime in the process. Lee Jones reports.
It is estimated that somewhere in the UK, a van is broken into every 23 minutes. For the victims, the frustrations are manifold. Insurance companies that find ever more creative pretexts for not paying out, vehicle security that is not fit for purpose, and a police force which lacks the resources to confront the criminal fraternity are just some of the laments. That was certainly the experience of one Hertfordshire-based builder when one of his vans was targeted, and he was relieved of tools worth more than £8,000.
"It took just a day for the police to email me and tell me the case was closed," recalls Alan Brett. "Following that, the insurance company then informed me that, because I owned three different vehicles, I couldn't prove that the tools were actually in the one that had been broken into." Suitably inspired to find a solution, the proprietor of Absolute Building Structures conceived of an idea to bring builders together in thwarting the thieves, and the result is the ToolWatch App.
More than 18 months in development, the web-based app allows subscribers to set up a profile, including their picture and contact details, and log all their tools by serial number, make and model. Not only that, but if you are unfortunate enough to be the victim of a crime, it is possible to report it on the app, with all the necessary information, and those details will be relayed to the police. The ToolWatch App will then create a crime reference number, and those tools will be listed on the site as stolen.
"If you're a police officer, or a builder that's been offered a cut price drill at a car boot sale, you can use the app to check if it's from the proceeds of crime," says Alan. "Not only that, but the profile picture of the owner should tell you exactly who the goods belong to."
Alan was adamant that he needed the input of the police at a very early stage: "There are 43 different constabularies across the country, but to work with any one of them we needed to achieve Secured by Design accreditation. That in turn demanded we work with BSI (British Standards Institute), and we are now the first app to have gone through that process."
County lines crimes are now a well-documented problem and tool theft is far from exempt, but here again the ToolWatch App can play its part. "If a thief stole from a van in Luton, for example, and then travelled just three miles down the road to Hertfordshire, they could be pulled over and there would be no record of the crime with that constabulary. Our database is designed to operate nationally, which means that no matter where they're found your equipment can be repatriated to you. That's why the police are very keen for builders to make use of this service, because they simply don't have anything like this at present." The features and benefits don't end there because, whilst simple to use and navigate, the app has been designed with a number of related functions. A visual indication that the contents of a vehicle are protected by the ToolWatch App is provided by a sticker on the van, which itself acts as a deterrent.
Not only that, but by recording proof of ownership, the site will equally operate as a housekeeping tool. In the event of an insurance claim, for instance, the ToolWatch App allows builders to keep a secure record of serial numbers, whilst photos of receipts can also be downloaded and subsequently supplied as evidence. For a yearly subscription fee, users can register up to 100 items, which will more than cover any small builder's requirements, and if any of those tools are sold on by the rightful owner it's very easy to record that information as well. "The figures for tool theft are getting steadily worse and there is a perception amongst tradespeople that protecting themselves is a hopeless task," concludes Alan. "What we want to do through the ToolWatch App is bring tradespeople together in order to help themselves, and give the police the informed view that will help them stop the thieves."