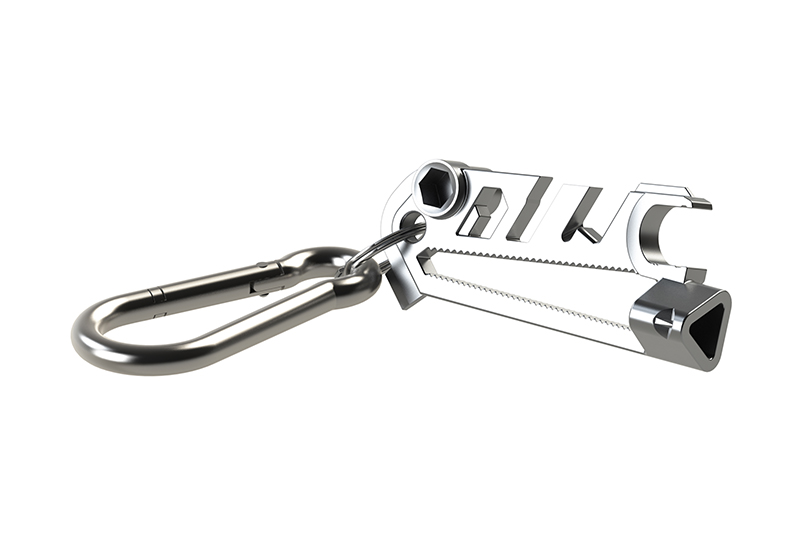 Plumb Chum is a new keyring multi-tool designed by plumber Paul James. PHPI caught up with Paul and his partner, design engineer Andrew Marshall, to discover its functions and find out how they managed to launch their new tool during a pandemic.
When you need a tool for a job, but cannot find anything on the market, most people would simply make do with a less than perfect solution that just about performed the task: but not south-coast plumber Paul James. Instead he started on a four year mission to bring to market a plumbing multi-tool designed to help perform a number of tasks that plumbers face every day.
The genesis of the idea for what would become known as Plumb Chum dates back to 2015 when Paul was fiddling about with a generic Gas Cabinet key, realising that a hex bit would fit into it, that could then be used to get the cover off a boiler. Paul began to wonder just how many of those everyday tasks a plumber faces could be achieved with a single handy tool.
Paul explains: "I started to think how handy it would be to have a simple tool on my keyring that could help me determine the requirements of a job, prior to collecting the correct set of tools for the task from my van."
After further developing the idea, Paul teamed up with design engineer Andrew Marshall to get a prototype made. Andrew developed a CAD model and the pair used a 3D printing firm in New York to create the first version which they christened The Pig.
Real life testing
Over time the design was gradually improved, with Paul testing each updated version in real life situations. The final prototype was manufactured in the UK in early 2019. Andrew told us: "We worked on design alongside the function. We looked at how it could be manufactured, what processes would be used and optimised it from there."
By then it had become clear to Paul and Andrew that their invention may also be of interest to other plumbers. They settled on the name Plumb Chum, set a date to launch the tool to the sector – April 2020 – and invested in their first production stock. Then Covid-19 struck.
"It wasn't ideal timing," Paul recalls. "But as we didn't really know how to launch a new product, the additional time was ultimately helpful."
Pandemic launch
Following a six month delay, the Plumb Chum was officially launched in October 2020. Paul explains that one of the first people to purchase the tool had stopped him in a plumbing merchant to ask about it after noticing the Plumb Chum hanging on his keyring. The eagle-eyed shopper bought one and posted about it on an online forum which, Andrew recalls, "really got the ball rolling for us… so we didn't need a proper launch after all."
With more stock now ordered, Paul and Andrew have set up a company, Tactile Tools, to promote sales although, Andrew noted, ideally they'd like Plumb Chum to be available in merchants.
Paul reflected: "It is by far the most comfortable tool to turn off an isolation valve. I use it more than all my other tools put together. My dream is that there are now other plumbers out there that are using this more than any other tool. It turns so many things. Every heating engineer has that yellow key on their keyring. We want them to change that to a Plumb Chum, which does so much more."
www.tactiletools.co.uk/products/plumb-chum
For the chance to win one of five Plumb Chum multi-tools, click the link below…